Pheromones For Same-Sex Couples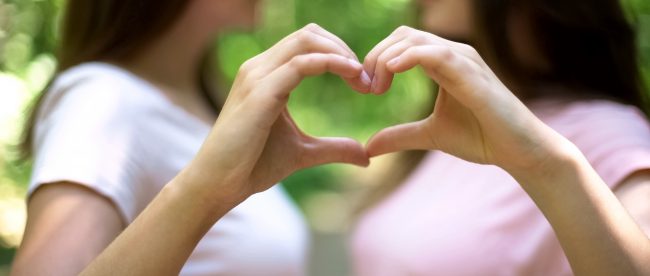 Happy Friday, Love Scent fans!
First of all, we're running a special discount on Super Primal for Him this Father's Day weekend! Typically on sale for $59.95, this weekend you can get a bottle for $39.95. This popular product was already a fantastic price for its size (2 oz), so these are savings you won't want to miss!
And a very happy Father's Day to all the fathers, grandfathers, and father figures in the Love Scent family!
Now, on to today's topic: pheromones for same-sex couples!
Now, as you probably recall, people's responses to pheromones typically depend more on their personality, taste in partners, and other individual preferences than their gender or orientation. How someone responds to the sex pheromone AndrosteNONE, for example, depends heavily on how sensitive they are to that pheromone personally and how they like AndrosteNONE's effects (such as increased sexual attraction and a dominant aura)–not their gender, and not whether they are attracted to men or to women.
So most pheromones are both gender-neutral and what we might call "orientation-neutral," with their effects varying from individual to individual based on a lot of factors–meaning that many pheromones are already ideal pheromones for same-sex couples. But there are also some pheromones–specifically, two pheromones–that are both sex-specific and orientation-specific: Androstadienone and Estratetraenol.
Androstadienone and Estratetraenol's sex-specific and orientation-specific effects can be seen right in the brain. When exposed to Androstadienone, gay men's brains respond in the same way straight women's brains do: the hypothalamus, especially the anterior hypothalamus, is activated. This part of the brain is associated with courtship, sexual and romantic bonding, and other relationship-related drives. Gay women and straight men's brains do not respond to Androstadienone this way, meaning that Androstadienone only romantically or sexually affects people who are attracted to men.
Estratetraenol, on the other hand, romantically and sexually affects people who are attracted to women. When exposed to Estratetraenol, gay women's anterior hypothalamuses are activated–a response they share with straight men. It's the same response gay men and straight women have to Androstadienone, just triggered by a different pheromone. Gay men and straight women, meanwhile, do not respond this way to Estratetraenol.
Androstadienone also has the added effect of making people who are already attracted to men view those men as more masculine. A study on pheromones and gender perception found that gay men and straight women viewed gender-neutral figures as more masculine when they were under the influence of Androstadienone. (Interestingly, Estratetraenol does not have a comparable effect on gay women in this area: gay women do not see women as more or less feminine when under the influence of Estratetraenol.)
So, if you're in a same-sex relationship and are looking for pheromones for same-sex couples in particular, you will want to take the "orientation-specific" effects of Androstadienone and Estratetraenol into account. If you're a woman in a relationship with another woman, Androstadienone won't do much for your relationship, but Estratetraenol certainly could. And if you're a man in a relationship with a man, Estratetraenol won't make you feel closer to your partner, but Androstadienone can.
Now that we've reviewed how these pheromones' effects differ based on gender and sexual orientation, let's take a look at some pheromones for same-sex couples.
FOR MEN IN RELATIONSHIPS WITH MEN:
1. Chikara Pheromone Cologne for Men (starting at $14.95)
Chikara contains a blend of social and sexual pheromones for a well-rounded and versatile range of effects. One of its ingredients is Androstadienone, making this cologne a great choice for gay or bisexual men. The Androstadienone will stimulate potential male partners' romantic and sex drives while the other pheromones (including  AndrosteNONE, AndrosteNOL, and AndrosteRONE) also produce their more orientation-neutral effects.
Chikara Pheromone Cologne is already scented with a fantastic sandalwood-inspired fragrance, so you do not need to combine it with your own cologne. Simply spray on your wrists, rub them gently together, dab your damp wrists against your neck, and head out the door!
Chikara Pheromone Cologne for Men is available in the trial-size Chikara Mini for $14.95 or a 15 ml spray bottle for $59.95. This is our most popular product for men, so order today!
2. New Pheromone Additive for Men ($44.95)
New Pheromone Additive for Men is an ever-popular blend of  AndrosteNONE, AndrosteNOL, and Androstadienone. The Androstadienone makes this an especially useful formula for gay men, while the AndrosteNONE and AndrosteNOL have more universally-useful effects. Overall it is a balanced formula that is strong and commanding without being overly sexual, and an excellent addition to any pheromone collection.
New Pheromone Additive for Men is unscented and has a natural pheromone muskiness, so pair it with your favorite cologne. You can either add the New Pheromone Additive directly to your cologne (see tips on how to do that properly here) or apply 1-2 drops directly to your pulse points and then spray the cologne over it after it has dried.
A 10 ml dripper bottle of New Pheromone Additive for Men is yours for $44.95. Give it a try today!
3. Pure Androstadienone ($49.95)
If you want to just experiment with the power of Androstadienone, we can help you there too! Our pure pheromones come at the highest possible concentration of 1 mg of pheromones per ml of carrier fluid. The carrier is a mix of perfumer's ethanol and the cosmetic oil DPG, meaning that it is thin enough to easily mix with any fragrance but with a lower risk of evaporation loss than many pure pheromone products.
Just remember that working with pure pheromones is a lot trickier than working with a pre-made blend like NPA for Men (which has an Androstadienone concentration of 0.1 mg per ml of carrier). If you plan to experiment with pure Androstadienone, review our guide to working with pure pheromones first.
A 6 ml bottle of pure Androstadienone is $49.95. If you feel confident enough to begin experimenting with such a potent product, order a bottle today!
FOR WOMEN IN RELATIONSHIPS WITH WOMEN:

1. Seduce for Her ($9.95)
If you're a woman in a relationship with another woman, or who wants to be in a relationship with another woman, Seduce for Her is a great choice. This lightly scented floral perfume contains Estratetraenol to help stimulate both physical attraction and an emotional bond. It can be combined with other pheromones if you wish, but it works beautifully on its own.
Seduce for Her already contains a floral cover fragrance, so you do not need to wear an additional perfume with it. Just apply to the wrists and throat, and you're ready to go.
A 5 ml roll-on of Seduce for Her is yours for $9.95. Order now!
UPDATE: We no longer carry Seduce for Her. Try Mistress Pheromones for Women instead!
2. Mistress Pheromones for Women ($48.95)
Mistress Pheromones for Women is one of our most popular women's formulas. This pheromone-laced perfume contains Estratetraenol and a combination of other sexual pheromones, with the end result being a confidence-boosting and consistently alluring formula. The pheromones are paired nicely with a herbaceous floral cover fragrance that grabs the attention of partners and passersby alike. Use Mistress to meet someone new or intensify a relationship with a current partner.
Because Mistress is already scented, it does not require a cover fragrance. Apply to the wrists, throat, and under the nose for best effects.
A 10 ml roll-on bottle of Mistress Pheromones for Women is yours for $48.95. Order a bottle today!
3. Pure Estratetraenol ($59.95)
If you would like to take your favorite perfume and turn it into an Estratetraenol–infused pheromone fragrance, pure Estratetraenol could be your best bet. This bottle of pure pheromones contains a 1 mg per ml concentration of pheromones, the highest concentration possible, and is meant to be heavily diluted into a cover fragrance or pheromone mix.
Now, as we've said, working with pure pheromones is not like working with pre-blended pheromones like Seduce or Mistress, so you'll want to make sure you know what you're doing before you jump in. Review our guide to working with pure pheromones before getting started.
If you're ready to begin experimenting with pure pheromones, you can get a 6 ml bottle of pure Estratetraenol for $59.95. If you're an experienced pheromone user, this is a great deal for the price!
There you have it, Love Scent fans! Some pheromones for same-sex couples that work with your body and brain to produce some fantastic results. We hope you give one of these a try!
What do you think of these pheromones for same-sex couples? Have you and your same-sex partner tried any of them? What did you think? Or have you noticed any difference between pheromones for same-sex couples and more orientation-neutral pheromones? Tell us in the comments! You can also contact us directly with your comments, questions, and concerns. And be sure to subscribe to our newsletter to be the first to hear about blog posts, new products, exclusive promotions, and more!
These statements have not been evaluated by the Food and Drug Administration. These products are not intended to diagnose, treat, cure, or prevent any disease.