Father's Day Gifts From Love Scent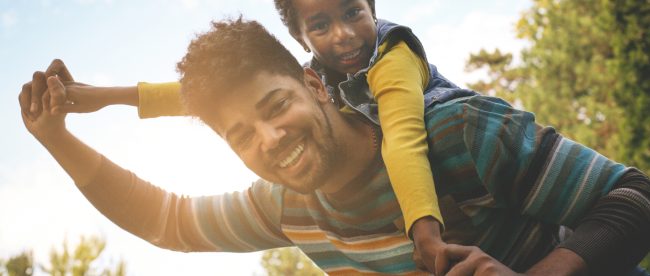 Happy Friday, Love Scent fans!
Father's Day is just over a week away! On June 16 we will celebrate all the fathers, grandfathers, and father figures in our lives, and take a day to tell them how much they mean to us.
If you'd like to treat Dad to a unique Father's Day gift this year, we have some suggestions for you–some with pheromones, some without! Let's take a look…
1. Nag Champa Incense ($1.95)
Nag Champa is one of the most popular and well-known incenses in the world. It contains a blend of resins, flowers, and spices to produce an unforgettable scent and soothing, focused atmosphere. One of its key ingredients, sandalwood, has been used by aromatherapists for centuries to aid in mental clarity, relaxation, and cleanliness, making it the perfect gift for any father who likes his home or workspace to smell good and make him feel great.
Each box of Nag Champa incense contains about 15 sticks, and each burns for about 45 minutes (with the scent lingering for hours afterwards). A box or two would be a great gift for dads who practice mindfulness, meditation, martial arts, or who just enjoy stimulating environments and great scents.
One 15 gram box of Nag Champa incense is $1.95. Get Dad a few boxes this Father's Day!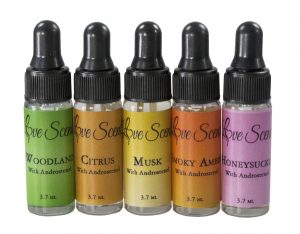 2. Love Scent Pheromone Oils ($9.95)
The Love Scent Pheromone Oils are the perfect starter product for dads who are interested in exploring the wide world of pheromones. These scented oils contain AndrosteNOL, the "icebreaker pheromone," which is a great pheromone for many different situations: at home, at work, days out with the guys, on business trips, on vacations, and more. It's nearly impossible to use too much AndrosteNOL, so it's perfect for beginners, and everyone can benefit from its mood-elevating and stress-reducing properties.
The Love Scent Pheromone Oils are available in five fragrances: Musk, Woodland, Smoky Amber, Citrus, and Honeysuckle. Among these, Woodland, Musk, and Smoky Amber are the most traditionally masculine scents, and are more likely to appeal to men's preferences. Tell Dad to apply 1-2 drops to his pulse points.
A 3.7 ml eyedropper bottle of Love Scent Pheromone Oils is $9.95. Order Dad a bottle or two today!
3. Liquid Trust ($29.95)
Liquid Trust is consistently our most popular product. It contains a social hormone that builds trust between members of a group (such as a family or group of friends), enhances bonding between couples, solidifies bonds between family members, and much more. Its trust-building properties make it especially popular among salespeople, businesspeople, and anyone who needs to maintain a trustworthy and reliable aura. If your father works in sales or has to maintain close relationships with colleagues and clients, or just wants something that will help alleviate stress or anxiety, Liquid Trust could be perfect for him.
Liquid Trust comes in an unscented spray that does not require any cover fragrance, but can be combined with a cologne, aftershave, scented body oil, or any other scent. Tell Dad to apply 1-2 sprays around the neck and on the wrists.
A 7.5 ml bottle of Liquid Trust is $29.95. This versatile and popular product can appeal to just about anyone, so order Dad a bottle now!
4. New Pheromone Additive for Men ($44.95)
The New Pheromone Additive for Men is a long-time favorite among pheromone fans. It contains a blend of AndrosteNONE, AndrosteNOL, and AndrostaDIENONE, which work together to create a very versatile formula. NPA for Men boosts a man's sexual and social magnetism, enhances his perceived masculinity to (straight) women, improves self-confidence, and can enhance his perceived trustworthiness and authority. It's balanced enough to be user-friendly for beginners, but strong enough to pack a potent pheromone punch. If Dad wants to experiment seriously with pheromones, NPA for Men could be just what he's been looking for.
NPA for Men is unscented and has a natural musky pheromone odor, so it needs to be combined with a cologne or other cover fragrance for best results. Most men only need 1-2 drops to their pulse points to see results.
A 10 ml dripper bottle of New Pheromone Additive for Men is $44.95. If you think Dad is interested in pheromones, this will be a great gift for him!
5. Chikara ($59.95)
Chikara is one of our most popular men's products. It contains a mix of social and sexual pheromones, including the standard AndrosteNONE, AndrosteRONE, and AndrosteNOL, to create a balanced and well-rounded range of effects. These include increased confidence, decreased stress, and enhanced social magnetism. The versatile formula makes Chikara a great choice for those new to the world of pheromones, so if you know that Dad has been wondering about pheromones but hasn't been sure where to start, this could be the ideal gift for him.
Chikara comes in a scented cologne and unscented spray, and the unscented spray should be combined with a cover fragrance of some kind. 1 spray spread between the pulse points is all most men need to start seeing effects.
A 15 ml spray bottle of scented Chikara Cologne is $59.95, and a 15 ml spray bottle of Chikara Unscented is $59.95. If you think your father would be interested in pheromones, consider giving him the gift of Chikara this year!
There you have it, Love Scent fans! Some unique, thoughtful Father's Day gifts for all the fathers and father figures in your life. We hope you've found something you think your Dad will love!
Questions? Comments? Stories about great times with your Dad you'd like to share? Let us know in the comments! You can also contact us directly with your comments, questions, and concerns. And be sure to subscribe to our newsletter to be the first to hear about blog posts, new products, exclusive promotions, and more!
These statements have not been evaluated by the Food and Drug Administration. These products are not intended to diagnose, treat, cure, or prevent any disease.