7 Travel-Friendly Pheromones For Summer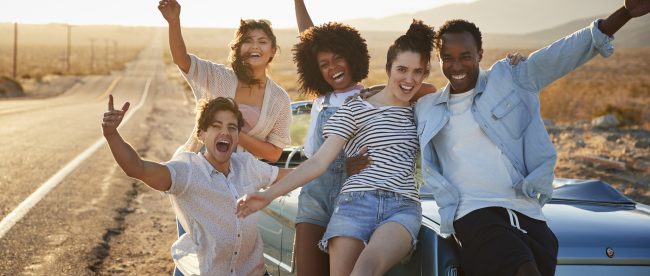 Happy Friday, Love Scent fans!
And happy first day of summer to everyone in the northern hemisphere!
To celebrate the official start of the summer season, we're offering 25% off your next order. Just use the code SUMMERFUN at checkout to get your savings! This offer is good on everything in the store, so stock up on all your favorite pheromones and supplies today!
Now, on to today's topic: some of our most travel-friendly pheromones!
Summertime is peak travel season. The weather is warm, kids are out of school, and everyone is itching to get out and explore after long gloomy winters.
Pheromones can be a great addition to your travel adventures. Social pheromones can help alleviate some of the unavoidable stress of travel (packing, getting to the airport on time, spending hours in close quarters on road trips, keeping small children entertained, and so on); they can also put you in a great mood to help you make the most of your hard-earned time off. If you're on a romantic getaway with your partner or on a fun "adult" trip with friends, you can also depend on travel- or trial-sized sex pheromones to make the trip unforgettable.
Now, if you have a dependable custom pheromone blend that you want to take with you, but you don't want to spend time mixing up pheromones while you're on the go, you can consider simply putting it in a pocket atomizer or roll-on bottle and bringing it with you virtually anywhere you need to go. Atomizers work better for thin, spray-able products, and roll-ons work better for thicker, oil-based products. Choose whichever works best for your mix, load up your atomizer or roll-on, and take it with you on your adventures. Our pocket atomizers and roll-ons are durable, hold up well during travels, and let you quickly and easily apply your pheromones wherever your travels take you.
But if you don't yet have an established mix and want some advice for travel-friendly pheromones, whether to use in a mix or on their own, we've got you covered! Let's take a look….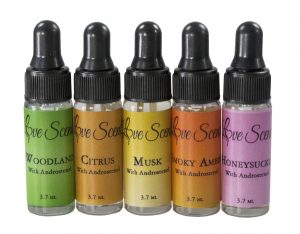 1. Love Scent Pheromone Oils ($9.95)
The Love Scent Pheromone Oils are an ideal travel pheromone. They contain AndrosteNOL, a relaxing, soothing pheromone that alleviates stress and anxiety and puts everyone in a good mood. It's perfect for close quarters, such as cramped flights or road trips, and has virtually no bad side effects. If you want something that will help you overcome the more hectic aspects of travel with your good mood intact, these oils are a great choice.
The Love Scent Pheromone Oils come in five different fragrances: incense-like Woodland, bright and fruity Citrus, clean and fresh Musk, classic Smoky Amber, and sweet floral Honeysuckle. Choose whichever suits your tastes and apply 1-2 drops to the pulse points. If you'd like to benefit from these oils' relaxing self-effects, apply a drop under the nose as well.
A 3.7 ml eyedropper bottle of Love Scent Pheromone Oils is $9.95. These highly portable, travel-friendly pheromones are some of our most popular products, so give them a try if you haven't already!

2. Seduce for Her ($9.95)
Seduce for Her is perfect for a romantic getaway. It contains Estratetraenol, a romantic pheromone that helps improve communication and bonding between partners. It is most effective on straight men and gay women, and tends to work best for couples in an established relationship, so it's a good choice for a trip with your long-term partner–perhaps a honeymoon or special anniversary trip.
Seduce for Her is a scented roll-on, so application is very easy: just unscrew the cap, roll the perfume onto your pulse points, and then tuck the bottle away again. Because it already contains a summery floral perfume, you do not need to combine it with a cover scent or have additional perfume on hand. This convenience makes it one of our most travel-friendly pheromones!
A 5 ml, ultra-portable roll-on of Seduce for Her is $9.95. Order a bottle for your next romantic vacation today!
UPDATE: We no longer carry Seduce for Her. Try NPA for Women with your favorite cover fragrance instead!
3. Rebel for Him ($9.95)
As travel-friendly pheromones go, Rebel for Him is one of the best. It combines the benefits of AndrosteNOL, a social pheromone that reduces stress and anxiety and promotes a positive mood (perfect for helping you make the most of your adventures), with the convenience of a small portable roll-on. If you'd prefer not to fiddle with eyedroppers or sprays while you're traveling, perhaps because you're in close quarters in a car or on a train, this pheromone is a perfect choice for you.
Rebel for Him is already scented with a fresh, faintly sweet musk cologne, so you do not need to bring your own cologne with you to use as a cover fragrance. Just pull out the ultra-portable bottle, roll some of the cologne on your pulse points, and put it away again. It's small enough to fit in a pocket and can be taken anywhere you might need it.
A 5 ml roll-on of Rebel for Him is $9.95. This is a great pheromone for any traveler, so order now!
4. Mojo Pro for Men or Women ($12.95)
The Mojo Pro pheromone sprays are portable, travel-friendly pheromones that are perfect for vacations with friends or partners. They contain a blend of sexual and social pheromones that improve your mood and confidence while giving you a sexy, appealing aura. If you're off for a weekend with the guys or the girls, or a fun vacation with your partner, these are a great choice to bring along.
Mojo Pro comes in a scented cologne for men and a scented perfume for women. The designer cover fragrances do a good job of masking the smell of the pheromones, so no additional cover fragrance is required. Just apply 1-2 sprays to the pulse points and then tuck the atomizer back into your pocket or handbag.
A 3 ml atomizer of Mojo Pro for Men or Mojo Pro for Women is yours for $12.95. Give them a try this summer!
5. Chikara Mini ($14.95)
Designed as a trial size for men who wanted to try out our popular Chikara Pheromone Cologne for Men, the Chikara Mini is also an ideal travel size for those who only need enough Chikara to last them through their vacation. The 1 ml tube is good for 10-20 uses and contains the same tried-and-true Chikara formula that men have been depending on for years. The mix of social and sexual pheromones is confidence-boosting and unforgettable, and perfect for any situation–from vacations with family to romantic getaways with your partner.
The Chikara Mini is already scented with a sandalwood-inspired fragrance, so you do not need to bring along extra cologne to use as a cover fragrance. The 1 ml tube comes with a dripper stick that you can use to dab the formula onto your pulse points. You can also put it in a roll-on or atomizer for added convenience.
If you want to bring Chikara with you on your next vacation but are worried about bringing along a full-size bottle, the Chikara Mini is the travel-friendly alternative. Order this 1 ml travel size for $14.95 today!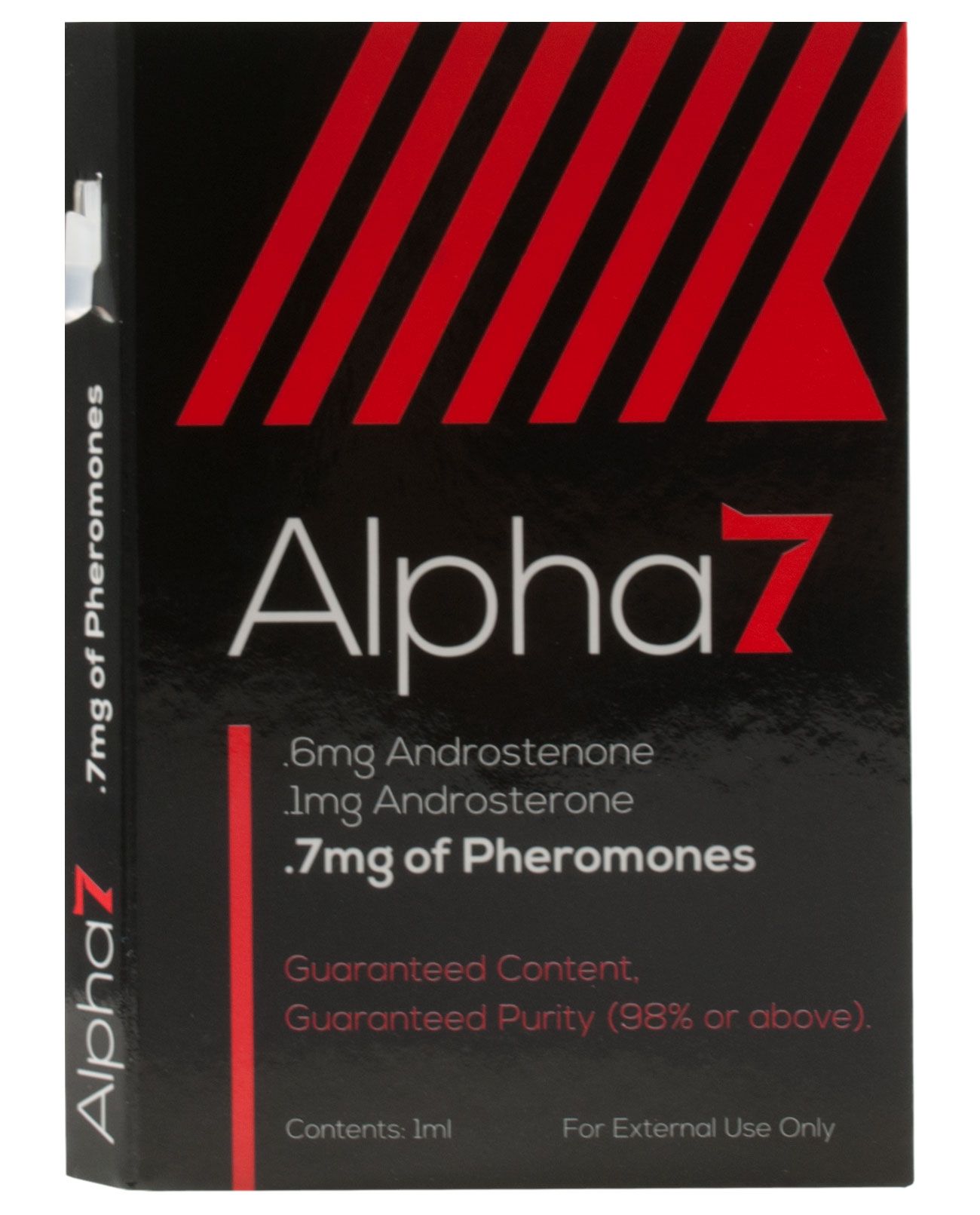 6. Alpha-7 Mini ($14.95)
Like the Chikara Mini, the Alpha-7 Mini was designed as a trial size for people interested in our Alpha-7 Unscented formula. This small trial size is also a good travel size: the 1 ml tube is good for 10-20 uses, letting you take the amount of Alpha-7 that you need without bringing along a full-size bottle. The formula is a strong, very sexual mix of AndrosteNONE and AndrosteRONE, making this a good pheromone for people on trips with friends or their partners.
The Alpha-7 Mini is unscented and should be used with a cover fragrance, so you will need to have a scent of some kind–a cologne or body spray works best–if you plan to use it on your travels. Apply to your pulse points using the dripper stick that comes with the 1 ml tube. If you're the type of person to bring fragrances and scented toiletries with you on your travels, the Alpha-7 Mini is an easy addition to your travel routine. You can also consider mixing it with a cover fragrance or scented pheromone in an atomizer or roll-on and bringing it with you pre-mixed and ready to go.
If you're looking for travel-friendly pheromones for your next vacation, the Alpha-7 Mini is a good choice. This 1 ml travel-size tube is only $14.95, so order today!
7. Liquid Trust ($29.95)
Liquid Trust's portable size, convenient application, and long list of beneficial effects make it one of our best travel-friendly pheromones. It contains a social hormone known to reduce anxiety and stress, promote bonding, foster trust, and improve the mood. It's ideal for people who anticipate stress during their travels or who want to get along well with their traveling companions–in short, ideal for all travelers! Whether you're having the road trip of a lifetime with your best friends, a family vacation with the kids, or a romantic weekend with your partner, Liquid Trust is a great choice.
Liquid Trust comes in an atomizer and does not require a cover fragrance, so you can apply it easily just about anywhere without worrying about having cologne or perfume on hand. Spray on the pulse points and around the neck for best results.
A 7.5 ml atomizer of Liquid Trust is yours for $29.95. This is our most popular product overall and one of our top travel-friendly pheromones, so order a bottle or two today!
BONUS: Essential Oils (starting at $4.95)
Essential oils are plant-derived aromatic compounds with nearly endless benefits. They have been used for centuries in aromatherapy and massage therapy for many reasons: relaxation, stress reduction, mood improvements, energy boosts, and much more. They do require a little bit of preparation before use (they should never be applied directly to the skin until they are diluted in the carrier liquid of your choice), but once you've prepared them, you can enjoy their benefits anywhere.
We offer six types of essential oils:
These oils can be used on their own once properly diluted, or mixed together in an aromatherapy blend. You can find many aromatherapy recipes online, as well as advice for carrier liquids (such as oils or perfumer's alcohol).
We recommend carrying your essential oil blends in roll-on bottles after they have been diluted in the carrier liquid of your choice. Then they are ready to be taken anywhere you wish to go!
Our 10 ml bottles of essential oils are $4.95 apiece. You can also get them all together in our aromatherapy sampler for $29.95. Order today!
There you have it, Love Scent fans! Some of our best travel-friendly pheromones and supplies to make your next vacation the best it can be! And don't forget to use the code SUMMERFUN at checkout during your next order to save 25%!
Which pheromones do you like to have on hand when you travel? Do you have a go-to for all your adventures, or do you customize based on where you're traveling and who you're traveling with? Tell us about it in the comments! You can also contact us directly with your questions, comments, and concerns. And be sure to subscribe to our newsletter to be the first to hear about blog posts, new products, exclusive promotions, and more!
These statements have not been evaluated by the Food and Drug Administration. These products are not intended to diagnose, treat, cure, or prevent any disease.