Love Scent's 2019 Holiday Gift Guide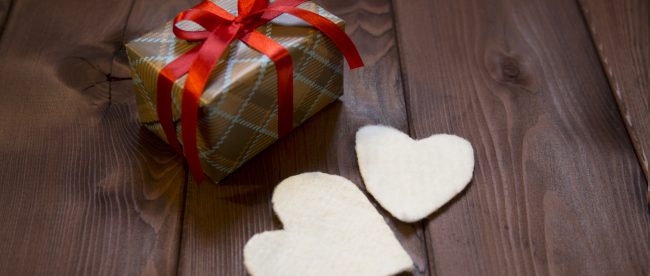 Happy Friday, Love Scent fans!
First of all, you still have some time to take advantage of our Cyber Week savings. Through Sunday, just enter the code CYBERWEEK19 at checkout to get 35% off your order. Be sure to get your savings while they last!
Now, if you celebrate any of the the season's gift-giving holidays, you've probably been busy drawing up gift lists for your friends and family. If you're interested in giving pheromone-themed gifts this year, we have plenty of ideas to share with you. We have options for pheromone newbies and pros alike, and are sure to have something within your gift-giving budget!
Before we get into our gift recommendations, let's talk shipping logistics. We offer a variety of shipping options from the USPS and FedEx, and transit times vary by option. Be sure you know how long your package may take to arrive when you place your order. And rest assured: our packaging is very discreet, with no logos on the package and only "LS Products" on the return address.
Orders placed by 11:00 AM PST Monday through Saturday will ship the same day. Orders placed after 11:00 AM PST Monday through Saturday may ship the next business day. Orders placed on Sunday will ship on Monday.
The shipping options, and their transit times, are:
For domestic shipments:
USPS First Class: 3-5 business days (no Sunday delivery)*
USPS Priority: 2-3 business days, depending on zip code (no Sunday delivery)
USPS Priority Express: 1-2 business days, depending on zip code (no Sunday delivery)
FedEx Ground: 1-5 business days in lower 48; 3-7 to Alaska and Hawaii (no weekend delivery – use this map to check exact transit times from our zip code, 97401)
FedEx 2 Day: 2 business days, delivery by 8:00 PM (no weekend delivery)
FedEx 2 Day AM: 2 business days, delivery by 10:30 AM in most areas (no weekend delivery)
FedEx Standard Overnight: next-day delivery by 8:00 PM (no weekend delivery)
FedEx Priority Overnight: next-day delivery by 10:30 AM in most areas and by 5:00 PM in remote areas (no weekend delivery)
*Note: USPS First Class shipping comes FREE with domestic orders of $75 or more…and yes, that includes delivery to Hawaii and Alaska! (Unfortunately, we cannot offer free international shipping. Our apologies!)
For international shipments:
USPS First Class International: packages typically arrive within 7-10 days, but there is no guaranteed time frame and depending on your local postal system it may take several weeks for your package to arrive (we do not recommend this option for time-sensitive purchases, especially if you are shipping overseas!)
USPS Priority International: 6-10 business days
USPS Priority Express International: 3-5 business days
FedEx Ground International (Canada and Mexico): 2-7 business days
FedEx International Economy: 2-3 days for Canada and Mexico; 3-5 business days to other countries
FedEx International Priority: 1-3 business days
All right, now that you know when to order your gifts to ensure you receive them on time, let's take a look at the gifts themselves! We've sorted them by price range so you can easily find options within your budget.
$15 OR LESS

1. Love Scent Pheromone Oils ($9.95)
Our Love Scent Pheromone Oils are the ideal pheromone for someone who has not used them before. They contain the social "icebreaker" pheromone AndrosteNOL, which is well-known for its relaxing, mood-elevating, stress-relieving effects. It is used for its self-effects and its effects on those around the wearer. Because AndrosteNOL has virtually no bad side effects, it is nearly impossible to overdose on it, and so it won't matter if a pheromone newbie accidentally uses too much.
The Love Scent Pheromone Oils are available in ten fragrances:
Woodland–subtly spicy and faintly smoky blend of woody notes
Citrus–the fresh scent of citrus carried by floral undertones
Musk–a sweet and subtle Egyptian musk
Smoky Amber–the ancient scent of amber blended with smoky notes
Honeysuckle–the nostalgic smell of honeysuckle blossoms
Amber Oudh–classic notes of amber and agarwood
Sweet Cream–the rich scent of fresh cream and vanilla
Jasmine–the distinctive and classic scent of blooming jasmine
Floral Garden–a blend of bright floral notes, including sweet pea
Sandalwood–one of the most ancient and popular fragrances in the world
Each scent has the same pheromone content. Choose whatever you think your loved one will like!
Each 3.7 ml eyedropper bottle of Love Scent Pheromone Oils is $9.95. Treat your loved one to the power of pheromones this year!
2. Eye of Love Roll-Ons ($9.95)
The Eye of Love products became instant hits when we added them to our catalog. They contain effective but gentle pheromones designed to heighten your magnetism and attractiveness without intimidating or agitating others. Those pheromones are then paired with alluring cover fragrances that are sure to get anyone's attention.
There are two products available from this line: Rebel for Him, an AndrosteNOL-infused cologne with a fresh musk fragrance; and Seduce for Her, an Estratetraenol-based pheromone perfume blended with a light floral scent. Both products are suitable for beginners.
Rebel for Him and Seduce for Her are both available in 5 ml roll-ons for $9.95. Treat a friend or family member to one of these great products this winter!
UPDATE: We no longer carry Seduce for Her. Try NPA for Women with your favorite cover fragrance instead!
3. Mojo Pro Pheromone Massage Candles ($14.95)
If you'd like to give a truly unique pheromone gift this year, we recommend the Mojo Pro Pheromone Massage Candles. These candles combine the power of pheromones, which are diffused into the air as the candle burns, with the myriad benefits of massage: they create usable, pheromone-infused massage oil as they burn! If you and your partner have been interested in exploring the unique benefits of couples' massage, these are the perfect thoughtful gift to get you started.
The Mojo Pro Pheromone Massage Candles contain a romantic and sensual blend of relaxing pheromones. They come in two fragrances: Bahamian Adventure, which diffuses the sweet smell of coconuts and tropical fruits; and Original Desire, which has a lighthearted, feminine, and faintly fruity scent. The wax is made of a nourishing combination of shea butter, coconut oil, and soy wax that melts into a massage oil at a low temperature. The curved edges of the tin make it easy to pour the massage oil into your hand.
The Pheromone Pro Pheromone Massage Candles are $14.95 each. Order for your loved one today!
$30 OR LESS
1. Love Scent Pheromone Samplers ($19.95)
The Love Scent Pheromone Samplers are a great way to introduce someone to the world of pheromones. Each contains a range of unique products to let someone experiment with different pheromone types and learn what works best for them. If you know someone who has been interested in pheromones, one of these samplers would be a thoughtful way to help them get started.
Our women's sampler includes:
And our men's sampler includes:
Each of the above samplers is available for $19.95. Introduce someone to pheromones this year!
2. Liquid Trust ($29.95)
Liquid Trust is an ideal beginner pheromone, and one of our most popular products to date. It contains a social pheromone, not found in most pheromone products, that builds trust and promotes relaxation in the wearer and everything around them. This unscented spray is a favorite of pheromone newbies and pros alike.
Unlike most unscented pheromones, Liquid Trust does not require a cover fragrance, so it can be worn even by those who are sensitive to scents or who do not usually wear fragrances. Simply spray it around the neck and on the pulse points.
A 7.5 ml spray bottle of Liquid Trust is $29.95. This is one of the most dependable pheromones you can give someone, so order a bottle for your loved ones today!
3. Aromatherapy Sampler ($29.95)
This is an option for people who might not be ready to try pheromones just yet, or who like to make their own natural cover fragrances for their unscented pheromones. The Zellous Essential Oils Aromatherapy Sampler contains six of the most popular essential oils in a gift-ready black box.
This Aromatherapy Sampler includes:
This sampler is ideal for anyone interested in essential oils, from experienced aromatherapists and home perfumers to those who are just getting started. (Note: if the recipient of this gift has limited essential oils experience, make sure they've reviewed essential oil safety guidelines.)
The Zellous Essential Oils Aromatherapy Sampler includes all of the above oils for $29.95. Whether your loved one wants to make their own cover fragrances or wants to explore essential oils by themselves, we know they'll appreciate this gift!
$50 OR LESS
1. Edge Sandalwood Cologne ($39.95)
Edge Sandalwood Cologne is a solid beginner product for men who are seriously interested in pheromones. It contains a powerful and balanced mix of the sex pheromone AndrosteNONE, the social pheromone AndrosteNOL, and the sex pheromone AndrostaDIENONE. The pheromones are paired with a classic sandalwood fragrance that earns attention but is not overwhelming. The end result is a mildly sexual formula that boosts magnetism and attractiveness without being aggressive–perfect for people who are new to pheromones, or experience pheromone users who want a balanced and dependable formula.
The oil-based Edge Sandalwood Cologne requires no additional cover fragrance and is easy to apply: just roll the formula on the pulse points like the wrist, throat, and behind the ear.
A 10 ml roll-on of Edge Sandalwood Cologne is $39.95. Order a bottle for one of the men in your life today!
2. New Pheromone Additive for Men ($44.95)
Like Edge, our New Pheromone Additive for Men is a good choice for men who want a nicely-balanced formula to work with–whether they're totally new to pheromones or have been using them for years. It contains a blend of AndrosteNONE, AndrosteNOL, and AndrostaDIENONE, which work together to make the wearer attractive and alluring with a low risk of aggressive or overbearing side effects. Its dependable formula has made it one of our top products for men for many years.
New Pheromone Additive is unscented, and should be combined with the wearer's favorite cologne. It can be added directly to the cologne (we recommend starting with a 3-to-1 ratio of fragrance to pheromones to begin with, and adjusting as needed) or applied directly to the pulse points and covered with the fragrance.
A 10 ml dripper bottle of New Pheromone Additive for Men is $44.95. Order this great gift today!
3. Master and Mistress ($48.95)
The Master and Mistress pheromones were designed with functionality and self-effects in mind. The formulas give the wearer a major confidence boost while enhancing their sex appeal to others. The pheromones are combined with distinctive cover fragrances to make them truly unforgettable. They are ideal gifts for all pheromone fans, regardless of their level of pheromone experience, and make especially good romantic gifts for your partner.
The Mistress formula for women contains a blend of copulins, Estratetraenol, and other pheromones. The men's formula also contains copulins, along with other pheromones, to increase a man's confidence and natural sex drive. Both come in easy-to-use roll-on bottles that are shipped in a protective and attractive cardboard tube.
A 10 ml bottle of Master Pheromones for Men or Mistress Pheromones for Women is $48.95. Give these popular formulas to your loved ones this year!
$60 OR LESS
1. Beginner Specials for Men and Women ($54.95)
Our Beginner Specials were designed with serious pheromone fans in mind–whether they're new to the world of pheromones and are very interested in learning a lot about the products and how they work, or people who have been using pheromones for years and want to expand their skill set. The specials include a variety of popular pheromones that can be worn alone or mixed together, as well as a durable pocket atomizer to hold any mixes your loved one chooses to make with their new pheromones.
The women's Beginner Special includes:
The men's Beginner Special includes:
Each of the above Beginner Specials is $54.95 apiece. If you know someone who is seriously interested in pheromones, this is a great gift to give them this year!
2. Chikara Pheromone Cologne ($59.95)
Chikara Pheromone Cologne is our most popular pheromone for men. It contains a dependable blend of pheromones, including AndrosteNONE, AndrosteRONE, and AndrosteNOL, and a striking cover fragrance that can grab attention from across a crowded room. The balanced formula enhances your magnetism and improves your confidence, giving others–men and women alike–the impression that you are a dependable, trustworthy person they'd love to get to know better.
Because Chikara already contains a distinctive cover fragrance, it does not need to be paired with a cologne. 1 spray spread between the pulse points is all most men need to start seeing this formula's legendary effects.
A 15 ml spray bottle of Chikara is $59.95. If you've got a special man in your life, give him a bottle of confidence this winter!
3. Arome De Femme ($59.95)
Arome de Femme makes a great gift for women who love pheromones and classic fragrances. The timeless French-inspired perfume is infused with copulins, which are potent female sex pheromones that enhance a woman's natural sex appeal and confidence. Copulins can be worn by women of any age, but are especially useful for older women whose natural sex pheromones have decreased as the result of natural bodily changes. Arome de Femme contains a user-friendly concentration of these pheromones and is suitable for beginners and pros alike.
Because Arome de Femme already contains a cover fragrance, it does not need additional perfume. Its fragrance notes include musk, florals, and vanilla. A few sprays to the wrists and throat will be sufficient for most women.
A 15 ml spray bottle of Arome de Femme is $59.95. This makes a perfect romantic gift, so order now!
There you have it, Love Scent fans! We hope this guide has inspired you to give the gift of pheromones this year. Whether your loved ones need a boost of confidence, a dose of relaxation, or improved magnetism, something on this list will give them just what they need.
Happy holidays, Love Scent family!
As always, feel free to contact us with your questions, comments, and concerns. And be sure to subscribe to our newsletter to be the first to hear about blog posts, new products, exclusive promotions, and more!
These statements have not been evaluated by the Food and Drug Administration. These products are not intended to diagnose, treat, cure, or prevent any disease.