Pheromone Focus: Copulins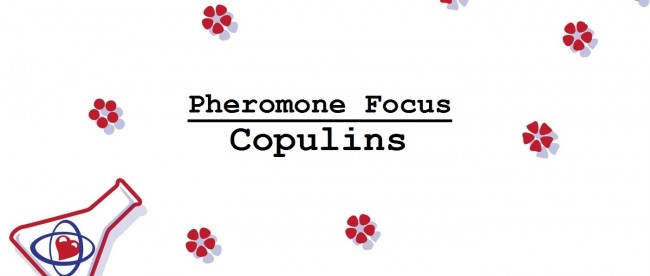 What's up, Love Scent fans!  Hope you had a great Thanksgiving weekend.  This week, we'll be taking a look at copulins, a hormone naturally produced by women with strong, pheromone-like effects.  Copulins are used in many pheromone products for women and has some powerful effects.  Read on to learn more.
Where are copulins found naturally?
Copulins are natural hormones secreted by the human female vagina during ovulation.  Copulins are only produced naturally by women, and are only found in women's pheromone products.
What are the effects of copulins?
Copulins have huge effects on men, both chemically and emotionally.  Studies have found that copulins can actually rapidly increase testosterone levels in men by up to 150%!  When briefly exposed to copulins, men will often find women more attractive.  Longer exposure provides even stronger effects.
When exposed to copulins for a longer period of time, men will often be more submissive to women, more likely to listen, and more likely to have a desire to please women around them.
Copulins get stronger when a man has been in a relationship with a woman for a long time.  Sexual attraction, submissive behavior, and feelings of attachment caused by copulins get more and more apparent in long-term relationships.  Copulins are an important part of love and relationships!
With pheromone products containing copulins, women can get an advantage when attracting new partners, and can potentially bring back the spark in current relationships.
What do copulins smell like?
Anyone who's tried a copulin-based product can tell you that pure copulins have a strong smell.  It is a sweet, thick, pungent smell that you will most likely want to cover up with another fragrance.  Similar to androstenone, copulins can end up turning people off if their smell is not properly covered.
What are the best pheromone products that contain copulins?
We have several great pheromone products for women containing copulins, including: Love Scent Copulin Concentrate, Primal Women, and Arome de Femme.
Now you know all about copulins.  Please leave a comment if you have any questions, concerns, topics you'd like us to discuss.  Subscribe to our newsletter to be updated on new promotional codes and blog posts, and get yourself a set of free samples.  Have a great weekend!
These statements have not been evaluated by the Food and Drug Administration. These products are not intended to diagnose, treat, cure, or prevent any disease.