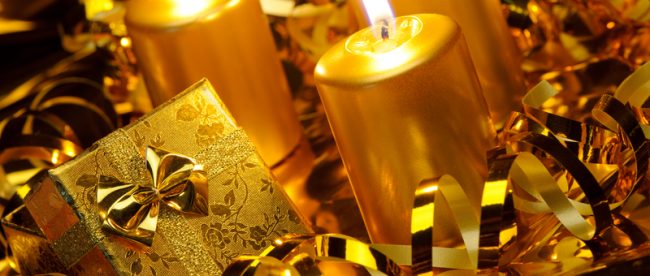 Happy Friday, Love Scent fans!
Or should we say: happy Black Friday!
The Christmas shopping season is officially in full swing, and we have some big savings to share with you! Use the code BLACKFRIDAY21 at checkout to save 35% on your next order! This offer is good on everything in the store, but hurry: the savings won't last forever!
And, if you still need help finding gifts for the special people in your life, we have some more recommendations for you! This week, we're going to look at some romantic pheromone gifts to give the special someone in your life!
(And remember, if you want affordable "starter" pheromones for your loved ones this year, check out last week's post!)
All right–let's dive right in!
The Mojo Pheromone Massage Candles are the ultimate romantic pheromone gifts for your partner! These candles aren't just infused with sexual, sensual pheromones–they also create usable massage oil as they burn. Couples massage is a great way to deepen the bond in your relationship, and these candles give you what you need to get started! The Mojo Pheromone Massage Candles are an ideal gift for long-term couples or those who want to turn the heat up in a new relationship.
The Mojo Pheromone Massage Candles come in two fragrance options: tropical, relaxing Bahamian Adventure, or the fruity and flirty Original Desire. Both candles are made of soy wax, coconut oil, and shea butter. Just light the candle, allow a pool of wax to form, and pour the wax into the palm of your hand. Because it melts at a relatively low temperature, you won't burn yourself or your partner. Now you're ready for an intimate partner massage!
If you want to treat your partner to an unforgettable gift this year, order them the Mojo Pheromone Massage Candles today! Bahamian Adventure and Original Desire are yours for $12.95 each.
If your partner is a DIY enthusiast and has some experience with pheromones under their belt, pure pheromones make a great gift! These potent pheromone concentrates are perfect for turning any fragrance into a powerful attractant. They also allow pheromone enthusiasts to make a totally custom, 100% unique blend tailored to their own needs!
We have five pheromone concentrates to treat your partner with:
AndrosteRONE, AndrosteNONE, AndrosteNOL, and AndrostaDIENONE are available together in the Fab 4 Chem Set!
Remember, these pure pheromones are meant for people with experience working with pheromones. They require dilution before use (we recommend 1 drop per at least 5 ml of fragrance) and need a cover fragrance for best results. If your partner has the necessary experience, and enthusiasm for DIY creations, these are perfect for them!
Our pure pheromones start at $14.95 (for AndrosteRONE) per 6 ml bottle. If you need romantic pheromone gifts for the pheromone enthusiast in your life, order a bottle or two for them today!
3. New Pheromone Additive for Men or Women ($39.95)
The New Pheromone Additive are classic, tried-and-true formulas that make very romantic pheromone gifts. They contain carefully-selected blends of pheromones designed to enhance the wearer's attractiveness, magnetism, and overall appeal. Both the men's and women's formula include specific pheromones designed to ensnare their partner's attention and deepen their emotional and physical connection.
New Pheromone Additive for Men contains the social pheromone AndrosteNOL, the sex pheromone AndrosteNONE, and the romantic powerhouse pheromone AndrostaDIENONE. New Pheromone Additive for Women contains AndrosteNOL, AndrosteNONE, and the women's attractant Estratetraenol. Both work best when combined with a perfume or cologne!
A 10 ml bottle of New Pheromone Additive for Men or New Pheromone Additive for Women is $39.95. Treat your partner to one of these ever-popular formulas today!
5. Beginner Specials for Men and Women ($44.95)
If your partner wants to make a serious dive into the world of pheromones, the Beginner Specials are for them! These kits have everything they need to experiment with a variety of pheromones with minimal fuss. Your partner will be able to try confidence-boosting, mood-elevating formulas, and can begin experimenting with pheromone mixing!
The Beginner Special for Men includes:
NPA for Men (10 ml): a classic formula with a perfect blend of social, sexual, and romantic pheromones
Love Scent Pheromone Oils – Musk (3.7 ml): our best-selling social pheromone in its fresh, clean Musk variation
Chikara Pheromone Cologne for Men (0.5 ml sample): our most popular men's formula that combines a variety of pheromones with a distinctive cover scent
Empty Atomizer (10 ml): this sturdy atomizer is ready and waiting to receive your customized pheromone mixes
And the Beginner Special for Women includes:
NPA for Women (10 ml): our popular women's formula with a balanced blend of sexual, romantic, and social pheromones
Love Scent Pheromone Oils – Honeysuckle (3.7 ml): our popular social pheromone in its top-selling Honeysuckle fragrance option
Primal Women (0.5 ml sample): our popular women's formula that combines social and sexual pheromones for a variety of benefits
Empty Atomizer (10 ml): an empty atomizer to store and transport your DIY pheromone mixes
The Beginner Special for Men and Beginner Special for Women are $44.95 apiece. Order one of these romantic pheromone gifts for your partner today!
SuperMone Pheromone Cologne is the newest addition to the Love Scent catalog, and one of our most romantic pheromone gifts! Its key component is AndrostaDIENONE, a slightly sexual, very romantic pheromone with a wide range of benefits. AndrostaDIENONE can make a man more masculine and attractive in his partner's eyes. It can also improve communication between couples. This cologne can really help take your relationship to a whole new level!
SuperMone Pheromone Cologne already contains a cover scent. No need for added fragrances here! It's also a perfectly balanced formula, so beginners and experts alike will love it.
A 15 ml bottle of SuperMone Pheormone Cologne is $44.95. Order for your partner today!
Primal Women is one of the most romantic pheromone gifts in our catalog. It contains two pheromones that deepen your romantic bond. AndrosteNOL relaxes the mind and brings walls down. Copulins, meanwhile, create a sexually-charged atmosphere. The two pheromones work together to enhance emotional and physical intimacy. This is a great pheromone for new and long-term relationships alike!
Primal Women contains no cover scent, and it has a naturally strong pheromone odor. We recommend using it with a cover scent. Consider pairing it with your partner's favorite perfume, or treat her to something new!
A 10 ml bottle of Primal Women is $49.95. Order for your partner today!
There you have it, Love Scent fans! If you've been looking for romantic pheromone gifts, we hope you give one of these a try! And don't forget to save 35% when you order by entering BLACKFRIDAY21 at checkout!
Need more gift ideas? Want more info on any of the products recommended here? Get in touch to learn more! And be sure to subscribe to our newsletter to get free samples and to hear about coupons, website updates, and new products!
These statements have not been evaluated by the Food and Drug Administration. These products are not intended to diagnose, treat, cure, or prevent any disease.