Love Scent's Top Pheromones For Women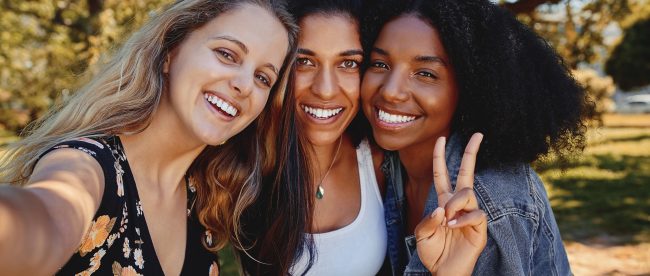 Happy Friday, Love Scent fans!
This Sunday, March 8, is International Women's Day, and we're celebrating! In honor of all the women who improve our lives, we're offering 30% off your next order. Just use the code WOMENSDAY at checkout!
Also in honor of International Women's Day, and all the women in the Love Scent family, today we're going to be looking at Love Scent's pheromone options for women!
Now, as we've discussed before, most pheromone products are actually unisex. Most pheromones are produced by both men and women, but some are associated more with one gender due to a lot of factors–cultural, social, marketing, and so on.
For example, Alpha-7 is considered by most people to be a men's product, but its two pheromone ingredients (AndrosteNONE and AndrosteRONE) are naturally produced by men and women alike. It's true that men generally produce those pheromones in higher amounts compared to women, but they are unisex pheromones, and people of any gender can be affected by them.
That said, there are some pheromones that are produced only by (cisgender) women. The most important of these are copulins, which are very sexual acidic pheromones produced in the reproductive tract, and Estratetraenol, an emotionally-charged pheromone that affects straight men and gay and bisexual women.
The pheromones we're looking at today contain copulins, Estratetraenol, or both. They are products designed with women in mind, whether those women need a boost of confidence, want to enhance their natural sex appeal or femininity, or just want to get the best out of life. Let's take a look!
1. Mistress Pheromones for Women (starting at $9.95)
Mistress Pheromones for Women contains a mix of Estratetraenol, copulins, and other pheromones, all blended together with a distinctive herbal cover fragrance. The Estratetraenol affects straight men and gay women by activating the brain centers associated with sex and romance, and the copulins affect straight men by boosting their confidence and willingness to take romantic risks–plus giving their natural sex drive a boost. Mistress is therefore a great choice for women in relationships with men and women in relationships with other women.
Because Mistress is already scented, you do not need to add any additional perfume. Just apply to the wrists, throat, and behind the ears before a romantic night with your partner!
You can try Mistress Pheromones for Women with the Mistress Mini for $9.95, or get a full-size 10 ml Mistress roll-on for $48.95. This is one of our most popular pheromones for women, so order today!

2. Seduce for Her ($14.95)
Seduce for Her is a women's pheromone perfume that contains Estratetraenol and a floral cover fragrance. Like any product containing Estratetraenol, Seduce stimulates the "sex and romance" centers of straight men and gay women's brains. It can also intensify feelings of arousal in everyone, regardless of their gender or sexual orientation, and can have the self-effect of increased confidence on the wearer. It's a great pheromone for couples who want a closer bond.
Seduce's cover fragrance contains notes of jasmine, bergamot, and Damascus rose. Apply to your pulse points whenever you want to ramp up the romance.
A 5 ml roll-on of Seduce is yours for $14.95. Order now!
UPDATE: We no longer carry Seduce for Her. Try NPA for Women with your favorite cover fragrance instead!
3. Primal Women (starting at $14.95)
Primal Women contains a mix of two pheromones: copulins, and the social pheromone AndrosteNOL. These two pheromones work together to enhance your natural magnetism, boost your confidence (and the confidence of those around you), and create a stronger connection with others–both in the sexual and emotional sense. It's one of our most popular pheromones for women.
Primal Women is unscented, and should be combined with your favorite perfume. Apply a drop or two to your wrists and throat and spray your favorite perfume over it.
You can try Primal Women with the 1 ml trial-size Primal Women Mini for $14.95, or get a full-size 10 ml Primal Women dripper bottle for $59.95. Add a bottle to your pheromone collection today!
4. Love Scent Copulin Concentrate ($29.95)
Our most intensely sexual product for women, our Love Scent Copulin Concentrate contains only copulins in an unscented oil base. It is so highly concentrated that it must be diluted before use–which you won't mind doing, because it has a very strong natural odor that you'll want to cover. When properly diluted, this concentrate creates a sexually-charged atmosphere that will boost your confidence and that of your partner. If you want to turn your favorite fragrance into an intense sexual pheromone perfume, this is the way to do it!
To use Love Scent Copulin Concentrate, we recommend diluting 1 drop of the concentrate in several milliliters of your favorite perfume. (If you need something to hold the resulting mix, you can find atomizers and roll-ons here.) Depending on how well your perfume covers the natural copulin smell, and how effective the resulting mix is for you and your needs, you may need more or less of the copulins. Once you have the ratio right, apply to the pulse points.
Our Love Scent Copulin Concentrate takes a bit more effort than the other products on this list, but the end result is well worth it! Order a 3.7 ml eyedropper bottle today for $29.95.
5. Arome de Femme ($59.95)
If you'd like a copulin-infused pheromone perfume that can be worn right out of the bottle, without any fussing over dilution or added cover fragrance, Arome de Femme is for you. This French-inspired perfume blends copulins–and all their sexually-stimulating, confidence-boosting effects–with a classic scent. It's not as intense as a pure copulin concentrate, but it doesn't need to be: copulins are incredibly powerful even in small doses. The less-intense concentration makes Arome de Femme one of our most user-friendly sexual pheromones for women.
Arome de Femme's cover fragrance contains notes of musk, sandalwood, florals, citrus, and vanilla. It does not require any additional fragrance. Just apply 1-2 sprays to the pulse points and you're ready for a date or a night out with friends.
A 15 ml spray bottle of Arome de Femme is yours for $59.95. Order this no-fuss sexual pheromone perfume today!
6. Attrakt for Her ($69.95)
Attrakt for Her is a pheromone perfume that combines the sexual power of copulins with a social pheromone that builds trust, promotes bonding, and reduces anxiety. This combination of pheromones makes it one of our more versatile pheromone perfumes. It's a good choice for women in relationships who want to strengthen their existing bond with their partner, or single women who want to forge a deeper connection with others (rather than create surface-level attraction).
Attrakt for Her already contains a perfume, so you do not need to combine it with your own cover fragrance. Simply apply to the wrists, around the neck, and behind the ears.
A 1 oz bottle of Attrakt for Her is $69.95. That's a great price for the size and quality of the pheromones, so order today!
UPDATE: We no longer carry the Attrakt products. Try mixing the Love Scent Pheromone Oils or Liquid Trust with your favorite sex pheromone instead!
There you have it, Love Scent fans! Our best pheromones designed specifically for women. We hope the women in the Love Scent family give one of these products a try–and don't forget to save 30% on your order by entering the code WOMENSDAY at checkout!
To all our female readers: have you used any of the above pheromones for women? What did you think? Do pheromones specifically for women work best for you, or do you have better luck with unisex pheromones? Tell us about it in the comments! You can also contact us directly with your questions, comments, and concerns. And be sure to subscribe to our newsletter to be the first to hear about blog posts, new products, exclusive promotions, and more!
These statements have not been evaluated by the Food and Drug Administration. These products are not intended to diagnose, treat, cure, or prevent any disease.