5 Sexual Pheromones For Women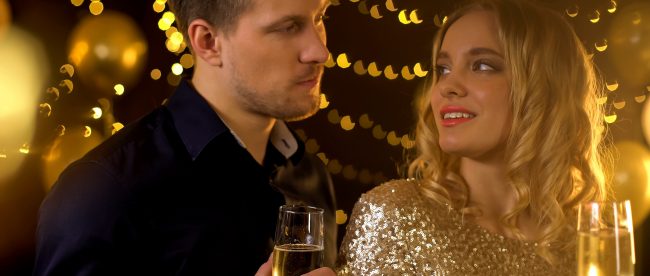 Greetings, Love Scent fans!
Today, we're going to talk about our top sexual pheromones for women!
As we've discussed in the past, sexual pheromones are pheromones that directly stimulate sexual arousal and attraction; social pheromones, on the other hand, have more emotional effects, such as reduced anxiety and increased trustworthiness. That said, there is some overlap in the effects of each type of pheromone: sexual pheromones and social pheromones can both boost self-confidence, for example. Additionally, some non-sexual pheromones can be used for sexual purposes: the stress-relieving properties of AndrosteNOL, for example, can improve your sex life and your relationship with your partner even though it ususally doesn't directly create sexual attraction.
Despite the overlaps in their effects, most people find that sexual pheromones do work best when they need something for a specifically sexual situation, such as attracting a new partner or restoring sexual intimacy in a long-term relationship. Of course, there are always exceptions, and some people may find that a social pheromone works best–but for the majority of pheromone users, sexual pheromones have particular benefits that make them the ideal choice for sexual situations.
Now, many pheromone users–newbies and pros alike–often assume that women do better with social pheromones, regardless of what they're using the pheromones for. This is usually because the effects of social pheromones are seen as more beneficial to women. User experience, however, tells a different story, and most women find that sexual pheromones work as well for them as they do for men–even if the pheromone is often assumed to be a "men's" pheromone.
With us so far? Good! Now let's take a look at some of our best sexual pheromones for women!
1. Mistress Pheromones for Women (starting at $9.95)
Mistress isn't just one of our best sexual pheromones for women; it's one of our most popular pheromones for women overall. It contains a blend of copulins, sexual pheromones produced in the female reproductive tract, and Estratetraenol, a female pheromone with a mix of emotional and sexual effects. The copulins increase straight men's natural testosterone levels, self-confidence, and interest in sex, while the Estratetraenol stimulates sexual and romantic attraction in gay women and straight men. These powerful pheromones are then blended with a striking herbal cover fragrance.
Because Mistress already contains a cover scent, you do not need to wear additional perfume with it. Just apply to the pulse points and you're ready to turn up the heat in your love life.
You can try Mistress Pheromones for Women with the 1 ml Mistress Mini for $9.95, or in a 10 ml roll-on for $48.95. Try it today!
2. Alpha-7 Unscented (starting at $14.95)
Many people assume that Alpha-7 is exclusively a men's pheromone, but it's actually one of our best sexual pheromones for women, too! It contains a mix of the potent sex pheromone AndrosteNONE and the mild sex pheromone AndrosteRONE. These pheromone increase sexual attraction and interest, boost confidence, and create an authoritative aura, regardless of the gender of the person wearing them. Many women report great success in their love life when using Alpha-7, whether they're using it with a long-term partner or someone they just met.
Alpha-7 Unscented does not contain an added cover fragrance, but it has a distinctive natural odor that most people find similar to body odor. It is therefore very important to use it with a cover fragrance, or a scented pheromone. Spread 1 drop between your pulse points, and only increase the amount if you're sure you need it.
You can try Alpha-7 Unscented with the Alpha-7 Unscented Mini for $14.95, or get a full-size 10 ml dripper bottle for $59.95. Order now!
3. Arome de Femme ($59.95)
Arome de Femme is a French-inspired, copulin-infused perfume. Copulins are one of the more popular sex pheromones for women because of their strong effects on straight men: they increase straight men's confidence, interest in sex, and attention to their partners, and may make them more willing to take risks (which can be helpful for shy men who have trouble approaching women). They are also notoriously smelly when worn alone, but Arome de Femme's floral-and-musk fragrance covers them perfectly.
Because it is already scented, you do not need to use a cover fragrance with Arome de Femme. Just apply 1-2 sprays to your pulse points before a date or when headed out to your favorite bar or club.
A 15 ml spray bottle of Arome de Femme is yours for $59.95. Give it a try today!
4. Super Primal for Her ($59.95)
Super Primal for Her contains AndrosteNONE, one of the key ingredients of Alpha-7 Unscented, but at a lower and more user-friendly concentration. This product is designed to help you turn your favorite perfume into a sexually-charged pheromone fragrance. The lower concentration of the potent pheromone gives you a bit more room to experiment: 1 drop of Alpha-7 is more than enough for most people, so it's very easy to use too much, but you can safely use several drops of Super Primal for Her without running the risk of agitating anyone around you. This easy-to-use formula has made it one of our most popular sexual pheromones for women.
Super Primal for Her is unscented, and while it does not have a strong odor we do recommend pairing it with your favorite fragrance. You can apply it directly to your pulse points (try 2-3 drops to start with) and spray your fragrance over it, or experiment with different amounts added directly to your fragrance (start with a small test batch using a 3-to-1 ratio of fragrance to pheromones and adjust as needed).
A large 2 oz eyedropper bottle of Super Primal for Her is $59.95. That is a lot of pheromones for the price, so order today!
5. Attrakt for Her ($69.95)
Attrakt for Her combines two powerful ingredients: copulins, which boost women's sexual attractiveness to straight men, and a social hormone with a wide range of effects on human behavior–including sexual behavior. This product is designed to create a sexually and emotionally intimate atmosphere for you and your partner. The pheromones are paired with an attention-getting cover fragrance that helps draw even more attention your way. These qualities make Attrakt for Her one of our best sexual pheromones for women.
Because Attrakt for Her contains a cover fragrance already, you do not need to pair it with your own perfume. Just apply 1-2 sprays to the pulse points and you're ready to go!
A 30 ml bottle of Attrakt for Her is $69.95. Try this powerful product today!
UPDATE: We no longer carry the Attrakt products. Try mixing the Love Scent Pheromone Oils or Liquid Trust with your favorite sex pheromone instead!
There you have it, Love Scent fans! 5 of our best sexual pheromones for women. We hope you consider spicing up your love life by giving one of these a try!
Ladies, what are your favorite sexual pheromones? Something on this list, or a different product? Any advice or recommendations you'd like to share with your fellow pheromone fans? Tell us in the comments! You can also contact us directly with your questions, comments, and concerns. And be sure to subscribe to our newsletter to be the first to hear about blog posts, new products, exclusive promotions, and more!
These statements have not been evaluated by the Food and Drug Administration. These products are not intended to diagnose, treat, cure, or prevent any disease.