3 Pheromones For A Romantic Night In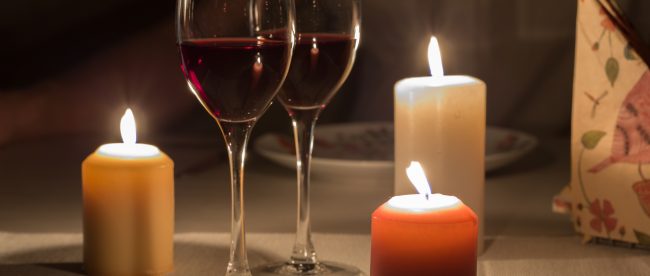 Happy Friday, Love Scent fans!
Monday is officially the first day of fall. Here in Western Oregon, the weather is cooling down, the trees are beginning to change, and all signs point to summer finally drawing to a close.
To celebrate the change of season, we're offering 25% off your next order! The offer is good on everything in the store, from pheromones to atomizers to cover fragrances. Just use the code FALLSEASON19 at checkout to get your savings.
As the season changes and the days grow cooler, many of us like to spend more time cuddled up inside. Going out to bars and clubs and restaurants is great when the weather is fine, but when it's cold and drizzly outside, it's hard to turn down a quiet night in with a warm blanket, glass of wine, and your favorite show.
But you don't need to turn down the heat on your love life just because things are cooling down outdoors. Cooler weather is cuddle weather, and many people find that quiet nights in with their partner are more enjoyable than even the most elaborate dates in the trendiest restaurants. So make yourselves a delicious dinner (for help planning the menu, take a look at foods that boost your natural pheromone production), open a bottle of your favorite wine, and start streaming your favorite show.
And, if you're in the mood to enhance your quiet night together, we have some pheromones that can really ramp up the romance! Let's take a look.

1. Seduce for Her ($9.95)
Seduce for Her is a women's pheromone perfume that contains Estratetraenol. This romantic, cuddly pheromone is popular with couples because it improves communication and cooperation, intensifies feelings of arousal, makes women appear more feminine to straight men, and stimulates straight men and gay women's interest in sex and romance. It's a great choice for couples who want to strengthen their bond and grow more comfortable with one another, and is perfect for intimate nights spent in each other's company.
Seduce contains a light floral cover fragrance with notes of bergamot, jasmine, and Damascus rose, which will remind you of sunny springtime while the days grow shorter and darker. Just apply Seduce to your wrists, throat, and behind the ears before your romantic night in together.
A 5 ml roll-on of Seduce for Her is $9.95. Try it today!
UPDATE: We no longer carry Seduce for Her. Try NPA for Women with your favorite cover fragrance instead!
2. Mojo Pro Pheromone Infused Massage Candles ($14.95)
If you'd like to make your date night extra special, giving your partner a massage is an excellent way to do it. Physical touch, even in non-romantic and non-sexual contexts, is an important part of bonding; it releases the same hormone found in Liquid Trust, which helps create long-lasting and intimate emotional connections, and stimulates the centers in your brain associated with pleasant sensations. Couples who give each other massages help improve each other's emotional and physical well-being.
The Mojo Pro Pheromone Infused Massage Candles build on these inborn benefits of massage by adding pheromones to the mix. As the candles burn, they fill the air with scented pheromones and create a usable massage oil. Just pour the oil into the palm of your hand (it melts at a low temperature, so it will be warm rather than hot to the touch) and use it to give your partner a massage. You'll both enjoy the effects of the pheromones and the natural hormonal stimulation brought on by physical touch.
These Pheromone Infused Massage Candles are available in two fragrances: sweet and fruity Original Desire, and tropical Bahamian Adventure. They are available for $14.95 each. If you'd like your romantic night in with your partner to be truly unforgettable, order now!
3. New Pheromone Additive for Men ($44.95)
New Pheromone Additive for Men contains a blend of sexual, social, and romantic pheromones to make sure you have everything you need for a successful romantic evening with your sweetheart. The AndrosteNONE stimulates sexual arousal and confidence; the AndrosteNOL reduces stress and fosters intimacy; and the AndrostaDIENONE elevates straight women's moods and generosity and stimulates romantic and sexual interest in gay men and straight women.
New Pheromone Additive is unscented, and should be combined with a cover fragrance for best results. Apply 1-2 drops to your pulse points and spray your favorite fragrance over it. It can also be combined with an additional pheromone.
A 10 ml dripper bottle of New Pheromone Additive for Men is yours for $44.95. Try it today!
There you have it, Love Scent fans! If you're planning a romantic night in with your partner to keep you both out of the rainy fall weather, we hope we've given you some ideas for making it a very special evening.
What are your favorite pheromones to wear on romantic nights at home? Do you use one of the suggested pheromones above, or do you have other recommendations to share? Tell us about it in the comments! You can also contact us directly with your questions, comments, and concerns. And be sure to subscribe to our newsletter to be the first to hear about blog posts, new products, exclusive promotions, and more!
These statements have not been evaluated by the Food and Drug Administration. These products are not intended to diagnose, treat, cure, or prevent any disease.