New Products: Love Scent Copulin Concentrate and Edge Sandalwood Cologne!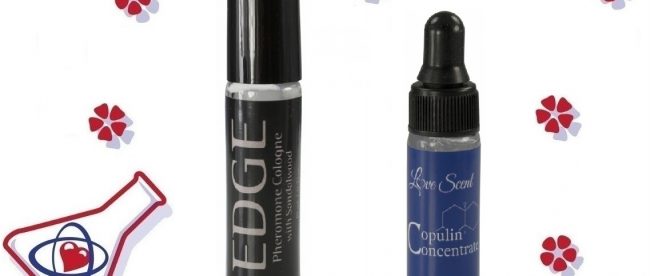 Happy Friday, Love Scent fans!
This week, we have two new additions to the Love Scent catalog to share with you: the new Love Scent Copulin Concentrate, and Edge Pheromone Cologne with Sandalwood!
Let's jump right in!
Love Scent Copulin Concentrate (special price: $24.95)
We've been developing our own Love Scent Copulin Concentrate for months and months, and it's finally ready to share with you!
Love Scent Copulin Concentrate is a highly concentrated, very potent, intensely sexual product for women. It contains pure copulins in a DPG oil base. Copulins are female sex pheromones produced in the female reproductive tract, and are produced at especially high levels during ovulation.
In the animal kingdom, females release copulins to let males know when they are ready to mate. In humans, the effects are more nuanced and varied, but the effect is still fundamentally focused on sexual bonding between partners.
Copulins' strongest effects are on straight men. When exposed to copulins, straight men may see higher natural levels of testosterone, which has led some men to use copulins purely for their self-effects: higher testosterone leads to increased interest in sex and increased sexual confidence, which is beneficial to many men for obvious reasons. Copulins also directly affect men's behavior, making them more attuned to their partner and increasing their willingness to make bold and risky decisions.
Women who wear copulins report higher levels of self-confidence in their appearance and sexual attractiveness. Many women find that their male partners are more attentive to them and their needs, and show a greater interest in their relationship, when exposed to copulins.
Overall, copulins are an excellent product for women in relationships with men. They can improve sexual and emotional aspects of your relationship and create deeper, longer-lasting, more intimate bonds.
If you would like to experiment with copulins, our Love Scent Copulin Concentrate is there to help. But be warned: this is, as we said, a very potent product, and it must be used carefully to see good results.
The first thing you will notice about our Love Scent Copulin Concentrate is its intense odor. Copulins are notoriously smelly. Some people describe the scent as sickeningly sweet, like fermenting fruit; others describe it as strong cheese and vinegar; others find it reminiscent of various bodily functions. When heavily diluted, the scent is faint and intoxicating, but without proper dilution it is overwhelming and unpleasant.
So, how do you properly use this copulin concentrate? We recommend starting by diluting a single drop of the concentrate in several milliliters of your favorite fragrance, such as a perfume or essential oil blend. (We do not recommend wearing it without a cover fragrance of some kind.) Put 5 milliliters of the fragrance in a separate container (such as a roll-on bottle or atomizer), add one drop of concentrate, and shake well to combine. Apply to your pulse points like the wrists, throat, and behind the ears, and experiment. If the smell is still too strong, dilute the concentrate more heavily. If one drop is not enough to see effects, add another drop, shake well, and continue experimenting.
Because every pheromone user is different, and different people respond to pheromones in different ways, it can take time to find the right amount of Love Scent Copulin Concentrate for your needs. Be ready to spend some time experimenting with different concentrations and around different people. Once you find the right amount for you, you'll be glad you spent the time experimenting–the effects will be unforgettable!
If you were a fan of previous copulin concentrates in our catalog, such as Essence of a Woman, we highly recommend giving our own Love Scent Copulin Concentrate a try. It does require a greater commitment to experimenting than some other products, but the effort you put in at the beginning will be well worth it in the end!
A 3.7 ml eyedropper bottle of Love Scent Copulin Concentrate is currently available at the special price of $24.95. Order this potent product today!
Edge Pheromone Cologne with Sandalwood (special price: $39.95)
The other newcomer to our catalog is Edge Pheromone Cologne with Sandalwood. Designed as a replacement and update to previous products of the same type, this new Edge cologne is an oil-based roll-on that combines powerhouse pheromones for a well-rounded, balanced, and dependable final product.
Edge Pheromone Cologne with Sandalwood contains three pheromones: the "alpha" pheromone AndrosteNONE, which improves confidence, sex appeal, and perceived authority to give you an all-but-irresistible aura; AndrosteNOL, the dependable "icebreaker pheromone" that improves your social interactions and makes you appear trustworthy and approachable to others; and AndrostaDIENONE, a male sex pheromone that improves straight women's moods and generosity and makes straight women and gay men more romantically interested in men.
The above pheromones are combined here with the alluring scent of sandalwood. This woody, slightly musky fragrance has been used in perfumery and aromatherapy for thousands of years. Its distinctive scent is attention-getting without being overwhelming, and many people find that it improves their mood and focus in a gentle and subtle way. It's the perfect accompaniment to the effects of the pheromones it is paired with.
Overall, Edge Pheromone Cologne with Sandalwood is a versatile option for an everyday men's pheromone. Though it does contain strong sex pheromones, the concentration is mild enough to minimize the risk of agitating others. The social pheromones provide additional balance to the more aggressive sex pheromones. This is a cologne that can be worn in most situations–dates, nights out with friends, nights in with partners, business trips, and so on–and around most people. If you need an everyday pheromone that can be worn no matter what your day has in store, Edge Pheromone Cologne with Sandalwood is for you.
Apply Edge Pheromone Cologne with Sandalwood to your pulse points: the wrists, throat, and behind the ears. A 1 inch stripe is enough for most men. The DPG base has good staying power on the skin and is harder to sweat off than an alcohol base. Because it is already scented, you do not need to combine it with an additional fragrance.
A 10 ml roll-on bottle of Edge Pheromone Cologne with Sandalwood contains 2 mg of AndrosteNONE, 1 mg of AndrosteNOL, and 0.5 mg of AndrostaDIENONE and is available for the introductory price of $39.95. Order now!
There you have it, Love Scent fans! We hope one of these pheromones appeals to you!
If you have any questions about either of these new products, please do not hesitate to contact us! You can also share your questions in the comments. And be sure to subscribe to our newsletter to be the first to hear about blog posts, new products, exclusive promotions, and more!
These statements have not been evaluated by the Food and Drug Administration. These products are not intended to diagnose, treat, cure, or prevent any disease.