Product Spotlight: Primal Women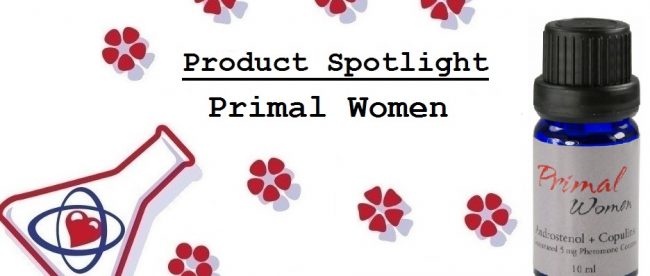 Happy Friday, Love Scent fans!
Today, we're going to look at a product that has recently returned to our catalog: Primal Women!
Primal Women contains a mix of AndrosteNOL and copulins. Is is a popular product among women, who enjoy the self-confidence it brings them and the intimacy it helps promote in their relationships. Some men also use Primal Women for its self-effects.
Let's take a closer look at what makes this product so effective for people of all genders!
The Primal Women formula's base is the social pheromone AndrosteNOL. This pheromone works directly on the behavioral and emotional centers in your brain (especially women's brains) to improve the mood, reduce stress and anxiety, and increase enjoyment of social situations and interactions. AndrosteNOL also helps men process emotional information more quickly. Its positive effects on behavior, emotion, and mood have earned AndrosteNOL the nickname "the icebreaker pheromone," and it is a common ingredient in many pheromone products–from purely social formulas to products designed to improve your love life.
Primal Women pairs AndrosteNOL with a user-friendly concentration of the potent female sex pheromones called copulins. These pheromones are produced in the female reproductive tract throughout the month, with the highest levels seen at ovulation. They have strong positive effects on the emotions and behavior of straight men, including increased interest in sex, and help boost women's self-confidence. Their ability to stimulate men's interest in sex and attentiveness to their partners has made copulins a popular addition to women's romantic and sexual pheromone products. Some men also use copulins to naturally increase their testosterone levels and restore their self-confidence and interest in sexual and romantic relationships.
When paired together, AndrosteNOL and copulins create an emotionally powerful formula that can help you begin a new relationship or improve an existing relationship. They can help you attract someone new by bringing a crush's walls down and opening them up to the possibility of beginning a relationship with you. They can also help reignite the spark in existing relationships, and enhance or even restore emotional and sexual intimacy between you and your partner.
Its range of effects makes Primal Women a good choice for pheromone users of all kinds. If you want something that will casually attract a fling, Primal Women can help you do it. If you want something that will help you rekindle the flame in a relationship that has lasted 20 years, Primal Women can help you there too. It is a mildly sexual formula, but not overwhelmingly sexual, so it is suitable for beginners and experts alike!
Primal Women is an unscented, oil-based formula, and we recommend pairing it with your favorite fragrance. Copulins naturally have a very strong odor that you will notice when you first apply the oil to your skin; the smell will fade after a few minutes, and is easily masked by a cover scent. Apply 1-2 drops of Primal Women to your pulse points such as the wrist, throat, or behind your ears, and spray your favorite fragrance over it. You can also pair it with a scented pheromone.
Now that you know the details about Primal Women's effects, let's take a look at the different ways to try it!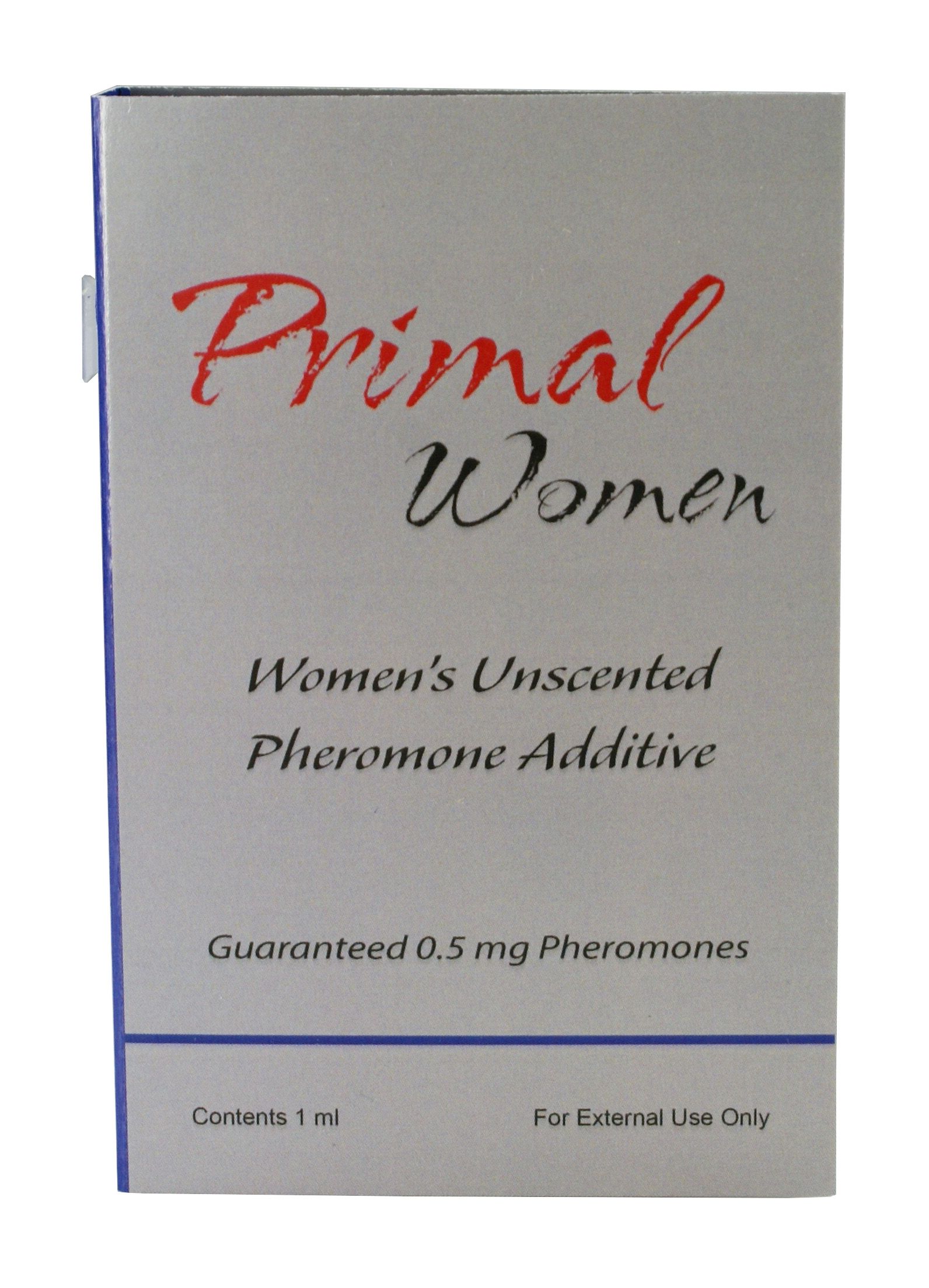 Primal Women Mini – 1 ml ($14.95)
The Primal Women Mini is a totally new addition to our catalog. Like the Chikara Mini and Alpha-7 Mini, it is a 1 ml trial-size vial that allows you to test out the product before committing to a larger quantity. It's the exact same formula, available in a smaller and more affordable size.
The Primal Women Mini is ideal for people who have not tried Primal Women before but are interested to see how it will work for them. It also makes a great gift for any loved ones you have who are interested in pheromones but aren't sure where to start. Each vial is good for 10-20 uses, allowing you to test it out properly before deciding whether you'd like to purchase a larger quantity.
The 1 ml Primal Women Mini is yours for $14.95. Order one for yourself or a loved one now!
Love Scent Pheromone Sampler for Women ($19.95)
If you'd like to experiment with Primal Women and pheromone mixing all at once, the Love Scent Pheromone Sampler for Women is an excellent choice. It contains three pheromones:
The Pheromone Sampler for Women lets you experiment with three different pheromone product individually, and experiment with mixing them together. Both the Honeysuckle-scented Love Scent Pheromone Oil sample and the Mojo Pro for Women double as cover fragrances for Primal Women when the products are worn together. Pair Primal Women with Mojo Pro for a more complex sexual formula, or pair it with the Honeysuckle oil to further dilute the potent effects of the copulins while increasing the overall concentration of AndrosteNOL.
The Pheromone Sampler for Women is ideal for pheromone beginners who want to experiment with user-friendly pheromones, or pheromone experts who want to try out a few popular products at a discounted bundled price.
The Love Scent Pheromone Sampler for Women is yours for $19.95. That's a great value, so order today!
Primal Women – 10 ml bottle ($59.95)
If you already know that you love Primal Women, the full-size 10 ml bottle is for you. Each bottle contains a guaranteed 5 mg of AndrosteNOL and copulins. You can pair it with your favorite scented pheromones or with your favorite pheromone-free cover fragrance.
Simply apply Primal Women to your pulse points–the wrists, throat, and behind the ears–and cover with your favorite fragrance or scented pheromone. Wear it on a date with your partner, out to the club or bar with your friends, or even when spending a quiet night in by yourself to enjoy the self-effects.
A 10 ml bottle of Primal Women is yours for $59.95. Order today!
There you have it, Love Scent fans! Everything you need to know about Primal Women and what it can do for you. We hope you'll give this popular formula a try if you haven't already!
Have you tried Primal Women? What did you think? Do you like to wear it by itself, or as part of a mix? Let us know in the comments! You can also contact us directly with your questions, comments, and concerns. And be sure to subscribe to our newsletter to be the first to hear about blog posts, new products, exclusive promotions, and more!
These statements have not been evaluated by the Food and Drug Administration. These products are not intended to diagnose, treat, cure, or prevent any disease.