5 Pheromones For Outdoor Summer Fun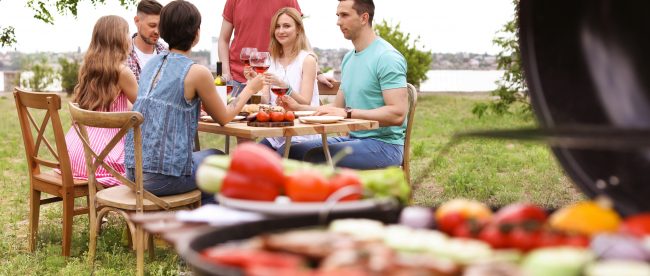 Happy Friday, Love Scent fans!
First of all, Monday is Memorial Day in the United States. It's more than just the unofficial start of summer–it's also the day set aside to honor those who gave their lives in the service of their country. In honor of those brave men and women, we are offering 25% off everything in our catalog. Just use the code LUV4MEMORIAL at checkout.
Now, on to today's topic: the best pheromones to wear when celebrating the fine summer weather!
Summer presents plenty of opportunities to have fun outdoors. From backyard cookouts with friends and neighbors, to company picnics, to beach weekends with the family, to music festivals in the park, and much more, there are plenty of ways to enjoy the clear skies and warm sunshine. If you plan to wear pheromones to these occasions, there are a few things to remember:
Your own natural pheromone levels will be higher! Many pheromones are found in sweat, so hot temperatures increase our natural pheromone production…meaning that you shouldn't overdo it on stronger sex pheromones. No one likes a pheromone overdose!
More sweat = shorter pheromone lifespan! Typically, pheromones remain on the skin for 6-8 hours, but heavy sweating can wash the pheromones off your skin and shorten their lifespan to 4-6 hours. So either use oil-based pheromones (which stick better to the skin) or be prepared to refresh your pheromones as the day goes on.
Remember the cover fragrance! Sweaty weather means that cover fragrances are more important than ever. Unless the unscented pheromone you're using has virtually no scent of its own, be sure to pair it with a cover scent! Think of it as an opportunity to experiment with summer fragrances.
All right, now that we've covered the basics, let's take a look at some of our recommendations!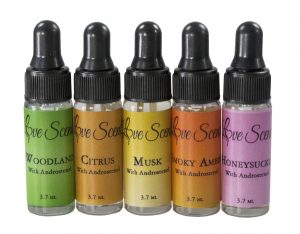 1. Love Scent Pheromone Oils ($9.95)
The Love Scent Pheromone Oils are a light but potent product. They contain AndrosteNOL, a mild social pheromone that poses minimal risk of pheromone overdosing and has a wide range of positive effects. AndrosteNOL fans enjoy its mood-elevating, confidence-boosting properties. It's essentially a wearable social lubricant and is a good fit for any occasion, from barbecues with friends to work functions to everyday wear.
The Love Scent Pheromone Oils are available in five scents: Woodland, Citrus, Musk, Smoky Amber, and Honeysuckle. Apply 1-2 drops to your pulse points. This oil-based formula has good staying power on the skin, but you can easily bring the bottle with you to refresh your pheromones throughout the day: the bottle is very portable and application is quick and easy.
A 3.7 ml eyedropper bottle of Love Scent Pheromone Oils is yours for $9.95. Order a bottle or two today!

2. Seduce for Her ($9.95)
Seduce for Her is a pheromone perfume containing Estratetraenol. This pheromone boosts straight men's romantic interest in women and can make them view women as more feminine. (It also boosts gay women's romantic interest in other women, making it a good pheromone for women in same-sex relationships.) It's a good pheromone for dates with new and long-term partners and can enhance the emotional intimacy of a relationship.
Seduce for Her contains a summery floral cover scent that includes notes of jasmine, bergamot, and rose. Apply a little to your throat and wrists before heading out, and slip the bottle in your pocket or purse to have on hand so you can refresh the pheromones as needed.
A 5 ml roll-on of Seduce for Her is $9.95. If you haven't tried it yet, now is the perfect time!
UPDATE: We no longer carry Seduce for Her. Try NPA for Women with your favorite cover fragrance instead!
3. Liquid Trust ($29.95)
Our most popular product, Liquid Trust is a lot of things: a confidence booster, a social lubricant, a mood improver, an anxiety reducer, and more. It contains a social hormone that enhances our relationships with other people, from friends to family to colleagues to partners, and is quite possibly the most versatile product in our catalog.
Liquid Trust is not oil-based, so if the weather is particularly warm, be ready to refresh your pheromones as needed. You can also apply it to your clothing; just make sure to test a small patch of the fabric to ensure it won't stain before applying the Liquid Trust all over it. You can use it with or without a cover fragrance.
A 7.5 ml spray bottle of Liquid Trust is $29.95. Order a bottle now!
4. Arome de Femme ($59.95)
Arome de Femme is a sexual perfume for women. It contains copulins, which are secretions found in the female reproductive tract that have a strong influence on straight men's emotions and sex drive. It's the perfect perfume for dates on warm summer nights or days spent at festivals and cookouts–essentially any time and place where you might want to attract a man's attention!
Arome de Femme's summer-appropriate floral cover fragrance includes notes of jasmine, citrus, and light musk. Wear it wherever you normally wear perfume: the wrists, throat, behind the ears, or even your chest or thighs. 1-2 sprays should be all you need.
A 15 ml bottle of Arome de Femme is yours for $59.95. Give this perfume a try this summer!
5. Chikara ($59.95)
Chikara is a versatile, all-purpose pheromone for men. Its mix of pheromones contains the strong sex pheromone AndrosteNONE plus a few other pheromones–including AndrosteNOL and AndrosteRONE–to balance out its intense effects. The combination of pheromones makes it a good choice for dates, time spent with friends and family, and even casual events with colleagues.
Chikara is available in a scented cologne and an unscented spray. Apply 1-2 sprays to the pulse points. The formula is mildly sweat-resistant, but you should still be prepared to refresh the pheromones every few hours on very hot days, and to use a cover fragrance of some kind with the unscented version.
A 15 ml spray bottle of either Chikara Pheromone Cologne or Chikara Unscented is $59.95. You can also try the scented version with the 1 ml Chikara Mini for $14.95. Order today!
BONUS: Zellous Essential Oils (starting at $4.95)
Another way to enhance your outdoor summer fun: essential oils! These versatile oils have a nearly-endless list of uses, and can be used to make DIY perfumes and colognes with long staying power.
Some of our essential oils, such as Sweet Orange and Lemongrass, serve the functional purpose of repelling insects–always a useful property in the summer months! Others, such as Peppermint and Eucalyptus, are energizing and stimulating. Tea Tree oil is perfect for DIY skincare products (important during summertime, which can be hard on the skin!) and Lavender helps everyone relax and enjoy the beautiful weather. Give any of them a try!
Individual 10 ml bottles of pure essential oils are $4.95 each. You can also try them all together in our aromatherapy sampler for $29.95! Order today!
There you have it, Love Scent fans! Some pheromones to help you enjoy summer even more!
What is your favorite summertime pheromone? Is it on this list, or do you have your own recommendation to share? Tell us about it in the comments! You can also contact us directly with your comments, questions, and concerns. And be sure to subscribe to our newsletter to be the first to hear about blog posts, new products, exclusive promotions, and more!
These statements have not been evaluated by the Food and Drug Administration. These products are not intended to diagnose, treat, cure, or prevent any disease.