5 Sexual Pheromones For Your Romantic Life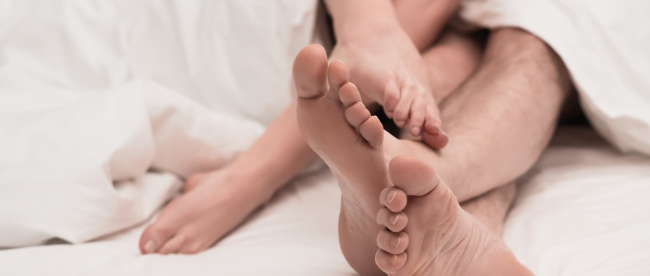 Happy Friday, Love Scent fans!
First of all, this Sunday is St. Patrick's Day! We're celebrating by offering you 20% off your next order. Just use the code LUVSTPATTYS at checkout to receive your savings!
Now, on to today's topic: some of our best sexual pheromones for your romantic life!
As we've explained before, pheromones fall into two broad categories: sexual pheromones, and social pheromones. Both groups of pheromones have a wide range of effects, but sexual pheromones, in general, enhance your sexual attractiveness and confidence and increase the likelihood that someone will find you sexually appealing. Social pheromones, meanwhile, enhance your socially appealing qualities such as friendliness and approachability, and make people more likely to want to spend time with you.
Now, most people recognize that social pheromones can play a role in someone's romantic and sexual life as well as their social life. If you're trying to attract someone at a bar, for example, it helps to come across as approachable as well as sexy; otherwise, someone might be attracted to you, but not quite comfortable approaching you. So, if you want to actually meet someone rather than simply be admired from afar, social pheromones can help make your night out more successful.
Further, social pheromones' self-effects can help you communicate with someone else. If you tend to be shy around others, especially when you're trying to attract them sexually or romantically, a dab of social pheromones on your throat or upper lip can help you feel more at ease and help you get to know someone–and help them get to know you.
All that said, if what you're looking for in a pheromone is something that will work directly to enhance your sex appeal and sexual attractiveness to others, sexual pheromones are usually your best bet. They can help you attract someone new, rekindle the sexual spark in a long-term relationship, or help establish a serious relationship–and can improve your confidence to boot!
If any of this is what you're looking for, have a look at our suggestions below!
1. Mistress Pheromones for Women (starting at $9.95)
Mistress is a pheromone perfume for women that contains two sexually magnetic pheromones: copulins, which increase straight men's testosterone levels (and therefore increase their interest in sex and their feelings of attraction to their partners); and Estratetraenol, a romantic, emotionally-charged pheromone that stimulates bonding and courtship behavior directly in the brain. It's a well-rounded sexual pheromone perfume that offers multiple layers of attraction to leave a lasting impression!
Now, while the research shows that copulins have a strong effect on straight men, research also shows that Estratetraenol has a strong effect on straight men and gay women–making Mistress a great sexual pheromone for women who want to attract other women. The combination of strictly sexual copulins and the more romantic Estratetraenol also make it a good choice for couples who want to deepen their emotional as well as physical intimacy.
Mistress already contains an herbal cover fragrance with notes of ginseng and ylang ylang, so you do not need to combine it with your own perfume. Just apply the perfume to your wrists and throat and you're ready to go!
You can try Mistress Pheromones for Women with the 1 ml trial-size Mistress Mini for $9.95, or try the full-size 10 ml roll-on bottle for $48.95. If you haven't tried this popular product yet, now is the time!
2. Alpha-7 Pheromones (starting at $14.95)
Alpha-7 is one of our most popular sexual pheromones, as well as one of our most popular pheromones overall. When it was developed, most sexual pheromone products contained only one pheromone, AndrosteNONE, which by itself is too strong for a lot of people. Many pheromone fans were looking for someone more balanced and dependable–something that would improve sexual magnetism without giving the wearer an overbearing, overdominant, aggressive aura. Alpha-7 was developed to fill that void in the pheromone selection.
Alpha-7 does contain AndrosteNONE (6 mg per 10 ml bottle, in fact), but adds another pheromone to the mix: AndrosteRONE. This pheromone balances out the AndrosteNONE and smooths out its more aggressive side effects, creating a better and more dependable end product. People who don't have success with pure AndrosteNONE often have plenty of success with Alpha-7.
People who wear Alpha-7 notice increased sexual attention from others, including flirtatious behavior, physical contact, and sexual advances. If you are in a relationship, you may see greater physical and emotional intimacy between you and your partner. And if you are trying to attract someone new, Alpha-7 may give you just the edge you need to get and keep attention.
Alpha-7 comes in an unscented unisex formula which should be combined with a perfume or cologne for best results. Try 1-2 drops spread between your pulse points to begin with and only use more if you're sure you need it. (And if even 1 drop is too strong, consider pairing it with a social pheromone to smooth things over.)
You can try Alpha-7 Unscented in either the 1 ml trial-size Alpha-7 Mini for $14.95, or a 10 ml dripper bottle for $59.95. Order today!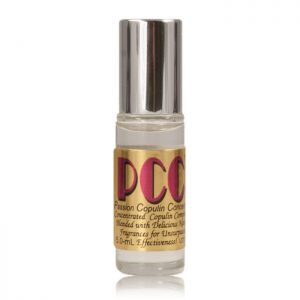 3. Passion Copulin Concentrate ($29.95)
Passion Copulin Concentrate is one of our best sexual pheromones for women. This pheromone perfume contains copulins, which are produced in the female reproductive system throughout the monthly cycle and at especially high levels during ovulation. Research has shown that straight men's testosterone levels increase when they are exposed to copulins, which in turn increases their interest in sex, feelings of attraction to their partner, perceptions of their own attractiveness and women's attractiveness, and sexual confidence.
All of the above effects make Passion Copulin Concentrate a great choice for women who are interested in attracting a male partner, whether they're hoping to start a new relationship or want or rekindle the romance in with a long-term partner. Women who wear it have noticed greater attention, both emotional and sexual, from their partners, and have noticed that they are more likely to get attention from men when they have it on.
Passion Copulin Concentrate is scented, and its cover fragrance has fresh, fruity notes of cucumber and melon. No additional fragrance is required. Just roll some of the perfume on your wrists and throat and you're ready to go!
A 5 ml roll-on bottle of Passion Copulin Concentrate is yours for $29.95. If you want something to enhance your sexual magnetism in a big way, order a bottle now!
UPDATE: We no longer carry Passion Copulin Concentrate. Other copulin-based products include Arome de Femme and the Love Scent Copulin Concentrate!
4. Pure AndrosteNONE ($49.95)
If you've been using pheromones for a while, have a solid understanding of how they work, and have used AndrosteNONE–based products in the past, then pure AndrosteNONE might be a good option for you and your romantic life! AndrosteNONE enhances sexual magnetism by increasing your confidence and making you more sexually appealing to others. When used properly, it can product fantastic results. But if you use too much, you can come across as aggressive and overbearing, which will chase more people away than it will attract.
Our pure AndrosteNONE comes at the highest concentration available: 1 mg of pheromones per ml of carrier liquid. This is twice the strength of Primal Instinct for Men, which is already too strong for a lot of people. The high concentration is why we only recommend pure AndrosteNONE to experienced pheromone users who know how AndrosteNONE affects them, and who know that the usual AndrosteNONE-based products are not strong enough for them.
If you're an experienced pheromone user, you can use pure AndrosteNONE to give your favorite scent a strong sexual boost. A small amount of this potent product can take your everyday perfume or cologne and turn it into a powerful sexual pheromone fragrance. If your partner (or someone you have a crush on) has commented on your fragrance before, a bit of AndrosteNONE can make sure that the scent leaves an even stronger impression, and can bring a strong sexual element to the relationship.
On the other hand, if you're inexperienced with pheromones, you might accidentally give yourself a pheromone overdose when using pure AndrosteNONE. This can create tension in relationships, from long-term romantic partnerships to friendships to crushes, and can actually make the relationship worse, not better. It's very important to make sure you know what you're doing before diving into these highly concentrated pure pheromones.
If you feel confident that you're ready to experiment with pure pheromone concentrates, our pure AndrosteNONE comes at a great price! A 6 ml bottle is yours for $49.95.
5. Super Primal for Her ($59.95)
If you'd like to experiment with AndrosteNONE by itself, but don't think you're yet experienced enough to work with highly concentrated pure pheromones, Super Primal for Her is the perfect solution! This unscented pheromone additive contains the strong sex pheromone at a lower concentration than many other AndrosteNONE-based products. The lower concentration allows you to experiment with less risk and less hassle, and get a sense of how AndrosteNONE works for you and your relationships!
People who use Super Primal for Her (which, despite the name, includes women and men) often notice heightened self-confidence and increased attention from others. You will likely find that people are more polite and respectful to you and more eager to get to know you, and that your romantic and sexual partners are more physically and emotionally intimate with you. Some people see results with one or two drops, and some people need a little bit more. The lower concentration lets you use more when you need it with minimal risk of overdosing!
Super Primal for Her is unscented, and while it does not have as strong a natural smell as many AndrosteNONE-based products, it should be combined with a cover scent of some kind for best results. It can be worn with just a cover fragrance or in combination with a scented pheromone. Whatever you're pairing it with, make sure to apply it to the pulse points like the wrists, throat, and behind the ears for best results.
If you'd like to experiment with AndrosteNONE, then Super Primal for Her is a low-risk and cost-effective solution for you! A large 2 oz eyedropper bottle is yours for $59.95. Order today!
There you have it, Love Scent fans! Some of our top sexual pheromones to spice up your romantic life. And, if you decide to try one, don't forget to save 20% on your purchase by using the code LUVSTPATTYS at checkout!
Have you tried any of the above sexual pheromones in your romantic life? What did you think? Are there other sexual pheromones that you prefer over those we mentioned in this post? Share your recommendations and stories in the comments! You can also contact us directly with your comments, questions, and concerns. And be sure to subscribe to our newsletter to get free samples and to be the first to hear about blog posts, exclusive promotions, new products, and more!
These statements have not been evaluated by the Food and Drug Administration. These products are not intended to diagnose, treat, cure, or prevent any disease.