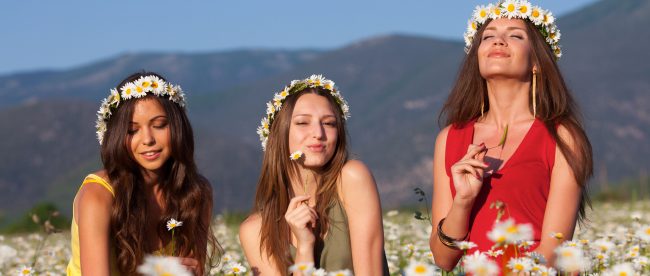 Happy Friday, Love Scent fans!
And happy spring to all of you!
Wednesday was the first day of spring in the northern hemisphere. Here in Western Oregon, we're finally getting some sunshine and spring flowers in between the rainy days. We hope that those of you still battling snow, floods, and ice are able to stay safe and warm!
To celebrate the change of season, we're offering 20% off your next order!
Just use the code LUVHOTSPRING at checkout to get 20% off your whole order.
And, if you'd like some advice on the best pheromones for spring wear, we have some suggestions for you!
The pheromones we're recommending here have invigorating, mood-elevating effects to help you make the most of the warm sunny days–or to help you keep your spirits up as winter slowly draws to a close. They also contain fresh cover fragrances to get you in the mood for the change of seasons!
Let's take a look!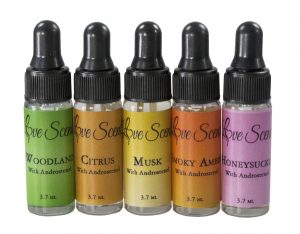 1. Love Scent Pheromone Oils ($9.95)
The Love Scent Pheromone Oils contain the "icebreaker pheromone" AndrosteNOL—a mood-elevating, stress-relieving, anxiety-reducing social pheromone that is a key ingredient in many pheromone products. This pheromone is known both for its effects on others and for its effects on the wearer. Other people will feel more relaxed and laidback around you, and you will feel more upbeat, confident, and generally at ease. All around, it's a solid pheromone to have on hand.
The Love Scent Pheromone Oils combine the effects of AndrosteNOL with a selection of cover fragrances. The fragrances currently available are:
Woodland: a spicy, woodsy cover fragrance reminiscent of popular incense varieties
Citrus: the bright, cheery scent of citrus with gentle floral undertones
Musk: a sweet, fresh Egyptian-style musk
Smoky Amber: the warm scent of amber combined with woody, smoky notes
Honeysuckle: the sweet, familiar fragrance of honeysuckle blossoms
As pheromones for spring, the Citrus and Honeysuckle fragrances are the lightest and brightest, but you can choose whichever fragrance you would most enjoy!
Apply 1-2 drops of the Love Scent Pheromone Oils to your wrists and throat. If you'd also like to enjoy the self-effects, apply a little under your nose as well.
A 3.7 ml eyedropper bottle of any of the Love Scent Pheromone Oils fragrances is $9.95. Order one of these great pheromones for spring today!

2. Seduce for Her ($9.95)
Seduce for Her is a floral pheromone perfume that contains Estratetraenol. This pheromone is a cross between sexual and social pheromones–something you might call a "romantic" pheromone. It has strong effects on straight men and gay and bisexual women, who are more attracted to their female partners when exposed to it. Couples who have used Estratetraenol have found that they feel closer and that communication is easier. It's a good pheromone for new and long-term relationships alike!
To enhance the romantic effects of Estratetraenol, Seduce contains a floral cover fragrance. The scent blends the bright notes of bergamot and sultry notes of jasmine with sweet notes of Damascus rose. It's an ideal springtime floral perfume–or for any time that love is in the air!
Apply Seduce wherever you normally apply perfume: to the wrists, throat, and behind the ears. It does not require any additional cover fragrance. Just roll some on and you're ready to go!
A 5 ml roll-on bottle of Seduce is yours for $9.95. Try it today!
UPDATE: We no longer carry Seduce for Her. Try NPA for Women with your favorite cover fragrance instead!
3. Mojo Pro for Men or Women ($12.95)
The Mojo Pro pheromone sprays are excellent everyday pheromones for any time of year, and are especially nice pheromones for spring. They have a mix of social and sexual effects, so wearing them will bring a range of responses from those around you: more friendly chit-chat, more flirtatious behavior, more compliments, and so on. They're great to wear on dates, on nights in with your partner, on a night out with friends, and many other occasions!
The Mojo Pro pheromone sprays are available in two varieties: a smooth cologne for men, and a fruity perfume for women. Both the men's and women's fragrances are light and fresh, perfect for sunny springtime days.
1-2 sprays of Mojo Pro is enough for most people. Because both the men's and women's variety already contain a cover scent, you do not need to add any other fragrance. Just apply to the pulse points and head out the door!
A 3 ml atomizer of either Mojo Pro for Women or Mojo Pro for Men is $12.95. Order yours today!
4. Chikara Pheromone Cologne (starting at $14.95)
Chikara Pheromone Cologne is our most popular product for men overall. It contains a mix of social and sexual pheromones (including AndrosteNOL, AndrosteRONE, and AndrosteNONE) that work together to create a balanced, dependable, versatile everyday pheromone cologne. Its pheromone profile has a long list of positive self-effects as well as effects on others: you'll enjoy increased confidence and an elevated mood while others find you more attractive, approachable, and intriguing.
Chikara Pheromone Cologne contains a fresh and clean sandalwood-inspired cover fragrance. It's light enough to not be overwhelming but striking enough to leave a lasting impression. It's this light and memorable fragrance that makes Chikara one of our most popular pheromones for spring, or any other season!
Most men find that 1-2 sprays of Chikara Pheromone Cologne are enough to start seeing results. Apply to the pulse points such as the throat and wrists. Because it already contains a cover scent, you do not need to combine it with your own cologne.
You can test out Chikara Pheromone Cologne with the 1 ml trial-size Chikara Mini for $14.95, or order a full-size 15 ml bottle for $59.95. Order now!
5. Arome de Femme ($59.95)
Arome de Femme is a floral pheromone perfume for women. It contains copulins, which are sex pheromones produced by the female reproductive system. Copulins have been shown to increase straight men's interest in sex, and their confidence in their own appearance and sexual abilities. They're a key ingredient in many sexual pheromone products for women and an excellent choice for any woman who wants to spice up her romantic relationship with a male partner.
Now, copulins are potent and effective, but also extremely smelly. Luckily, Arome de Femme contains a cover fragrance that masks the natural smell of the copulins perfectly. The fragrance is inspired by classic French perfumes and includes notes of musk, sandalwood, jasmine, citrus, and vanilla. It's a nice floral scent for warm days and evenings, making Arome de Femme one of our best pheromones for spring.
Most women find that 1-3 sprays of Arome de Femme is enough to see effects. Apply to the throat, wrists, and chest. It does not require any additional cover fragrance.
A 15 ml atomizer of Arome de Femme is yours for $59.95. Order a bottle today!
There you have it, Love Scent fans! Some refreshing, invigorating pheromones for spring! Whether you want something to wear on sunny days and warm nights, or something that will remind you of fairer weather while you wait out the last of the winter storms, we hope something on this list appeals to you!
Have you tried any of the products on this list? Do you agree that they're ideal for springtime? Do you have any other recommendations for spring pheromones? Share your thoughts in the comments! You can also contact us directly with your thoughts, questions, and concerns. And be sure to subscribe to our newsletter to get free samples and to be the first to hear about blog posts, exclusive promotions, new products, and more!
These statements have not been evaluated by the Food and Drug Administration. These products are not intended to diagnose, treat, cure, or prevent any disease.