4 Oil-Based Pheromones for Hot Weather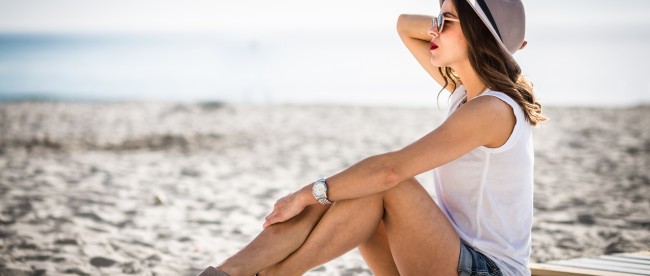 Happy Friday, Love Scent fans!
Who else has been dealing with heat waves lately? It's been very warm here in the Pacific Northwest! If you haven't taken a look at our advice for using pheromones in hot summer weather, now is a good time to read up!
It's also a good time to remember our summer promotion: use the code SUMMERFUN at checkout for 25% off your order!
Today, we'll look at something we touched on in the past: oil-based pheromones. Now, as we've said before, there isn't much difference between alcohol-based and oil-based pheromones, except for one key difference: some people find that oil-based pheromones cling to the skin a bit better and are much harder to sweat off, making them good choices for hot days.
Another factor to consider when the weather gets hot: you don't want to use very strong pheromones on days when you'll be sweating a lot. Many pheromones are found in your sweat, so using strong pheromones on top of your own natural pheromones can lead to a pheromone overdose very quickly. You'll smell like you just got done with a few hours in the gym, intimidate those around you, or both.
So, today, we'll take a look at some milder, oil-based formulas that you can use on hot days when sweat is a factor. Read on!
FOR WOMEN: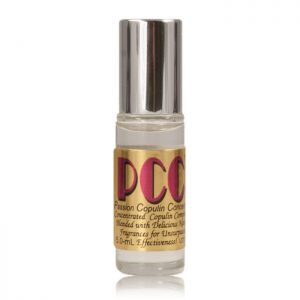 1. Passion Copulin Concentrate ($29.95)
This sexual formula contains copulins, which the female reproductive tract secretes at high levels during ovulation. These powerful hormones increase a woman's sexual attractiveness and can stimulate men's libido, making copulins an excellent choice for any woman interested in something that can enhance her sex life. And, because a woman does not secrete them through her sweat glands, she can use it on hot days without risking a pheromone overdose–though women should be careful not to use too much, as this is a very potent formula!
Passion Copulin Concentrate is scented with a light cucumber-and-melon fragrance, so you do not need to mix it with your own perfume. The oil base will keep both the fragrance and the copulins on your skin for hours!
You can order a 5-ml roll-top bottle of Passion Copulin Concentrate for $29.95. If you're looking for something to add you your sex life, give this formula a try!
UPDATE: We no longer carry Passion Copulin Concentrate. Try our Love Scent Copulin Concentrate or Arome de Femme instead!
2. Alter Ego for Women ($49.95)
The Alter Ego formula is one of our most popular. This women's perfume has a strong, distinctive fragrance and a dependable blend of both social and sexual pheromones. The combination of AndrosteNOL, AndrosteRONE, and AndrosteNONE is found in many pheromone products because it produces a balanced range of effects without high risk of unpleasant overdoses.
The scented Alter Ego Pheromone Perfume for Women does not need to be combined with your favorite fragrance. Just put a few drops wherever you normally put perfume, and be on your way!
A 7.5 ml eyedropper bottle of Alter Ego for Women is $49.95. Order yours now!
UPDATE: We no longer carry Alter Ego for Women. Try NPA for Women instead!
FOR MEN:
1. New Pheromone Additive for Men ($44.95)
The New Pheromone Additive for Men is an unscented pheromone formula containing a blend of three different pheromones: the social pheromone AndrosteNOL, the sex pheromone AndrosteNONE, and the male pheromone AndrostaDIENONE. This blend creates a range of emotional and sexual effects on those around yo, making NPA for Men one of our most dependable formulas.
Because NPA for Men is unscented, you should be prepared to combine it with your favorite cologne. You can mix it with your cologne, or apply the fragrance after you've applied the NPA to your pulse points.
A 10-ml dripper bottle of the New Pheromone Additive for Men is $44.95. Try this formula today!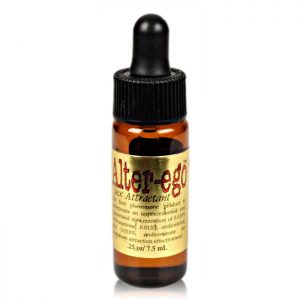 2. Alter Ego for Men ($49.95)
Alter Ego for Men, like its counterpart for women, is a solid and popular formula. This attention-getting pheromone cologne contains the dependable blend of AndrosteNOL, AndrosteNONE, and AndrosteRONE, so it enhances your sexual magnetism and confidence while keeping you approachable and friendly.
Apply Alter Ego to your pulse points as you would any cologne. The scent and pheromones alike are powerful, so a little goes a long way!
One 7.5 ml eyedropper bottle of Alter Ego for Men is $49.95. If you haven't tried this formula yet, this summer is the perfect time!
UPDATE: We no longer carry Alter Ego for Men's liquid formula. Try NPA for Men instead, or the Alter Ego for Men gel packets!
That's all for today, Love Scent fans! Have a great weekend!
Do you find that oil-based pheromones work better for you in the heat? Which is your favorite pheromone to use in summer weather? Let us know below! Also feel free to contact us with any questions, comments, or concerns. And be sure to subscribe to our newsletter to hear about new blog posts, exclusive promotions, product announcements, and more!
These statements have not been evaluated by the Food and Drug Administration. These products are not intended to diagnose, treat, cure, or prevent any disease.