A Guide To Our Pheromones For Men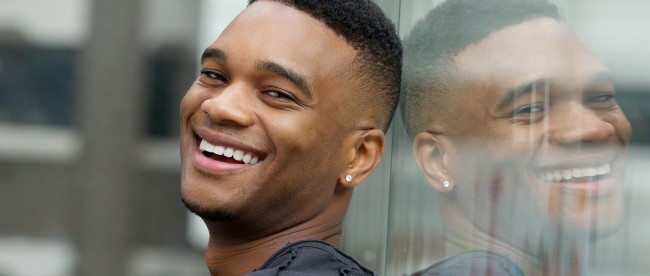 Happy weekend, Love Scent fans!
A few months ago, we outlined our pheromone choices for women. Today, we'll give a similar overview of our pheromones for men. If you're a man new to Love Scent and are wondering where to start, or have a man in you life you'd like to give a pheromone gift to, this guide is for you.
Once again, a reminder that the lines between "men's pheromones" and "women's pheromones" are actually not that set in stone, and in general the relationship between pheromones and gender is a lot more complicated than most people think. The most important thing is to find a pheromone that works for you, regardless of which gender it's theoretically designed for. Most men are drawn to "men's" pheromones, like AndrosteNONE or AndrosteRONE, but these might not actually be the best choices for some men for a variety of reasons: maybe you're already producing plenty of those, and adding more of them will lead to overdosing; or maybe aggressive pheromones just don't match up with your naturally laidback personality.
On the flip side, pheromones that men might tend to avoid because they're often considered "women's" pheromones, such as Estratetraenol or copulins, can actually do great things for men. Estratetraenol, for example, reduces anxiety and elevates mood regardless of gender; and copulins can increase your own natural testosterone production and boost your desire. There's no need to miss out on these benefits!
So we highly encourage you to experiment as broadly as you like, regardless of which gender a product was designed for. Try men's pheromones, try women's pheromones, try mixing them together, try it all. Find what works for you, and stick with it.
Now, let's take a look at some popular products for men. Some of them contain what might be considered "women's pheromones," some contain "men's pheromones," and some contain a combination of both. Read on!
SOCIAL PHEROMONES
If you're looking for pheromones that are appropriate for social situations, and can be worn at the workplace and around family, take a look at these suggestions.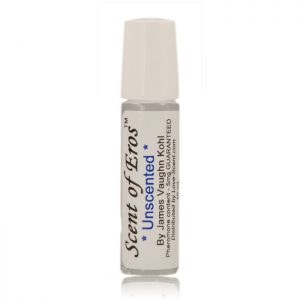 1. Scent of Eros ($49.95)
The Scent of Eros formula contains the social pheromone AndrosteNOL and the mild sex pheromone AndrosteRONE. The resulting product is a well-balanced pheromone that can be worn in most situations. The AndrosteNOL smooths out any rough edges you might have while drawing people in to get to know you better, and the AndrosteRONE gives you an aura of confidence without making you overly intimidating.
Scent of Eros can be worn alone, or in combination with other pheromone products. It's an excellent partner to stronger sexual pheromones (like those discussed later in this post) because the high content of social pheromones helps balance out more aggressive pheromones.
Scent of Eros is available in an unscented formula that can be combined with your own cologne. Order today!
UPDATE: We no longer carry the Scent of Eros products. Try the Love Scent Pheromone Oils or Liquid Trust instead!
2. W.A.G.G. ($69.95)
W.A.G.G. stands for "What A Great Guy," after what people will be saying about you when you wear it. It contains AndrosteNOL, the same social pheromone found in Scent of Eros. Unlike most men's pheromone products, W.A.G.G. contains no sex pheromones. This product's focus is on making you approachable, friendly, and likable, whether you're on a date or at the office. Because it does not contain sex pheromones, it can be worn anywhere, anytime.
Though W.A.G.G. is unscented, it does not have a very strong smell of its own, and is one of the rare unscented products that does not need to be combined with a cover scent. It can be used alone or in combination with other pheromones.
You can get a 10-ml bottle of W.A.G.G. for $69.95. Give it a try!
UPDATE: We no longer carry W.A.G.G., but we have several other products with the same key ingredient of Androstenol. Try the Love Scent Pheromone Oils, or pure Androstenol!
ROMANTIC PHEROMONES
If you're looking for pheromones that can improve your relationship with a current partner, or are generally interested in pheromones with a good combination of social and sexual effects, you should have a look at these suggestions.
1. Chikara (starting at $7.95)
Chikara Pheromone Cologne is our most popular scented product for men. It contains a mix of seven different pheromones, including the social AndrosteNOL and the sexual AndrosteNONE and AndrosteRONE, and an appealing cover scent that will draw attention to you even in a crowd. The social pheromones act as a mood-elevating social lubricant while the sex pheromones enhance your confidence and desirability. It's a dependable formula for all sorts of situations, from bonding with your partner to making new friends.
You can wear Chikara on its own, or use it in combination with other pheromones. It's a popular partner to stronger sex pheromones because it acts as a balance to the aggressive effects of more sexual formulas.
If you want to try Chikara Pheromone Cologne, you have many ways to do so! You can start with a 1-ml trial size, or get the full-sized 15-ml spray bottle. Give this popular formula a try today!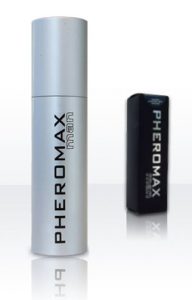 2. Pheromax for Men (starting at $19.95)
Pheromax for Men is one of the few products in our catalog that contains AndrostaDIENONE, a pheromone naturally produced by men that has great effects on women. These effects include anxiety reduction, relief of PMS symptoms, and increased attraction to men. These effects make AndrostaDIENONE very helpful for partner bonding, and make Pheromax a good choice for men already in relationships. Pheromax also contains AndrosteNOL and AndrosteRONE, further enhancing your attractiveness.
You can use Pheromax on its own, though we do recommend combining it with a cover scent. You can also combine it with other pheromone products.
Men should also be aware that overusing AndrostaDIENONE can give them a mild depressive effect, so use sparingly! The good effects will be cancelled out if you're not feeling like yourself.
You can try the original Pheromax for Men formula for $19.95 with the Pheromax Mini for Men. You can also try Pheromax Trust for Men, which contains an added social hormone (the same found in Liquid Trust), for $99.95. Order today!
UPDATE: We no longer carry Pheromax products. Try combining Liquid Trust with your favorite sex pheromone instead!
SEXUAL PHEROMONES
If you're primarily interested in pheromones that increase your confidence and sexual magnetism, we have some suggestions here.
1. Alpha-7 (starting at $14.95)
Alpha-7 Unscented for Men is our most popular unscented product for men. It was developed right here at Love Scent and has remained a favorite from the start. It contains two sex pheromones, AndrosteNONE and AndrosteRONE. The AndrosteNONE boost confidence and sexual desirability, while the gentler AndrosteRONE keeps the stronger pheromone in check so you don't come across as too intimidating. That said, you should still use this product sparingly! One or two drops will be enough for most people.
You can use Alpha-7 on its own, as long as you use it sparingly and, if you've chosen the unscented version, you combine it with a cover scent. If you find that it's too much on its own, you can combine it with other pheromones with high social pheromone contents, such as Scent of Eros or Chikara. You can also combine it with a pure social pheromone.
You can try Alpha-7 Unscented for Men (remember to combine it with a cover scent!) with a 1-ml trial-size for $14.95, or go with the full-size 10-ml bottle for $59.95. Try today!
2. Primal Instinct Ylang Ylang for Men ($69.95)
Primal Instinct for Men contains only AndrosteNONE, the sex pheromone commonly found in men's products. This is not a product for beginners, and needs to be used sparingly. Using too much can make you too overbearing and too aggressive, and can even provoke aggression in other men. It's a valuable asset to you when you know how to use it, and will boost your confidence, authority, and sex appeal. If you're an older man, Primal Instinct can help you feel like your old self again. But if you're new to pheromones, we recommend a more balanced formula, like Alpha-7, to get you started.
You can use Primal Instinct on its own, though many men find that it's too strong on its own. If it's too strong for you, combine it with a social pheromone to take the edge off the AndrosteNONE.
Primal Instinct for Men is available in a scented formula that contains essence of ylang-ylang. You can try either for $69.95. If you feel ready for a very strong sexual pheromone, order now!
Remember, we have many more products in our catalog, so if you don't see anything for you on this list, we still have plenty of options for you to choose from. Check out the rest of our pheromones for men here! Mix and match, get creative, and find what works for you!
Are you a male pheromone user? What are your favorite pheromones and why? Let us know below! Also be sure to subscribe to our newsletter to hear about new blog posts, product announcements, exclusive promotions, and more!
These statements have not been evaluated by the Food and Drug Administration. These products are not intended to diagnose, treat, cure, or prevent any disease.