Pheromone Mixes For Spring Gatherings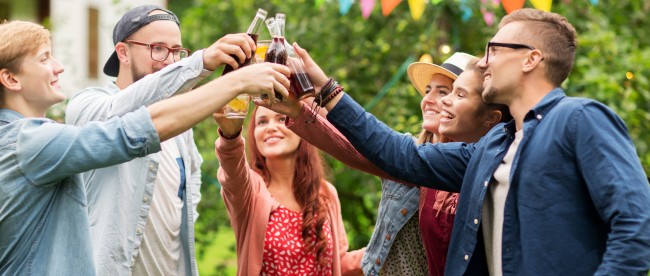 Happy weekend, Love Scent fans!
First of all, we'd like to make sure that everyone is aware of our spring promotion! Use the code LUVHOTSPRING at checkout for 20% off your order. As always, this offer is good for everything in the store: pheromone colognes and perfumes, pure pheromones, cover scents, atomizers, roll-ons…if it's in our catalog, it's covered by the discount! So celebrate the warming weather by treating yourself to your Love Scent faves.
Speaking of the warming weather, the sunlight and blooming trees are tempting a lot of us to gather with family and friends in the outdoors. We're entering the season for backyard cookouts, garden parties, and barbecues in the park, not to mention Easter egg hunts for those who celebrate. If you're thinking of wearing pheromones to these events, remember to keep some things in mind:
For starters, remember to take the nature of the event into account when choosing pheromones to wear. Potent sexual pheromones don't mix well with family-oriented events or company picnics, but are fine for gatherings with peers and friends or on outdoor dates. Social pheromones have fewer restrictions and are appropriate to wear to all kinds of events, but might not give you the results you're looking for if you're more interested in the sexual or romantic effects that pheromones can have.
Remember, too, to keep temperatures in mind whenever you're wearing pheromones to an outdoor event. While many of us are just now getting to enjoy the sunshine, plenty of you are already experiencing hot weather, and combining strong pheromones with a hot day can easily lead to overdosing–something no one wants. If the weather will be mild, most pheromones are fair game; if the weather will lead to a lot of sweating, be more discriminating in what you put on before heading out the door.
Another thing to keep in mind throughout the year: mixing different pheromones can produce fantastic results! Social pheromones can take the edge off more dominant sexual pheromones, and sex pheromones can give your desirability a boost while the social pheromones make you approachable.
With all this in mind, let's take a look at some good pheromone combos for outdoor springtime celebrations!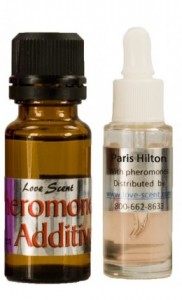 1. New Pheromone Additive for Women ($34.95) + Paris Hilton Super Primal Pheromone Oil ($9.95)
The New Pheromone Additive for Women is an unscented pheromone blend that is designed to be added to your favorite perfume (hence the "additive" part of the name). Our Super Primal Pheromone Oils are scented, AndrosteNOL-based products with primarily social effects. When combined, the AndrosteNOL in the Super Primal oils balance out the sexual pheromones in the NPA for Women, resulting in a nicely balanced formula that enhances your magnetism without making you intimidating.
The Paris Hilton scent of the Super Primal Pheromone Oils is light, fruity, and feminine, ideal for spring. Put a drop of the NPA for Women on your wrists or throat and dab 2-3 drops of the Paris Hilton oil over it. With that, you're ready to go!
Because of the AndrosteNOL-heavy nature of the Super Primal Pheromone Oils, this particular mix is appropriate to use at family or professional gatherings. Just don't overdo the NPA for Women–it's a very concentrated formula!
The NPA for Women is available in a 15 ml bottle for $54.95. Pair with the Paris Hilton Super Primal Pheromone Oil for an additional $9.95.
(Side note: NPA for Women and the Paris Hilton Super Primal Pheromone Oil are already paired in our Beginner Special for Women, available for $54.95! This combo pack also includes an atomizer for easy mixing, plus some sample gel packs of other popular formulas!)
UPDATE: We no longer carry the Super Primal Pheromone Oils. Try our own Love Scent Pheromone Oils instead!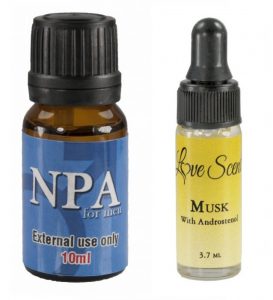 2. New Pheromone Additive for Men ($44.95) + Musk Super Primal Pheromone Oil ($9.95)
Like the New Pheromone Additive for Women, the New Pheromone Additive for Men was designed to be added to the cover scent of your choice. It contains a well-balanced mix of sex and social pheromones (including AndrosteNONE, AndrosteNOL, and AndrostaDIENONE) to give you a dynamic, attractive, approachable presence. The AndrosteNOL in the Musk scent of Super Primal Pheromone Oils adds an extra layer of friendliness and social magnetism.
The Musk scent is not overbearing and one of the more natural-smelling scents of Super Primal Pheromone Oils, making it a good choice for outdoor events. Dab the NPA for Men on your throat and cover with the Musk oil.
Using a higher proportion of Super Primal Pheromone Oil would make this another good blend for family or professional gatherings, as the AndrosteNOL in both products nicely counterbalances the AndrosteNONE in the NPA for Men.
The New Pheromone Additive for Men is available in a 10 ml bottle for $44.95. Add a bottle of Musk Super Primal Pheromone Oil for $9.95.
(Also: these two products are both included in the Beginner Special for Men, which also includes an atomizer and samples of some other men's products! Order today for $54.95!)
UPDATE: We no longer carry the Super Primal Pheromone Oils. Try our own Love Scent Pheromone Oils instead!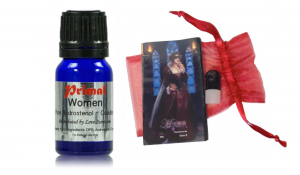 3. Primal Women ($59.95) and Mistress ($9.95)
Love Scent developed Primal Women using the popular Primal Instinct for Women as a guide. The formulas of both products contain a mixture of AndrosteNOL and copulins, but Love Scent's Primal Women costs less for the same amount. Mistress Pheromone for Women, a scented pheromone perfume developed with the full range of the human sensory experience in mind, contains sexual acids that boost a woman's sex appeal.
Mixing Primal Women with Mistress results in an intensely sexual formula. This is a mix you should try after you have a little bit of experience with pheromones under your belt already. The AndrosteNOL in the Primal Women does provide a bit of a counterbalance to the sexual nature of the formula, but not enough to make this a mix that can be used in all situations. In short: if you're headed to a company picnic or family Easter party, this mix is best left at home! If you'll be trying to catch the attention of a potential partner, though, give this one a try. Dab 1-2 drops of Primal Women on your wrists or throat and roll the scented Mistress over it.
The unscented Primal Women is available in a 10 ml dripper-top bottle for $59.95 (compared to $69.95 for the same-sized bottle of Primal Instinct for Women). Mistress Pheromones for Women is available in a sample size for $9.95, or a 10 ml roll-top bottle for $48.95. Try both today!
4. Chikara ($59.95) + Alpha-7 Unscented ($59.95)
Chikara Pheromone Cologne for Men is the most popular scented product for men at Love Scent, and Alpha-7 Unscented is the most popular unscented product for men. These are trusted, dependable formulas that customers keep coming back for. This is likely due to the balanced nature of the formulas: Chikara contains seven different pheromones, including AndrosteNOL, AndrosteNONE, and AndrosteRONE; Alpha-7, meanwhile, contains AndrosteNONE and AndrosteRONE.
In both formulas, the AndrosteRONE helps balance the aggressive nature of AndrosteNONE. The Chikara formula then has the added benefit of AndrosteNOL, which adds a socially dynamic element to the sexual "alpha" aura of the other pheromones. While the AndrosteNOL does not "cancel out" the effects of the sex pheromones, it certainly helps take their edge off, reducing the risk of unfortunate side effects that can accompany the use of sex pheromones.
Because of the sexual nature of Alpha-7, this isn't a mix to use in professional or family-oriented settings. Additionally, because AndrosteNONE is found in human sweat, this is a mix to use in mild weather. If it's hot outside, either use a minimal amount of Alpha-7 or skip it altogether; the level of AndrosteNONE in Chikara is usually enough when the weather is hot.
If the weather is mild and you're headed out to get the attention of women, however, this mix is hard to beat! Start with 1-2 drops of Alpha-7 wherever you usually apply cologne, and cover it with a spray or two of Chikara. You'll be difficult to resist when wearing this tried-and-true combo.
The Alpha-7 Unscented/Chikara Cologne for Men combo is so popular that we already sell them as a set for $99.95–a $50 savings if you were planning to buy both 10 ml bottles anyway. If you'd like to test out the mix before committing to the full-size bottles, however, you can try the Chikara Mini and Alpha-7 Unscented Mini for $14.95 apiece. Give this popular mix a try today!
That's all for now, Love Scent fans! We hope that many afternoons spent in the sunshine with good friends and good food are in your future
Have you experimented with mixing pheromones together before? How did it go? Let us know in the comments! And, as always, feel free to contact us with any questions, comments, or concerns. Also be sure to subscribe to our newsletter to hear about new blog posts, product announcements, promotions, and more!
These statements have not been evaluated by the Food and Drug Administration. These products are not intended to diagnose, treat, cure, or prevent any disease.