5 Pheromones With Great "Self-Effects"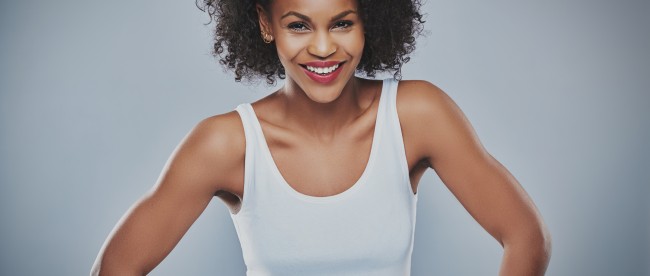 Happy weekend, Love Scent fans!
Today, we're going to look at an underutilized benefit of pheromones: their "self-effects." We've talked about these briefly before, but today we're going to look at some specific Love Scent products and what they can do for you when you wear them.
The meaning of "self-effects" is pretty self-explanatory: these are the effects that pheromones have on you, the wearer. Many, if not most, people choose their pheromones based on the effects they have on other people (namely, people the wearer wants to attract), but pheromones' effects on the wearer shouldn't be overlooked. How you're feeling plays a huge role in how you present yourself in any situation, so the self-effects of any pheromone are just as important as its effect on those around you.
So let's take a look at a few of our products and what their self-effects do for you!
1. Alpha-7 (starting at $14.95)
Alpha-7 is a product developed by Love Scent to give pheromone users a more balanced, dependable option than what was available at the time. Though it was developed for men, people of any gender can use it to great effect. That said, this product is extremely strong, and should be used in very small amounts (1-2 drops) until you know how it will effect you.
Alpha-7 contains AndrosteNONE and AndrosteRONE, both of which are byproducts of testosterone. The AndrosteRONE takes the often aggressive edge off the AndrosteNONE, resulting in a balanced product that has become one of our most popular formulas for men.
Primary self-effects: AndrosteNONE and AndrosteRONE are both sex pheromones, but sexual encounters aren't all they're good for. They also boost confidence in your own abilities and can improve your energy levels. If you sometimes struggle with self-esteem or feel overwhelmed by your responsibilities, Alpha-7 can give you the confidence and gusto needed to push through and succeed.
Guidelines for use: Wear a dab of Alpha-7 on your throat or under your nose to guarantee that you'll get good exposure to the pheromones.
You can try the unscented version of Alpha-7 in the 1 ml trial-size Alpha-7 Mini for $14.95, or get a full-size 10 ml bottle of either Alpha-7 Unscented for $59.95.
2. Master and Mistress (starting at $9.95)
The Master for Men and Mistress for Women formulas are unique products in our catalog in that they were specifically designed with the products' self-effects in mind. These formulas activate your brain's sensory regulators, which results in a wide variety of effects on your emotional and physical state.
Both Master for Men and Mistress for Women contain axillary secretions, acids from the female reproductive system, and cover fragrances. The men's fragrance is musky and sensual, while the women's fragrance is alluring and floral.
Primary self-effects: Master and Mistress both result in elevated mood, increased confidence, and general feelings of positivity. One Master user described the self-effects as an "'invincible' positive glow"–something we could all use in our lives.
Guidelines for use: Wipe a little of the formula under your nose and, if desired, on the throat.
Mistress for Women is available in the trial-size Mistress Mini for $9.95 or in a 10 ml roll-top bottle for $48.95. Master for Men is currently available in a 10 ml roll-top bottle for $48.95. (Don't worry, gentlemen, the Master Mini will be back in stock soon!)
3. Phero X ($49.95)
This Russian-made pheromone cologne has one of the most complex formulas in our catalog. It contains 10 different pheromones and hormones, which are combined with a distinctive masculine cover scent.
Primary self-effects: Of the many ingredients found in Phero-X, five have important self-effects for men:
Estratetraenol: actually a pheromone produced by women, Estratetraenol elevates mood and promotes communication in men
AndrosteNOL: known as "the icebreaker pheromone," AndrosteNOL reduces anxiety and improves mood
AndrosteNONE: also in Alpha-7, AndrosteNONE inscreases self-confidence and boosts energy
AndrosteRONE: also in Alpha-7, AndrosteRONE increases confidence without the risk of aggression
Social hormones: the social hormones in Phero-X reduce anxiety and improve social cohesion
Men should be aware that Phero-X also contains Androstadienone, a pheromone produced by men that, when used excessively, can actually have a minor depressive effect on men. Luckily, Estratetraenol can reduce this depressive effect. Additionally, Androstadienone has excellent mood-elevating effects on women and may even reduce PMS symptoms–so the women in your life will be very happy that you're wearing it.
Guidelines for use: Wear Phero-X wherever you normally wear cologne. Make sure to wear it in a location that gives you a good dose of the pheromones, like the throat or under the nose.
You can get a 5 ml eyedropper-top bottle of Phero-X for $49.95.
UPDATE: We no longer carry Phero-X. Try Chikara instead! 4. Beta-AndrosteNOL ($59.95)
Beta-AndrosteNOL is one of the pure pheromones available at Love Scent. It's a beta isomer of AndrosteNOL, the "icebreaker pheromone" found in many pheromone products. Beta-AndrosteNOL's effects are similar to those of AndrosteNOL, but more intimate and arguably stronger.
Primary self-effects: Beta-AndrosteNOL can reduce anxiety and improve your mood, particularly in your interactions with others. You will find yourself more comfortable speaking with others, even about intimate and personal topics. Some users have even reported that using Beta-AndrosteNOL can induce a "meditative" effect. This pheromone is especially useful for those who struggle with anxiety in intimate situations.
Guidelines for use: Apply Beta-AndrosteNOL to the throat and under the nose.
You can get a 10 ml eyedropper-top bottle of pure, unscented Beta-AndrosteNOL for $59.95. (If you'd like a pre-scented formula, Cleo Beta-Nol for Women contains Beta-AndrosteNOL and a cover scent.)
UPDATE: We no longer carry Beta-AndrosteNOL. Try regular AndrosteNOL instead!
5. W.A.G.G. ($69.95)
Developed for alpha males who need help making themselves more approachable, W.A.G.G. ("What A Great Guy") is also a great option for those in need of a mood enhancer for themselves. It is an unscented product that is suitable for use by just about anyone.
W.A.G.G. contains only the social pheromone AndrosteNOL. It can be used on its own, or in combination with other pheromones to enhance or balance their effects. (For example, you can combine it with AndrosteNONE to take the edge off its sometimes aggressive effects, or with Beta-AndroteNOL to enhance the Beta-Nol's already excellent social effects.)
Primary self-effects: AndrosteNOL has been shown to reduce anxiety, ease stress, improve mood, and make the wearer more at ease in social situations. It has no unpleasant side effects to speak of, and is appropriate to use in all occasions. It is particularly helpful for those who need help coming out of their shell or who have a tendency to build walls around themselves.
Guidelines for use: Wear a dab of W.A.G.G. under your nose and on your throat.
You can get a 10 ml bottle of W.A.G.G. today for $69.95. (If you want a product that will also boost confidence, you can consider W.A.G.G.-N, which also contains AndrosteNONE, also for $69.95.)
UPDATE: We no longer carry W.A.G.G.; try pure AndrosteNOL instead!
That's all for now, but there are plenty of other products in our catalog with excellent self-effects. If you want to explore others, start by exploring the effects of different pheromones by reading our "Pheromone Focus" series. (Each entry includes a list of Love Scent products that contain the pheromone discussed in the entry.) And, of course, we're always available to chat about the products we offer and what will work well for you.
Have you used pheromones specifically for their self-effects before? Which did you use, and how did it go? Tell us below! Also feel free to contact us with any questions, comments, or concerns. And be sure to subscribe to our newsletter to hear about new blog posts, product announcements, promotions, and more!
These statements have not been evaluated by the Food and Drug Administration. These products are not intended to diagnose, treat, cure, or prevent any disease.