Welcoming Spring With Love Scent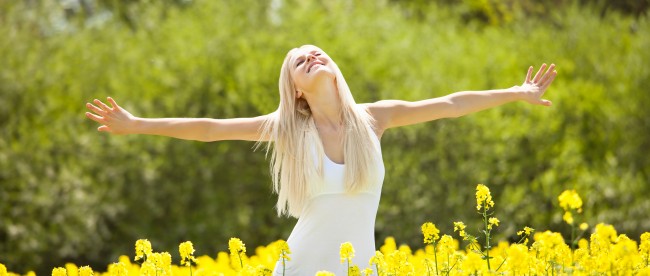 Happy spring, Love Scent fans!
Spring has officially sprung! Love Scent is ready to celebrate, and we bet you are too. You can get started right now with our new coupon code, LUVHOTSPRING. Use it at checkout to get 20% off your entire order! As always, this offer is good storewide, so use it on all of your favorites in our catalog.
The arrival of spring (which some of you have been enjoying for a while) is a good time to remember how pheromones are affected by temperature. Many pheromones are naturally secreted in our sweat, so warmer temperatures mean that you want to be a little more careful with the type and amount of pheromones you're using: more sweat results in more naturally-produced pheromones, which means that adding extra 'mones from a bottle can result in overdosing.
Of course, you don't have to be as careful in spring as you do in summer–unless you live in a very hot place, or you're sensitive to warm temperatures and sweat a lot even in mild weather. Just pay attention to your own pheromone output and adjust your added pheromones accordingly. If you're sweating a lot, ease back on the pheromones a bit.
Now let's take a look at a few suggestions for some Love Scent products that are ideal for celebrating the start of spring!
1. Essential Oils (starting at $4.95)
Love Scent has a selection of Zellous Essential Oils available for you to choose from. These 100% pure, undiluted, natural plant essences have many uses: as natural perfumes and colognes, as skincare products, as aromatherapy ingredients, and more. Each scent of oil has a range of benefits and uses that aromatherapists have been exploring for centuries.
Some good essential oils for spring are:
Lemongrass: the fresh, lemony scent of lemongrass gives a great boost to both energy and mood. It also works as an insect repellent and can soothe muscle aches, so it's a great accompaniment to outdoor springtime workouts!
Sweet Orange: another energizing, clean, citrusy scent, orange oil is extremely popular and has energizing properties to help you shake off the retreating winter. The familiar scent is enjoyed by almost everyone.
Eucalyptus: this distinctive-smelling and energizing oil is great for the respiratory system, so it's particularly useful for anyone battling springtime allergies. Like lemongrass, it's also a natural insect repellent.
You can use essential oils on their own, in combination with one another, or as a cover scent for one of our unscented pheromone blends. Just remember: these potent oils need to be diluted with a carrier oil before they go on your skin if you want to avoid a potentially bad reaction.
Try individual scents of Zellous Essential Oils for $4.95 a bottle, or get our sampler pack of 6 scents for $29.95. Order yours today!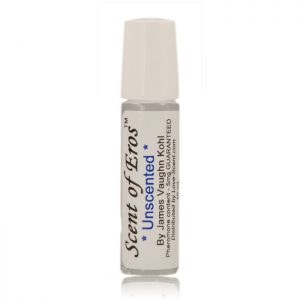 2. Scent of Eros ($49.95)
The Scent of Eros formula is nicely balanced and not too overpowering. It contains the social pheromone AndrosteNOL, which improves the wearer's mood while making them socially magnetic and approachable, and the sex pheromone AndrosteRONE, which boosts confidence, respectability, and other alpha qualities without making the wearer appear aggressive. The balanced, unaggressive blend makes Scent of Eros a formula with minimal risk of overdosing no matter the weather.
Scent of Eros is available in a 10 ml roll-top bottle for $49.95. Order now!
UPDATE: We no longer carry the Scent of Eros products. Try the Love Scent Pheromone Oils or Liquid Trust instead!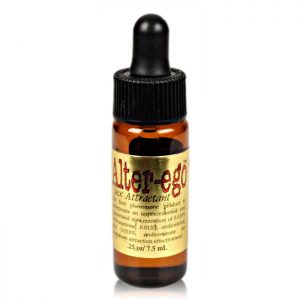 3. Alter Ego (starting at $9.95)
Another nicely balanced formula that can be used in warm weather, Alter Ego is available in scented versions for men and women, both of which are available in liquid formulas and in gel packs. The strong, intriguing fragrances will draw attention toward you and help the pheromones do their work.
The Alter Ego formula contains three pheromones: the mood-elevating and socially dynamic AndrosteNOL, the confidence-boosting and unaggressive AndrosteRONE, and the energizing sex pheromone AndrosteNONE. AndrosteNONE is the quintessential "alpha" pheromone and boosts your confidence, status, and perceived authority. It's important not to overdo it with AndrosteNONE, but Alter Ego has a low enough concentration that you can wear it in many different situations and in most types of weather.
Alter Ego is a good formula for those who want a boost of energy and confidence as they welcome the spring. A 7.5 ml eyedropper bottle for men or women is available for $49.95, and a 7-pack of convenient gel packs can be yours for $9.95. Why not give this solid formula a try?
UPDATE: We no longer carry Alter Ego. Try NPA for Women or NPA for Men instead!
4. Chikara for Men (starting at $14.95)
Our most popular formula for men, Chikara is a very well-balanced pheromone cologne containing six different pheromones. It is available in both scented and unscented versions and is an ideal starting point for someone who wants to start exploring the world of pheromones.
Like Alter Ego, the Chikara formula contains AndrosteNOL, AndrosteRONE, and AndrosteNONE, plus three other pheromones. The AndrosteNOL elevates mood and improves your social dynamism, while the AndrosteRONE and AndrosteNONE work together to enhance your sex appeal, confidence, and alpha status. The concentration of sex pheromones is not as intense as some other formulas, making Chikara a good choice for everyday wear all year round.
Our popular scented Chikara is available in a 15 ml spray bottle for $59.95 or a 1 ml trial size vial for $14.95. If you want to pair the Chikara formula with your own cologne (or perhaps an essential oil cover scent), the unscented version is available in a 10 ml spray bottle for $59.95. Give one a try this spring!
5. Arome de Femme ($59.95)
This excellent formula combines the classic appeal of a fine French perfume with the power of copulins, which are sex hormones produced in the female reproductive system at high levels during ovulation. The pleasant floral fragrance, perfect for springtime, covers the natural scent of the copulins well.
Copulins are very effective when enhancing a woman's sex appeal regardless of her age. These hormones also improve emotional bonds between partners, especially partners who have been together a while, and can have the secondary effect of boosting a woman's confidence in her relationships. All in all, they're an excellent addition to any woman's sexual or romantic life, and the perfect accompaniment to a date on a pleasant spring evening.
You can try a 15 ml spray bottle of Arome de Femme for $59.95. Treat yourself or the special woman in your life today!
That's all for now, Love Scent fans! Now get out there and enjoy the sights and sounds of spring. We'll see you next week!
Please leave your comments below! Also feel free to contact us with any questions, comments, or concerns. And be sure to subscribe to our newsletter to hear about new blog posts, product announcements, promotions, and more.
These statements have not been evaluated by the Food and Drug Administration. These products are not intended to diagnose, treat, cure, or prevent any disease.