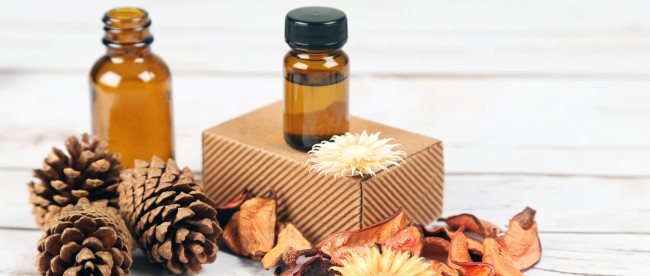 Happy Saturday, Love Scent fans! We hope you're doing well.
There's a lot to celebrate in March. It's Women's History Month the whole month long in the USA, we celebrate St. Patrick's Day on the 17th, the first day of spring is on the 20th (we hope it will feel like it!)…there's plenty to look forward to and plenty to appreciate.
Did you know that March is also National Craft Month in the USA? The Craft & Hobby Association set aside March as the month to celebrate the hands-on DIY spirit and its creations. As you probably know, Love Scent very much appreciates the creativity of DIY-ers, and we have plenty of advice for at-home pheromone mixers who like to take a proactive approach to their pheromone colognes and perfumes.
There are a lot of reasons crafters and DIY-ers enjoy making their own things. Maybe they value self-sufficiency, maybe they like to know exactly what's in their daily essentials, and maybe they just have a creative drive that needs to be satisfied. Whatever your reasons for enjoying crafting and hands-on projects, we appreciate your creativity.
If you're in the mood to make something useful with your own hands, we have some great places to start.

Essential oils are natural, versatile, and readily available from Love Scent. They're valued by aromatherapists, beauty product makers, pheromone users, DIY crafters…the list goes on. Each scent of oil comes with its own unique benefits (Aromaweb has a good collection of essential oil profiles for those curious about said benefits), and the oils are very easy to use. If you are interested in starting a small project with a practical use, essential oils are an excellent place to start experimenting.
Here are some ways to use essential oils in your at-home crafting:
The possibilities aren't limited to the above, of course, and the crafting blogosphere is overflowing with ideas for making use of these versatile oils. Explore a little, and then get to experimenting! Our Zellous oils are 100% pure, undiluted, and therapeutic grade, so they are good for just about any use you can think of. Get the sampler pack for $29.95, or individual bottles for $4.95 apiece!
Those of you who like to make your own pheromone mixes are already familiar with our pure pheromone selection. We have a comprehensive selection available for anyone interested in making their own pheromone mixes at home–though we do recommend either researching the topic heavily first, or experimenting with pre-mixed products in our catalog before trying your hand at your own.
Our pure pheromone selection includes:
Enterprising pheromone fans can purchase pure pheromones to create the perfect pheromone blend for their needs. You can buy the pure pheromones individually, or you can get the Fab 4 Chem Set, which contains 6 ml bottles of AndrostaDIENONE, AndrosteNOL, AndrosteNONE, and AndrosteRONE. Read up on our DIY-ing advice and our advice on experimenting and get to creating your very own pheromone products!
One final note: if you need somewhere to put that pheromone mix once you've perfected it, we have atomizers and roll-top bottles for you to use!
We hope you're now in a creative, DIY sort of mood! Harnessing our own creativity is a great way to take our minds of daily stresses, and there's nothing like the instant gratification of making something useful with your own two hands.
Until next week, Love Scent fans!