3 Attention-Getting Pheromones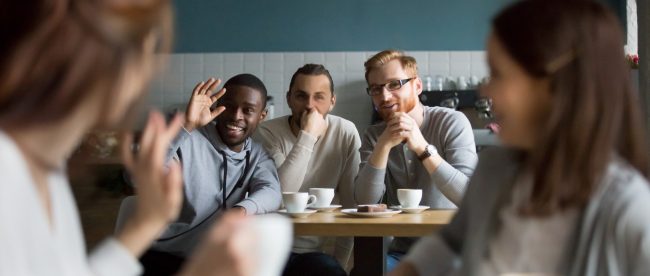 Happy Friday, Love Scent fans!
You still have time to save 25% on your next order with our summer sale! Just use the code LUVTHESUN22 at checkout to get your savings. Remember: this offer is good on the entire store, so now's a great time to stock up on your Love Scent favorites!
All right, on to today's topic: some fantastic attention-getting pheromones!
Now, people wear pheromones for a long list of reasons. Some people want to get ahead at work, so they wear pheromones that enhance their trustworthiness. Some people want to maintain a good mood and positive attitude, so they wear pheromones to give their own mentality a boost. But a lot of people wear pheromones to grab the attention of everyone in the room!
If you're one of the people who use pheromones to turn heads and make a lasting impression, we have some recommendations! So let's dive right in!
Alpha-7 is a potent unisex sex pheromone that contains AndrosteNONE and AndrosteRONE. AndrosteNONE is the "alpha" pheromone, supercharging your confidence and sex appeal. AndrosteRONE is AndrosteNONE's milder counterpart, gently enhancing your authority and dependability. Together, these 2 ingredients make Alpha-7 one of the best attention-getting pheromones around–whether you want to grab someone's attention from across the room, or rekindle the romance with your long-term partner.
Alpha-7 Unscented contains no added fragrance, and has a natural musky pheromone odor. We recommend always wearing it with a cover scent, unless you want attention for the wrong reasons! Apply 1-2 drops to your pulse points and spray your chosen fragrance over it.
You can try Alpha-7 with the Alpha-7 Mini for $9.95, or get the 10 ml Alpha-7 Unscented euro dropper bottle for $49.95. Order yours now!
Primal Women is a romantic, sexual pheromone for women. It combines the social pheromone AndrosteNOL with the potent female sex pheromones called copulins. This combination ramps up your sex appeal and magnetism while raising your self-confidence. You won't just grab attention from across the dance floor–you'll draw them close enough to make a connection, too! All of this makes Primal Women a great choice both for single women and women in long-term relationships.
Primal Women does not contain a fragrance, and its copulin content gives it a strange sour odor. Don't skip the cover scent with this one! Just apply 1-2 drops to your pulse points and spray your favorite perfume over it.
You can try Primal Women with the 1 ml Primal Women Mini for $9.95, or get the 10 ml Primal Women euro dropper for $49.95. If you need attention-getting pheromones to make your love life more exciting, give this one a try!
SuperMone Pheromone Cologne is the latest addition to our catalog. It contains AndrosteNOL, a powerful social pheromone, and AndrostaDIENONE, one of the most well-researched pheromones around. AndrostaDIENONE helps men make an authoritative impression while enhancing masculinity and sex appeal. SuperMone is perfect for men who want the effects of a sex pheromone, but don't want to come across as too overbearing or aggressive–making it ideal for beginners and old pros alike!
SuperMone already contains a cover scent, so you don't need to pair it with your own cologne. Just spray these attention-getting pheromones on your pulse points and head out the door!
A 15 ml spray bottle of SuperMone Pheromone Cologne is yours for $44.95. Order today!
There you have it, Love Scent fans! Some great attention-getting pheromones to add to your collection. Whether you want to have some fun with someone new, or want to rekindle the spark with your long-term partner, we hope you give one of these a try!
What are your favorite attention-getting pheromones? Are they on this list, or do you have others to recommend? Share your stories and tips in the comments! You can also contact us directly to share your comments, questions, and concerns. And be sure to subscribe to our newsletter to get free samples and to hear about coupons, new products, and more!
These statements have not been evaluated by the Food and Drug Administration. These products are not intended to diagnose, treat, cure, or prevent any disease.