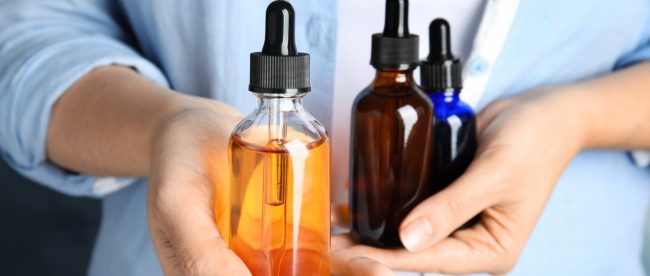 Happy Friday, Love Scent fans!
Before we get started, a few things!
First, this weekend is Memorial Day weekend in the United States. On Monday, we honor all those who lost their lives in the US Armed Forces. To celebrate the day, we're offering 25% off everything in our catalog: pheromones, supplies, cover scents, essential oils, and more! Just use the code LUV4MEMORIAL at checkout to get 25% off your full order.
Second, we have a new Weekly Special to announce!
If you've been reading this blog for a while, you know about our Weekly Specials already. If you're new, here's the deal: every week, we are selecting one of our most popular products and offering it for 50% off its original price. This is a great opportunity to explore pheromones for the first time, experiment with a product you haven't tried out before, or stock up on your favorite formulas.
This week's Weekly Special is our very own New Pheromone Additive for Men!
We developed New Pheromone Additive (NPA) years ago to offer people a balanced, versatile, and effective pheromone. The formula is a mix of equal parts AndrosteNONE, AndrosteNOL, and AndrostaDIENONE, all in a pure DPG oil base. The mix of social and sexual pheromones makes NPA for Men more balanced and effective than many other pheromones on the market. It's also unscented, so you can pair it with any cover scent you like.
All of these qualities make NPA for Men an excellent standalone pheromone, or a perfect base for DIY pheromone mixes (more on that in a moment)! It's consistently one of Love Scent's top five most popular products for men. Pheromone fans like its versatility, user-friendly pheromone concentration, and dependable results. Whether you're new to pheromones or have been using them for years, NPA for Men is a great addition to your collection.
And, for one week only, you can get a 10 ml bottle of NPA for Men for $24.95! If you haven't had a chance to try this classic, "must-have" product, now is the perfect time! Place your order today.
And, last but not least, the topic of today's post: pheromone mixes!
New customers often ask if they can use different pheromones together. The answer is yes, you can, and it's actually a very common way to use pheromones! Mixing two or more complementary formulas can actually help each formula work better. You can either enhance a particular product's best quality, or reduce potentially unpleasant side effects.
As far as how to mix the pheromones, you have two options. The first option, and the option most people choose, is to just apply multiple pheromones at once. Apply one to your pulse points, let it dry, and then apply the other on top of it. This is the easiest and most straightforward method for pheromone mixes, and doesn't require any extra supplies.
The second, more advanced option is to make a larger amount of a mix by adding multiple pheromones to another container, such as an atomizer or roll-on bottle. For this method to be successful, you'll need to budget some time for experimenting. You'll need to find out what proportions of each product to use, and how much of the mix to apply at once. The extra time is worth it: you'll always have your favorite mix on hand, whenever and wherever you need it. If you need to touch up your pheromones throughout the day or want to bring them on your travels, choose this method for your pheromone mixes.
One final thing to consider: if your pheromone mix does not include any scented pheromones, you'll probably need to add a cover fragrance. Some unscented pheromones are okay to use on their own, but most smell a bit like body odor by themselves. If you have a go-to cologne or perfume, that'll be an ideal addition to the mix.
All right, now that you know the basics, let's take a look at some pheromone mixes!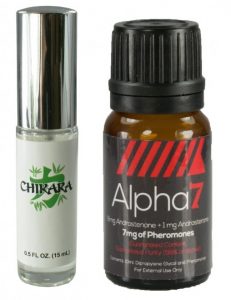 1. Chikara Pheromone Cologne + Alpha-7 Unscented
This combination is so popular that these two products are already sold in a discounted bundle! It combines the high versatility of Chikara with the sexual power of Alpha-7. The social pheromones in the Chikara balance out the dominant, sometimes intimidating effect of Alpha-7's sexual formula. What's more, the memorable cologne in Chikara works as a cover fragrance for the whole mix.
For this mix, we recommend starting with a 3:1 ratio of Chikara to Alpha-7. Experiment a bit, and adjust as needed.
You can get a 15 ml bottle of Chikara Pheromone Cologne and a 10 ml bottle of Alpha-7 Unscented together for $79.95. If you'd prefer to experiment with smaller amounts first, you can get the 1 ml Chikara Pheromone Mini and 1 ml Alpha-7 Unscented Mini for $9.95 apiece. Order today!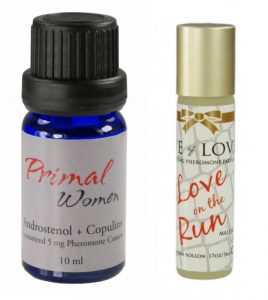 2. Primal Women + Seduce
This is one of the best pheromone mixes for women who want to enhance their sexual magnetism and build emotional connections. Together, Primal Women and Seduce bring the social pheromone AndrosteNOL, the sex pheromones copulins, and the emotional-sexual pheromone Estratetraenol. This mix brings people's walls down, strengthens bonds, and improves sexual intimacy. It's an especially good combo for women who want to bring something special to their relationships.
Seduce already contains a floral cover fragrance, so this mix doesn't need any extra perfume. Start with equal parts Primal Women and Seduce and adjust as needed!
You can get a 1 ml Primal Women Mini for $9.95 or a full-size 10 ml Primal Women for $49.95. A 5 ml roll-on of Seduce is $9.95. Order now!
UPDATE: We no longer carry Seduce for Her. Try NPA for Women with your favorite cover fragrance instead!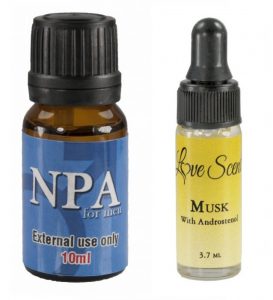 3. NPA for Men + Love Scent Pheromone Oils
This well-balanced combination can help men improve all their relationships: professional, personal, romantic, and more. It takes the dependable formula of NPA for Men and enhances its social effects by adding an extra dose of the powerhouse social pheromone AndrosteNOL. This great combo is one of the most user-friendly pheromone mixes you can make, and forms the base of our Beginner Special for Men!
The Love Scent Pheromone Oils come in 10 different fragrance options, so this mix doesn't need additional fragrance. We especially recommend Musk, Woodland, or Sandalwood, but you can choose whichever fragrance appeals to you! Start with a 2:1 ratio of Love Scent Pheromone Oils to NPA, and adjust until you get the effects you want.
Any of the Love Scent Pheromone Oils' 10 fragrance options are $9.95 for a 3.7 ml bottle. And, for one week only, you can get a 10 ml bottle of NPA for Men for $24.95! Add this combo to your collection today!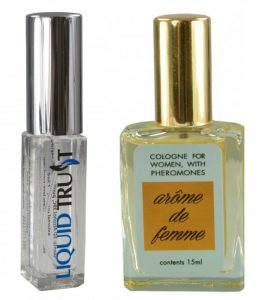 4. Liquid Trust + Arome de Femme

This is a good combo for women who want to improve their relationships with their partners. It combines the powerful social pheromones of Liquid Trust with the potent sexual copulins found in Arome de Femme. Both pheromones have strong psychological and physical effects, so this combination builds trust, enhances emotional and sexual intimacy, and helps relationships develop. Whether you're in a new relationship, a long-term relationship, or want to attract a serious partner, this mix is a good choice for you!
Arome de Femme already has a floral-musk cover fragrance, so this mix requires no additional perfume. Start with a 2:1 ratio of Liquid Trust to Arome de Femme. If you want a more sexual mix, you can try equal parts of both.
You can get a 7.5 ml bottle of Liquid Trust for $24.95, and a 15 ml bottle of Arome de Femme for $29.95. Order both today!
There you have it, Love Scent fans! Some powerful pheromone mixes for you to experiment with. We hope you give one or more of these combos a try!
And don't forget about your savings opportunities this week! Take 25% off your full order with the coupon code LUV4MEMORIAL, and save 50% on NPA for Men by ordering within the next week!
Have you tried any of the above pheromone mixes? What did you think? Do you have a killer mix of your own to share? Tell us about it in the comments! Also feel free to contact us with all your questions, comments, and concerns. And don't forget to subscribe to our newsletter to be the first to hear about blog posts, new products, exclusive promotions, and more!
These statements have not been evaluated by the Food and Drug Administration. These products are not intended to diagnose, treat, cure, or prevent any disease.