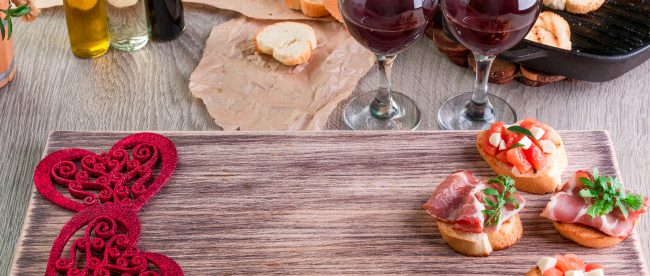 Happy Friday, Love Scent fans!
First, a reminder: you can save 30% on your next Love Scent order with the Valentine's Day coupon code BEMINE. Just enter the code at checkout to save big on your Valentine's Day gifts or your own pheromone supply!
Now, with Valentine's Day coming up, we'd like to go over some more date night-worthy pheromones, and share some extra tips on making romantic occasions truly unforgettable–whether it's a Valentine's Day date, an anniversary, a weekend getaway, or anything else. Let's take a look!
THE MENU
Date nights often involve a romantic meal, but you don't necessarily need to worry about getting a reservation at the most romantic restaurant in town. Cooking a romantic meal for (or with) your partner is a great way to create a deeper connection and show your partner you care about them. It also gives you the chance to get the date night pheromones flowing right from the start: you can plan a menu full of foods that naturally increase pheromone production!
As we've mentioned before, your diet influences your production of sex hormones that, in turn, influence your production of pheromones. Foods high in zinc, magnesium, Vitamin E, and Vitamin D can help you naturally raise your own pheromone levels and give you more confidence, energy, and sex appeal.
Many foods high in these key vitamins and minerals are easy to incorporate into a romantic date night. Start with an appetizer tray featuring roasted nuts that are full of magnesium and Vitamin E; move onto a salad with dark leafy greens and seeds and a vinaigrette for more Vitamin E, and maybe some eggs for Vitamin D; and serve a zinc-rich main course of roast beef or pork (or something legume-based for a vegetarian option, such as a dish featuring chickpeas, lentils, or soy), or a Vitamin D-rich fish course. Finish off with a dark chocolate-based dessert: dark chocolate is surprisingly rich in both zinc and magnesium, plus iron and antioxidants for energy and overall health.
As you can see, planning out and cooking a meal for your partner doesn't just give you a chance to prove your skills in the kitchen. It can give both you and your partner a natural boost in some very potent pheromones. Check out our lists of foods high in pheromones for more menu planning help!
There's no reason to stop at dinner, though: there are other ways to incorporate some perfect date night pheromones into your special evening! Let's take a look at some other ways to make a memorable night.
THE EVENING
If you'd like to make your special romantic occasion a night neither of you will forget anytime soon, there are plenty of ideas out there–even if you prefer a quiet evening in rather than a night out on the town, or are on a budget.
One popular romantic date is to take a hike together (side note: exercise also increases your natural pheromone production); experiencing fresh air and the beauty of nature together is a great way to bond and strengthen your relationship. If you don't live close to hiking trails, try playing tourist in your own town for one night; seeing where you live with new eyes will help bring you closer and give you the thrill of travel without having to go far. Returning to the location of your first date is another popular romantic idea, as are days spent exploring each other's interests: perhaps a visit to a planetarium if your partner is a stargazer, or tickets to a favorite team's game.
Other creative date nights include taking classes together. Couples' cooking classes are a popular choice, so you can learn how to make one of those meals that produce natural date night pheromones while also experiencing the benefits of cooking together. Partner massage classes are a more intimate option that are excellent for established relationships; research shows that giving your partner a massage improves the strength of your relationship and both partners' well-being.
If you prefer a night in, try a DIY spa night featuring a warm soak in a tub together. If you've already mastered the art of massage, try giving your partner a relaxing rub-down after your romantic meal. (A great addition to either of these ideas are the Pheromone Infused Massage Candles mentioned in last week's Valentine's Day gift list, which fill the air with perfect date night pheromones–and create pheromone-infused massage oil as they burn.)
However you choose to celebrate your special occasion, do something that brings you closer together and strengthens the bond you share. And, if you want to add an additional layer of romance to an already memorable night, Love Scent is here to help with some date night pheromones that are perfect for the occasion!
THE PHEROMONES
1. Primal Women (starting at $14.95)
Primal Women contains two ideal date night pheromones: AndrosteNOL to put you and your partner in a good mood, and copulins to create a sexually-charged atmosphere. It helps you and your partner bond both emotionally and physically and creates a lasting connection rather than fleeting, surface-level attraction. This is an unscented product with a naturally strong copulin odor, so pair it with your favorite fragrance for your romantic evening together.
Apply 1-2 drops of Primal Women to your pulse points and cover with your favorite scent. You can also add it directly to your perfume (try a 3-to-1 ratio of fragrance to pheromones to start with, and adjust as needed) so you always have some pheromone-laced perfume on hand.
Primal Women is available in the 1 ml trial size Primal Women Mini for $14.95, or a 10 ml Primal Women dripper bottle for $59.95. Order today to have it ready for your next romantic date night!
2. Chikara Pheromones for Men (starting at $14.95)
Chikara is our best-selling pheromone for men, and one of our best date night pheromones. It combines the social pheromone AndrosteNOL with sex pheromones (including AndrosteNONE, AndrosteRONE, and Androstadienone) to create a multilayered connection between you and your partner. You'll both be relaxed, confident, and ready for both emotional and physical intimacy, whether you're enjoying a night in together or hitting up your favorite places around town.
Chikara comes in a scented and unscented version. The scented cologne has a distinctive fragrance reminiscent of sandalwood and spice; the unscented version should be paired with your favorite cologne. Apply 1-2 sprays to the pulse points and, if needed, spray your favorite fragrance over it.
Chikara Pheromone Cologne is available in the 1 ml trial size Chikara Mini for $14.95 or the 15 ml Chikara spray for $59.95. You can also get the unscented Chikara 15 ml spray for $59.95. Order now!
3. Love Scent Copulin Concentrate ($24.95)
The Love Scent Copulin Concentrate is one of our best date night pheromones, but requires a little more experience than the other products on this list. This incredibly potent product has a very strong copulin odor that must be heavily diluted before use. When used correctly, it can turn any fragrance into a sexy, emotionally-charged pheromone perfume. Without proper dilution, it has a very unpleasant smell that will actually chase people away. So be sure to have the dilution right before adding this product to your date night plans!
We recommend diluting 1 drop of Love Scent Copulin Concentrate into several milliliters of your favorite perfume and adjusting as needed. Some people will be more sensitive to the smell than others, so give yourself time to make the necessary adjustments before wearing it on a date. Trust us: you'll be glad you took the time to get it right, and will love the intense effects the copulins have on you and your partner!
A 3.7 ml bottle of Love Scent Copulin Concentrate is yours for $24.95. With a little practice, this potent pheromone can become your secret weapon, so order now and start experimenting!
4. Liquid Trust ($24.95)
Infused with a pheromone sometimes called the "cuddle pheromone," Liquid Trust is one of our most popular pheromones overall and one of the best date night pheromones in our catalog. Its key ingredient creates a feeling of emotional intimacy and trust, and helps strengthen your bond with your partner no matter how long you've been together. It will help you both relax and put you in a positive, loving mood–exactly what you need for your romantic evening together to be a success.
Liquid Trust is unscented and, unlike most unscented pheromones, does not need a cover fragrance. Just apply to your wrists and around your neck. It can also be used safely on many fabrics; we just recommend checking a small and inconspicuous area of the fabric in question to make sure it won't stain before applying it too liberally.
A 7.5 ml spray bottle of Liquid Trust is yours for $29.95. Order for your next date night and see why it's one of our all-time most popular products!
5. Edge Pheromone Cologne with Sandalwood ($39.95)
Edge Pheromone Cologne with Sandalwood contains a very effective blend of social and sexual pheromones (AndrosteNONE, AndrosteNOL, and Androstadienone) to create a versatile and romantic cologne. One of our best date night pheromones, it puts you and your partner in a relaxed state of mind and enhances your sexual and emotional attraction to one another. It pairs these effects with the soothing scent of sandalwood, helping you enjoy the evening even more.
Because it is already scented, Edge Pheromone Cologne with Sandalwood does not require additional fragrance. Simply apply to your pulse points like the wrists, throat, and behind the ear.
You can try Edge Pheromone Cologne with Sandalwood in a 10 ml roll-on for $39.95. Order now to have it ready for your next romantic date night!
There you have it, Love Scent fans! We hope you found some of these suggestions helpful and are inspired to make your next romantic date night extra memorable!
What's your idea of the perfect romantic date night? And what are your favorite date night pheromones to add that extra something to the occasion? Tell us about it in the comments! You can also contact us directly with your questions, comments, and concerns. And be sure to subscribe to our newsletter to be the first to hear about blog posts, new products, exclusive promotions, and more!
These statements have not been evaluated by the Food and Drug Administration. These products are not intended to diagnose, treat, cure, or prevent any disease.