Estratetraenol: The Couples' Pheromone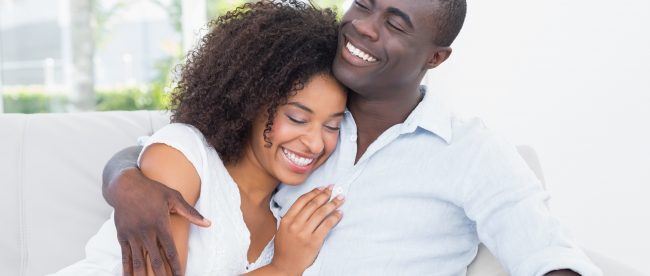 Happy Friday, Love Scent fans!
We hope everyone is enjoying the summer! We're still celebrating the warm season by offering 25% off on your next order. Don't forget to save by using the code SUMMERFUN at checkout!
Now, on to today's topic: a closer look at Estratetraenol, a potent ingredient found in some women's pheromone products!
Related to estrogen, a human sex hormone, Estratetraenol was one of the first human pheromones to be researched. It plays a significant role in sexual and romantic relationships, and has a range of emotional and physical effects on those exposed to it.
One interesting detail about Estratetraenol is that its effects depend on a person's gender and their sexual orientation–something that is important to keep in mind when deciding whether you would like to add Estratetraenol to your pheromone collection. It has the strongest effects on straight men and gay women. Straight women and gay men do not have strong responses to it, and in some contexts do not respond to it at all.
Estratetraenol's sexual and romantic effects are its biggest selling points to most pheromone fans. When exposed to this pheromone, straight men and gay women experience activation of their anterior hypothalamus. This brain region regulates many of our bodily systems and functions, including reproductive behaviors such as sex and bonding, so anything that stimulates it–such as Estratetraenol–in turn stimulates a person's interest in sex and romance.
In addition to its effects on straight men and gay women's sexual interests, Estratetraenol increases cooperative behavior among straight men. Research shows that women find cooperative behavior in men more sexually attractive than uncooperative behavior, so cooperative behavior enhances a man's sex appeal. Given that Estratetraenol stimulates straight men's sex drives, it makes sense that it would also cause them to modify their behavior to increase the chances of sexual activity.
Research also suggests that Estratetraenol impacts how straight men perceive women's femininity. When exposed to this pheromone, straight men are more likely to view gender-ambiguous images as more feminine than they would when exposed to non-pheromone odors or other pheromones. This is important information for women who want to appeal to men who prefer feminine women. (Interestingly, gay women do not respond this way to Estratetraenol.)
Now, while it is true that Estratetraenol's effects are strongest in straight men and gay women, there is some evidence that straight women are also affected in some ways by this pheromone. Research into two pheromones' effects on existing moods showed that men and women alike experienced a more intense state of sexual arousal when exposed to Estratetraenol–when they were already aroused. So, this pheromone does not directly stimulate arousal or other sexual and romantic feelings in straight women, but can enhance arousal when straight women are already in that emotional state–something that heterosexual couples should keep in mind.
So, if you are a woman who is interested in attracting straight men or gay women, a product containing Estratetraenol is an excellent choice for you. If you are a straight woman interested in enhancing your own sexual desire, Estrateraenol may be able to help in certain circumstances, but probably will not work as well as pheromones that directly stimulate your interest in sex (such as the male sex pheromone Androstadienone). And, if you are a man interested in attracting other men, Estratetraenol won't do much for you at all.
If you're one of the many people who can benefit from adding Estratetraenol to your pheromone collection, we have a few suggestions for you! Let's take a look…

1. Seduce for Her ($9.95)
Seduce for Her is an Estratetraenol-infused pheromone perfume. It blends this potent pheromone with a feminine cover fragrance that contains notes of jasmine, bergamot, and Damascus rose. Seduce is not an intensely sexual perfume, and can therefore be worn many places and on many occasions, but it is an especially good choice for date nights with new and long-term partners alike.
Because it is already scented, you do not need to pair Seduce with a cover fragrance. Apply it to the pulse points like the wrist and throat and you're ready to go!
A 5 ml roll-on bottle of Seduce for Her is $9.95. If you are in a relationship, you can also get Seduce and its companion product Rebel for Him in the Eye of Love Couples Pheromone Kit for $19.95. Order today!
UPDATE: We no longer carry Seduce for Her. Try NPA for Women with your favorite cover fragrance instead!
2. Mistress Pheromones for Women (starting at $9.95)
The two primary pheromone ingredients in Mistress Pheromones for Women are Estratetraenol and copulins. As we established above, Estratetraenol has a range of beneficial effects for many couples. For heterosexual couples, these effects are enhanced by the addition of copulins, which affect straight men in many ways: stimulating their sex drive, boosting their confidence, increasing their attentiveness to their partners, and so on. These two pheromone powerhouses are then paired with a striking herbal cover fragrance.
Because Mistress already contains perfume, you do not need to pair it with any additional fragrance. Simply apply it to your pulse points before a date.
Mistress Pheromones for Women is available in two sizes: the 1 ml trial-size Mistress Mini for $9.95, and the 10 ml full-size Mistress roll-on for $48.95. Order now!
3. Pure Estratetraenol ($59.95)
If you would like to take any one of your perfumes and turn it into a pheromone-infused fragrance, pure Estratetraenol is the best choice for you. This unscented pheromone concentrate contains Estratetraenol at a concentration of 1 mg/ml–one of the highest concentrations possible–and is designed to be added to your favorite perfume. You can either apply it to your skin and spray your favorite fragrance over it, or add it directly to the perfume to make a DIY pheromone fragrance. You can also add it to an existing pheromone perfume to give it a dose of Estratetraenol goodness.
Because unscented pure pheromones tend to have a natural musky odor, we do not recommend wearing them without a cover fragrance of some kind. Make sure to always use a perfume or scented pheromone when wearing pure pheromones.
A 6 ml bottle of Pure Estratetraenol is yours for $59.95. Try it today!
There you have it, Love Scent fans! Everything you need to know about Estratetraenol, and some of the best ways to add it to your pheromone collection!
Have you used any of the above products before? What were the effects? Do you like using Estratetraenol on its own, or in combination with other pheromones? Tell us about it in the comments! You can also contact us directly with your questions, comments, and concerns. And be sure to subscribe to our newsletter to be the first to hear about blog posts, new products, exclusive promotions, and more!
These statements have not been evaluated by the Food and Drug Administration. These products are not intended to diagnose, treat, cure, or prevent any disease.