Introducing New Love Scent Oils Fragrances!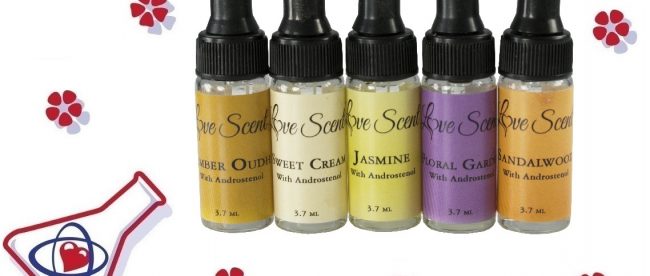 Greetings, Love Scent fans!
We hope everyone celebrating had a festive Fourth of July!
This week, we'd like to introduce five new fragrances to our popular Love Scent Pheromone Oils line, and tell you more about these versatile oils!
As many of you probably know, the Love Scent Pheromone Oils contain the social pheromone AndrosteNOL. This pheromone has a long list of beneficial effects, and can play many roles–both by itself and as part of a mix.
By itself, AndrosteNOL works to improve your mood, energy, and outlook. It also makes you more socially magnetic and trustworthy, and is therefore equally ideal for professional settings and time spent relaxing with friends.
As part of a mix, AndrosteNOL can enhance and elevate other social pheromones, or provide a useful counterbalance to intense and sometimes aggressive sex pheromones such as AndrosteNONE. By combining AndrosteNOL with stronger pheromones, you can enjoy the confidence-boosting, authoritative, sexually magnetic benefits of the stronger products while lowering the risk that you will come across as overbearing or unpleasant.
These positive effects make AndrosteNOL a common addition to many pheromone products, and a popular addition to homemade pheromone mixes. An AndrosteNOL-based product is always a good addition to a pheromone collection.
The Love Scent Pheromone Oils were designed to be that versatile addition to your at-home pheromone lab. Because they contain only AndrosteNOL, they're as easy to incorporate into a mix as they are to wear on their own. And, because they are scented, they can easily double as a cover fragrance in mixes. We already include a bottle of the Love Scent Pheromone Oils' popular Musk fragrance in our Beginner Specials for Men and Women, but all the fragrances are also available for individual purchase.
Up until now, the Love Scent Pheromone Oils were available in five fragrances: spicy and smoky Woodland, bright and fruity Citrus, fresh and clean Musk, classic and classy Smoky Amber, and sweet and nostalgic Honeysuckle. We now have five new fragrances to add to the list, so let's take a look!
1. Amber Oudh
This option blends the scents of two timeless fragrance notes: amber and oudh. Amber is the crystallized resin of various trees, and brings smooth, sweet, and woody notes to perfumes and colognes. It was used by many ancient cultures as a luxurious fragrance and is mentioned in many poems, novels, and songs. Oudh, also known as agarwood or eaglewood, has a similar luxurious lineage and has been used as a fragrance and incense ingredient for centuries. Like amber, oudh is valued for the rich, complex woody notes that it brings to any fragrance.
If you like your fragrances to have bold, herbaceous notes that leave a lasting impression, Amber Oudh oil is for you. Apply 1-2 drops to your pulse points.
2. Sweet Cream
Many of you have asked for a sweet-scented oil with notes of vanilla, and Sweet Cream is here to meet your needs! This option boasts a rich, unforgettable fragrance that blends the nostalgic scent of vanilla with the luxurious aroma of fresh cream. A deep breath of this scent and you'll be transported to a Parisian pastry shop–or perhaps your grandmother's kitchen!
The Sweet Cream oil is ideal for people who like sweet gourmand fragrances. Apply 1-2 drops to your pulse points like the wrists and throat. If you'd like a stronger element of vanilla, this would pair well with vanilla extract (easily found in the baking aisle of most grocery stores) or properly diluted vanilla essential oil.
3. Jasmine
Most people can instantly recognize the smell of blooming jasmine blossoms. These delicate flowers have a soothing, distinct fragrance that many describe as intoxicating. The scent is beloved in cultures all over the world, especially in the Middle East, and is often associated with divinity. It is also one of the most common fragrance ingredients, appearing in both women's perfumes and men's colognes; in fact, for centuries, jasmine was considered a necessary ingredient in any fragrance.
While distinctly floral, jasmine is considered a unisex fragrance, and can be worn by men and women alike. Apply 1-d drops of our Jasmine oil to your pulse points and take a deep breath of the relaxing aroma.
4. Floral Garden
If you're after a more feminine floral scent, Floral Garden is for you. This oil evokes a field of colorful flowers in full bloom, with bright notes of sweet pea at the forefront. While not understated, this fragrance is not as heady or intoxicating as the Jasmine oil, wrapping you in a youthful and energetic aura as you go about your day.
If you like bright and lively floral fragrances, Floral Garden will surely appeal to you. Apply 1-2 drops to your wrists and throat before heading out for a day in the summer sun.
5. Sandalwood
Sandalwood is another ancient fragrance ingredient that is derived from various trees found throughout Asia and the South Pacific. It has been used in incense and perfumery for at least 4,000 years, and has a firm place in many cultural traditions–religious and secular alike. When used in fragrances, it brings a rich woody note that many people find relaxing and uplifting.
Our Sandalwood oil is a good choice for people who like classic woody notes in their fragrances. Apply 1-2 drops to the wrist and throat.
There you have it, Love Scent fans! All of these new fragrances can be worn alone, or can be added to a pheromone mix to give the blend a good dose of AndrosteNOL's powerful goodness. Whatever you use pheromones for, any of the Love Scent Pheromone Oils would be a great addition to your collection! They are available in 3.7 ml eyedropper bottles for $9.95 apiece!
Feel free to contact us directly with your thoughts, comments, or questions about these new products–or anything else! And be sure to subscribe to our newsletter to be the first to hear about blog posts, new products, exclusive promotions, and more!
These statements have not been evaluated by the Food and Drug Administration. These products are not intended to diagnose, treat, cure, or prevent any disease.