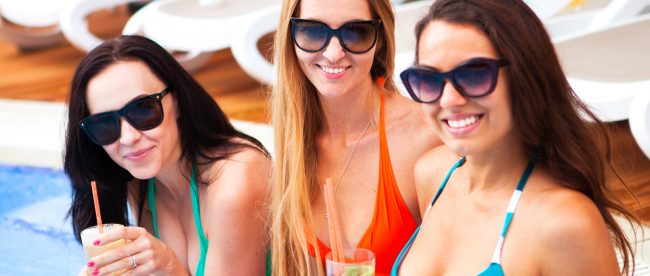 Happy Friday, Love Scent fans!
Before we begin, a reminder: Monday is Memorial Day in the U.S., a day set aside to honor those who made the ultimate sacrifice in the service of their country. We're showing our appreciation by offering 25% off everything in the Love Scent store. Just enter the code LUV4MEMORIAL at checkout to receive the discount!
Now, let's turn to today's topic: pheromones for summer!
Summertime is a great time to use pheromones. We're headed outside, spending time in the fresh air and sun with our friends, and meeting new people–maybe new friends, and maybe new partners! And pheromones can help us make the most of these good times.
Before we look at specific pheromones, let's briefly review how to properly use pheromones in warmer weather.
First, remember to avoid pheromone overdosing!
Many pheromones are found naturally in your sweat. When you sweat more in warm weather, the natural amount of pheromones on your skin increases–meaning that you need to be extra careful about adding more pheromones on top of them. This is especially relevant when using sex pheromones like AndrosteNONE, which need to be used sparingly to avoid irritating other people. If you use sex pheromones regularly, decrease the amount you're wearing when the weather gets warmer.
Another heat-related issue: sweating pheromones off!
On a normal day, pheromones will remain on your skin for 6-8 hours, until your skin naturally breaks them down. But when you're sweating heavily, the pheromones can disappear more quickly. How quickly they disappear depends on the person, of course, but some users report pheromones lasting 4-6 hours in hot weather. So, if you want your pheromones to last all day, you'll want to consider carrying them with you and reapplying after they've been sweated off.
Another way to make pheromones last longer when you're sweating heavily is to consider an oil-based pheromone. There usually isn't much difference between alcohol-based pheromone products and oil-based, but many people find that oil-based pheromones are harder to sweat off in hot weather. If you'd like to experiment with the longevity of oil-based pheromones, you can either test out an oil-based product, or add an unscented pheromone to an oil-based cover fragrance (such as an essential oil blend).
All right, now that we've covered the basics, let's take a look at some great pheromones for summer!
1. Alter Ego Gel Packets (starting at $9.95)
Available in scented formulas for men and women, Alter Ego Gel Packets contain enough formula for 1-2 uses. These packets are highly portable, making them an ideal choice for anyone who might need to freshen up their pheromones throughout the day. The Alter Ego formula is also nicely balanced, containing enough social AndrosteNOL to balance out the effects of the AndrosteNONE, and is perfect for meeting new people and just enjoying yourself. All of these qualities make the Alter Ego gels the perfect pheromones for summer!
Apply the Alter Ego gel wherever you normally apply cologne or perfume: on your wrists, throat, and behind the ears. These gels are already scented, so you do not need to wear them with perfume or cologne: they smell great on their own!
7 packets of Alter Ego Gel for Women or Alter Ego Gel for Men cost $9.95. You can also get larger amounts if you need more! Order today!
UPDATE: We no longer carry Alter Ego for Women packets. Try NPA for Women instead!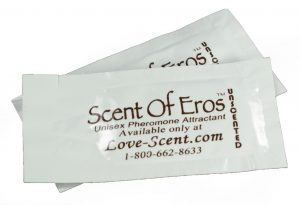 2. Scent of Eros Gel Packets (starting at $9.95)
Like the Alter Ego gels, the Scent of Eros Gel Packets are good for 1-2 uses apiece and are extremely portable. The unscented formula contains the social pheromone AndrosteNOL and the mild sex pheromone AndrosteRONE, so they're perfect for days when you might be putting off more sex pheromones than usual. Many people use Scent of Eros Unscented to better enjoy social situations, like crowded parties, or to come off as more approachable to potential partners. If you need pheromones for summer, you can't go wrong with Scent of Eros.
You can apply the Scent of Eros Unscented gel to your wrists, throat, and behind your ears. This unscented formula can be worn alone, but you can also combine it with your favorite cover fragrance.
A 7-pack of Scent of Eros Unscented Gel Packets is yours for $9.95. You can also order packs of 18 or 38 if you need more. Try them today!
UPDATE: We no longer carry the Scent of Eros products. Try the Love Scent Pheromone Oils or Liquid Trust instead!
3. Chikara Mini ($14.95)
The Chikara Mini is a trial-sized, oil-based version of the popular Chikara Pheromone Cologne for Men. You may find that the oil base holds up better on hot days when you might be sweating more than normal. The incredibly balanced formula is also suitable to wear even when you're putting off a lot of natural sex pheromones. To top it all off, Chikara contains a striking, fresh cover fragrance that will earn you all kinds of attention. It's one of our best pheromones for summer.
Apply the Chikara cologne to your pulse points like the wrists and throat, and behind the ears. Because this formula is already scented, you won't need to keep an extra cover fragrance on hand. Wear it all by itself for great results!
A 1 ml, very portable Chikara Mini is yours for $14.95. Order yours now!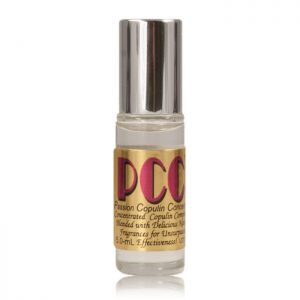 4. Passion Copulin Concentrate ($29.95)
Passion Copulin Concentrate is the ideal choice for women who want to attract a man this summer. This oil-based perfume has great staying power on the skin, has a fruity summer scent, and contains the concentrated power of copulins–natural sexual hormones that boost men's sex drives and enhance a woman's natural sex appeal. The 5 ml bottle can be easily tucked in a purse or pocket, so you can take it with you anywhere and freshen up the pheromones whenever you need to. If you're a woman who needs potent sex pheromones for summer, Passion Copulin Concentrate is an excellent choice.
Passion Copulin Concentrate contains a cucumber-melon cover fragrance, so you don't need to combine it with a perfume. Apply to the pulse points like the wrists and throat for best results.
A 5 ml roll-on of Passion Copulin Concentrate is yours for $29.95. Add it to your pheromone collection today!
UPDATE: We no longer carry Passion Copulin Concentrate. Try our Love Scent Copulin Concentrate or Arome de Femme instead!
There you have it, Love Scent fans: some of our top pheromones for summer! We hope you bring these along with you as you set out to enjoy the beautiful weather.
Which pheromones do you wear in summer? Do you prefer alcohol- or oil-based pheromones this time of year? Let us know your favorites in the comments! As always, feel free to contact us directly with any questions, comments, or concerns. And be sure to subscribe to our newsletter to be the first to hear about blog posts, exclusive promotions, new products, and more!
These statements have not been evaluated by the Food and Drug Administration. These products are not intended to diagnose, treat, cure, or prevent any disease.