5 Pheromones To Shake Things Up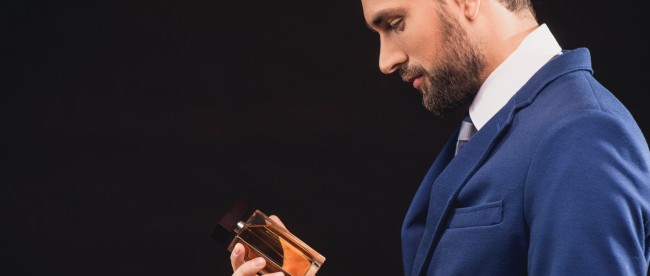 Happy Friday, Love Scent fans!
First of all, we'd like to give you a last chance reminder about our Labor Day promotion! Use the code LABORWKND at checkout for 30% off your order. Take advantage of the savings while you can!
Okay, back to business!
This week, we'll be looking at five pheromones that aren't as well known as some of our other, more popular products. These products work great and are easy to use, but just don't have as big a following as other pheromones. We'd like to change that! If you've been using the same pheromones for a while and want to experiment with something new and reliable, this list is for you.
All of these products can be used on their own or in combination with other pheromones, so they're good choices whether you want something entirely new, or a new element in a DIY mix. Let's have a look!
1. The Pheromol Factor ($29.95)
The Pheromol Factor is a British-made, scented pheromone product for men. The formula was developed by Dr. George Dodd, a biotechnology scientist, who calls it "the scent of sexual attraction." The Pheromol Factor is very helpful in breaking down people's walls and getting them more relaxed and talkative around new people.
The Pheromol Factor are lightly scented with a designer fragrance. A few dabs on your pulse points–wrists, throat, behind the ear–are enough to see the effects. It can be used on its own, or in combination with unscented pheromones.
A 11.5 ml dripper-top bottle of The Pheromol Factor is yours for $29.95. If you haven't tried this product, now's the time!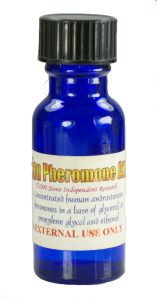 2. Passion Pheromone Attractant — for Men ($49.95)
Containing a low concentration of the sex pheromone AndrosteNONE, Passion Pheromone Attractant is a useful product for anyone who wants to test out the stand-alone effects of AndrosteNONE without a high risk of overdosing. This lightly scented product increases confidence, commands respect, and draws people's attention to you, but is less likely to make you appear overbearing or intimidating than many other AndrosteNONE-based products.
Apply 2-3 dabs of Passion Pheromone Attractant wherever you normally apply cologne. You can use it on its own, or in combination with other pheromones. The Pherolibrary recommends mixing it with Scent of Eros, W.A.G.G. (see below), or NPA for Men. Do what works best for you!
At $49.95 for a 15-ml bottle, Passion Pheromone Attractant is an excellent value. Try this product today!
UPDATE: We no longer carry Passion Pheromone Attractant for Men. Try Primal Instinct Ylang Ylang, Alpha-7, or Super Primal for Her instead!
3. Arome de Femme — for Women ($59.95)
Arome de Femme is one of the more "classic" pheromone perfumes available at Love Scent. This Paris-developed perfume has subtle floral notes combined with musk and vanilla. The fragrance does a remarkable job of covering up the natural scent of the copulins, making this one of our better-smelling copulin-based products. If you prefer more traditional, natural-smelling perfumes, you will love Arome de Femme!
Arome de Femme's copulin formula is intended to have a romantic effect rather than a purely sexual one, so it's a particularly good product for wearing with long-term partners or someone you'd like to get emotionally closer to. Apply 2-3 sprays where you normally wear perfume.
A 15-ml bottle of Arome de Femme is $59.95. If you're looking for a dependable and fantastic-smelling pheromone perfume, this one is for you!
4. W.A.G.G. — for Men ($69.95)
W.A.G.G. stands for "What A Great Guy," after what people will be saying when you wear it around them. This unique men's formula contains only AndrosteNOL, a social pheromone known as "the icebreaker pheromone," which is more commonly found in women's pheromone products because its effects–approachability, friendliness, social magnetism–are seen as more useful for women than for men. But men stand to benefit enormously from its effects as well!
Because of its AndrosteNOL content, W.A.G.G. will turn you into a socially charismatic person. Other people, men and women alike, will feel relaxed and at ease around you. These effects make W.A.G.G. especially useful for men who are naturally more dominant, intimidating types. If you find that your overwhelming alpha presence tends to frighten people off rather than drawing them closer, you should definitely give this product a try.
Wear W.A.G.G. where you normally apply cologne. Because it does not have too strong a scent of its own, it does not need to be worn with a cologne, though we generally recommend wearing a cover scent of some kind. It can also be combined with other pheromone products. Try using it to take the edge off stronger sexual pheromones, like Alpha-7 or Primal Instinct!
A 15-ml dripper bottle of W.A.G.G. is $69.95. That's a great value for the wonderful effects, so get your bottle today!
UPDATE: We no longer carry W.A.G.G., but we have several other products with the same key ingredient of Androstenol. Try the Love Scent Pheromone Oils, or pure Androstenol!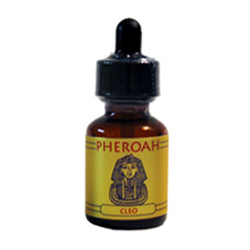 5. Cleo Beta-Nol — for Women ($69.95)
Developed by Pheroah, Cleo Beta Nol is a women's pheromone perfume containing the copulins and the pheromone Beta-Androstenol. Beta-nol is the beta isomer of the more common AndrosteNOL. In many ways, the two pheromones are very similar, but Beta-nol's effects are more emotionally intense. It's a good pheromone for long-term couples, or partners who want to get closer with each other. Combining this intimate pheromone with the sexual nature of copulins makes for a strong, dependable, and very intriguing product.
Cleo Beta-Nol is scented with a musky Egyptian fragrance. Wear it on your pulse points like normal perfume. Start with 1-2 dabs and use more as needed.
One eyedropper bottle of Cleo Beta-Nol is yours for $69.95. With 12 mg of Beta-nol and copulins, this product is an excellent value, so order now!
UPDATE: We no longer carry Cleo products. Try Love Scent Pheromone Oils or Liquid Trust instead, or a combination of the two!
There you have it, Love Scent fans! We hope you add some of these underappreciated products to your pheromone collection. We know you'll be glad you did!
Have you tried any of the above pheromones? How did they work for you? Did you use them alone, or as part of a mix? Let us know below! And as always, feel free to contact us with any questions, comments, or concerns. And be sure to subscribe to our newsletter to hear about new products, exclusive promotions, blog posts, and more!
These statements have not been evaluated by the Food and Drug Administration. These products are not intended to diagnose, treat, cure, or prevent any disease.