3 Pheromones That Elevate Your Mood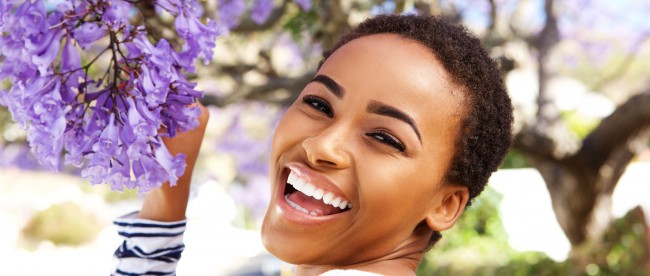 Happy Friday, Love Scent fans!
First of all, have you heard about our two new promotions?
The first, in celebration of Labor Day, is a 30% storewide discount! Just use the code LABORWKND at checkout to take advantage of the savings!
The second, in appreciation of our customers, is a free laptop cover offer! We will be sending free laptop or tablet covers with all purchases of $100 or more. Just specify your device's size in the order comments, and we'll send the cover along with your order! We have covers for 15″, 14″, and 13″ laptops, as well as tablets and iPads. The next time you purchase $100 or more of your Love Scent favorites, let us know what size to send you!
Now, let's get back to the pheromones!
This week, we'll take a look at some products that help elevate mood. These products reduce stress, improve your outlook on life, and generally make you feel better about things. You can wear them for their self-effects, or to make a good impression on those around you.
The secret to such products lies primarily in a specific pheromone: AndrosteNOL. This pheromone is found in many of Love Scent's products, and is one of the safest to use. It has very few (if any) bad side effects, doesn't have a strong natural scent, and can be used alone or in combination with other pheromones.
AndrosteNOL's effects are more on the social end of the pheromone spectrum. People who wear AndrosteNOL come across as friendlier and more approachable, and are often perceived as more trustworthy. These qualities have given it the nickname "the icebreaker pheromone."
So, when you wear AndrosteNOL, not only will you feel better about things, but other people will be more willing to talk to you and spend time with you. You will be more comfortable, and others will be more comfortable around you. This can leave other people with excellent impressions and pleasant memories of their interactions with you. Everyone remembers people who made them feel good!
As you can guess, the social effects of AndrosteNOL can be helpful in your dating life as well: if someone associates you with good vibes, they'll be eager to see more of you in the future. That said, AndrosteNOL doesn't directly stimulate arousal the way sexual pheromones do, so it's suitable to wear in any environment–to work, around family and friends, and virtually anywhere else. You can also use AndrosteNOL to take the edge off of intense sexual pheromones like AndrosteNONE. This is a very versatile pheromone!
So, if you want to try out the effects of AndrosteNOL, what are good products to try? Let's take a look!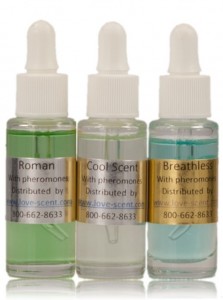 1. Super Primal Pheromone Oils ($9.95)
The effective and affordable Super Primal Pheromone Oils contain AndrosteNOL and cover scents. If you're primarily interested in the effects of AndrosteNOL, you can use them on their own. If you'd like to use them in combination with other pheromones, you can do that too. Many people like to use them in combination with stronger sexual pheromones: the Super Primal oils decrease the unpleasant side effects of stronger pheromones, and double as a cover scent for unscented formulas!
We currently have four scents of the Super Primal Pheromone Oils in stock. Those are:
Paris Hilton: a sweet, youthful, feminine scent
Roman: a spicy, woodsy unisex scent
Cool Scent: a clean, aqua masculine scent
CK Version: a designer masculine scent
Apply a few drops of Super Primal Pheromone Oils wherever you normally apply cologne or perfume. A drop under the nose will make sure you're getting the full effects!
A 7.5 ml eyedropper bottle of Super Primal Pheromone Oils is yours for $9.95. Order yours now!
UPDATE: We no longer carry the Super Primal Pheromone Oils, but fans are sure to love our own Love Scent Pheromone Oils!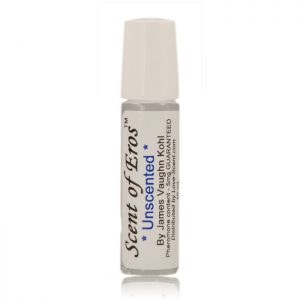 2. Scent of Eros ($49.95)
The Scent of Eros formula contains two pheromones: the icebreaking AndrosteNOL, and the confidence-boosting AndrosteRONE. The AndrosteNOL helps draw people in, and the AndrosteRONE gives you the confidence needed to take it from there.
Scent of Eros comes in an unscented unisex formula that can be combined with your favorite cologne or perfume.
To use Scent of Eros, simply apply the formula wherever you apply perfume or cologne. Remember to put a little under the nose so you get good exposure to the pheromones throughout the day!
You can try a 10 ml roll-top bottle of Scent of Eros Unscented for $49.95. Try this popular formula today!
UPDATE: We no longer carry the Scent of Eros products. Try the Love Scent Pheromone Oils or Liquid Trust instead!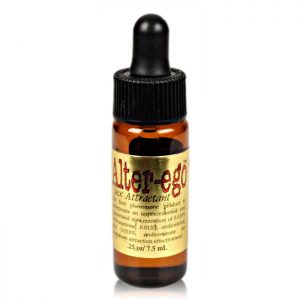 3. Alter Ego (starting at $9.95)
Alter Ego combines the powerful effects of three pheromones: the social AndrosteNOL, the mild AndrosteRONE, and the sexual AndrosteNONE. These three pheromones work together to give you confidence in yourself, a strong sexual magnetism, and an approachable friendly air that draws people to you. As the name suggests, Alter Ego can make you feel like a new person!
Alter Ego comes in a scented version for men and another for women. Both formulas are available in gel packets as well.
Wear Alter Ego wherever you normally wear cologne or perfume. As with all mood-elevating pheromones, it's a good idea to put a drop under the nose to make sure you get the full effects yourself!
Alter Ego gel packets start at $9.95 for 7 packets. You can also get a 7.5 ml eyedropper bottle of one of the liquid formulas for $49.95. Get yours today!
UPDATE: We now only carry the men's Alter Ego gel packets. Instead of Alter Ego for Women, try NPA for Women instead!
That's all for now, Love Scent fans! We hope you give one of these mood-elevating formulas a try!
Which pheromones do you use to make you feel better about life? Do you use the pheromones listed above, or do you have one you like more? Let us know in the comments! Also feel free to contact us with any questions about these products or anything else pheromone-related. And be sure to subscribe to our newsletter to hear about new products, exclusive promotions, blog posts, and more!
These statements have not been evaluated by the Food and Drug Administration. These products are not intended to diagnose, treat, cure, or prevent any disease.