4 Pheromones To Help You Celebrate Halloween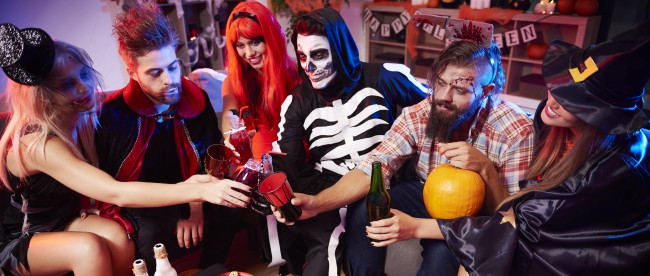 Happy weekend, Love Scent fans!
You've probably heard by now that our Halloween special is underway. Enter the code LUVHOLLOWEEN at checkout for 31% off your order! Stock up on all your Love Scent faves before these savings go away! The offer is good storewide, just in time for one of the best holidays of the year.
And if you're one of the many people planning to take part in some Halloween revelry this year, we have some recommendations for you. Whether you're headed to a costume party or a parade, these potent pheromones are sure to make the evening that much more interesting. Read on, and order today if you want your favorites to arrive in time for the festivities!
FOR MEN:
1. Alpha-7
Alpha-7 is one of our most popular pheromone products. Used by both men and women, it contains a balanced formula of AndrosteNONE and AndrosteRONE. AndrosteNONE gives its wearer a sexy aura of authority, but is strength can cause both women and men to become agitated–women to the point of shyness, and men to the point of aggression. That's why Alpha-7 includes a dose of androsteRONE, which balances out the aggressive effects of the androsteNONE. Alpha-7 is a product that's a lot less likely to result in unpleasant confrontations than products containing only androsteNONE.
Our popular and trusted Alpha-7 pheromone blend is a good choice for parties because it is strong enough to get you noticed, but less likely to cause a confrontation than other products. Nothing brings a fun party to a screeching halt faster than an argument, right? Just be sure not to use too much! Alpha-7 is balanced, but you can still overdo it. Try one or two drops wherever you usually apply cologne, and prepare to be one of the most popular guys at the party.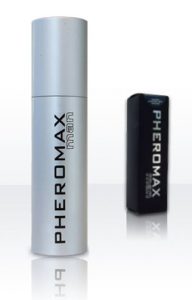 2. Pheromax for Men
Our Pheromax products are some of the most highly-engineered available at Love Scent. Pheromax for Men contains a complex formula of AndrosteNONE, AndrosteNOL, and AndrostaDIENONE. In this product, androsteNOL and androstaDIENONE work to counterbalance the powerful effects of the androsteNONE. They are more socially-oriented pheromones than the androsteRONE found in Alpha-7; in fact, androsteNOL is often called the "icebreaker pheromone," and is a great asset to people hoping to chat up strangers and friends-of-friends at parties.
Pheromax for Men is unscented, and is meant to be combined with your favorite cologne. The canister even has an easy-open top so you can add your preferred cover scent for easy application. Spray on your wrists, neck, or chest and head out for your Halloween fun.
If you're hoping to socialize at your next party, try Pheromax for Men. If you're really hoping for some long, deep conversations, try Pheromax Trust: it contains an added social hormone that will put your fellow party-goers at ease.
UPDATE: We no longer carry Pheromax products. Try combining Liquid Trust with your favorite sex pheromone instead!
FOR WOMEN:
1. Primal Women
Made and sold exclusively by Love Scent, Primal Women is a potent product for women who are hoping to boost their sexual confidence and charisma. This powerful pheromone formula contains an alluring mix of AndrosteNOL, the social "icebreaker pheromone," and copulins, hormones produced in the female reproductive tract that stimulate sexual arousal in men.
If you're hoping to make new friends and have long conversations while feeling your sexiest, Primal Women is a good choice. Just be careful: when we say this product is powerful, we mean it. A drop or two wherever you usually apply perfume is usually enough to get the job done. And, because Primal Women is unscented, you'll want to pair it with your favorite cover scent.
If you're headed to a party and want to enjoy pleasant, sexually-charged chats with friends new and old, try out Primal Women. It's the perfect accompaniment to an evening of revelry.
2. Mistress Pheromones for Women
One of the most unique pheromone blends available at Love Scent, Mistress Pheromones for Women was designed with the combined powers of scent and pheromones in mind. It's a balanced, alluring product that does as much for you as it does for those around you. Wear Mistress and you will feel your mood brightening, your confidence increasing, and your attitude improving. Your self-assured allure will capture the attention of everyone around you.
Mistress is a scented pheromone product, and is growing more popular every day. The scent is mysterious and not overpowering, and is designed to amplify the aura of confidence you will be radiating when you wear it.
Wear Mistress Pheromones for Women if you want to be the party guest everyone is walking about. Your confidence and pleasant mood will rub off on everyone around you, ensuring a great time for everyone.
There you go! If you're wondering which of your Love Scent favorites will pair best with your Halloween celebrations, these are our recommendations. Order yours today!
What are you planning to wear to your Halloween revelry? Something on this list, or something else that you've enjoyed wearing in the past? Tell us below! We'd love to hear from you.
As always, feel free to contact us with any questions, concerns, or suggestions. And make sure to subscribe to our newsletter to get some free samples, and to be updated on new blog posts, products, promotions, and other Love Scent news.
These statements have not been evaluated by the Food and Drug Administration. These products are not intended to diagnose, treat, cure, or prevent any disease.