7 Great Pheromone Combos For Men and Women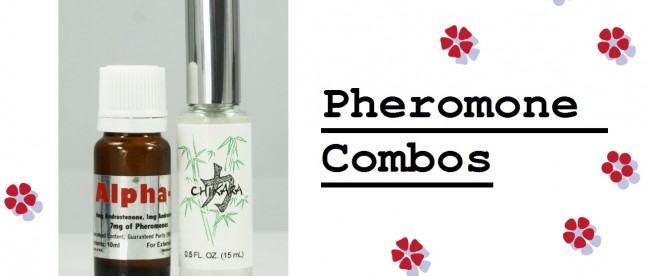 Hello again, fellow Love Scenters.  Most of you probably know that unscented pheromones should usually be covered with another fragrance, especially if you read last month's blog post on the subject.  What you might not know is that you can combine pheromone products together to increase their potency and change their effects!  This week we will be showing you several great pheromone combos you can try for yourself.  Listed here are three great combos for men to try out, three more for women, and one that anyone can utilize!
MEN'S COMBOS
1. Chikara + Alpha-7 Unscented
A classic Love Scent combo, Chikara and Alpha-7 Unscented are two of the best pheromone products for men that we sell, and when used together they create an unstoppable pheromone force.
Chikara is a very balanced pheromone formula, and lives somewhere in between the sexual and social ends of the pheromone spectrum.  Adding Alpha-7 gives it a boost of androstenone that tips the balance much more towards the sexual end.  If you already like Chikara, but want something with a little extra kick, add a drop of Alpha-7 to your usual amount of Chikara.  Next time you go to the club or bar, heads will be turning!
To use this combo, apply one drop of Alpha-7 to each place you would normally apply fragrances, then cover it with 1-2 sprays of Chikara.
This combo is so great, that we actually sell Chikara and Alpha-7 together at a discount.  Save $20 when you purchase them together here.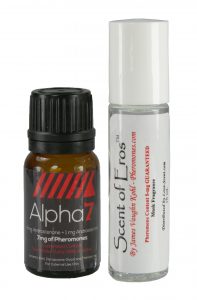 2. Alpha-7 Unscented + Scent of Eros for Men
Another classic, this combo has a lot of similarities to Chikara + A7.  However, this formula is a little more balanced on the social/sexual spectrum because Scent of Eros for Men has a very social, androstenol based pheromone formula.  As with Chikara + A7, the Alpha-7 can add a sexual, dominant kick to the more social Scent of Eros.
To make this combo, simply apply one drop of Alpha-7 to each place you would normally apply fragrances, and then cover it with a couple dabs of Scent of Eros.
This combo is also sold as a package deal.  Save $10 when you buy them together here.
UPDATE: We no longer carry the Scent of Eros products. Try the Love Scent Pheromone Oils or Liquid Trust instead!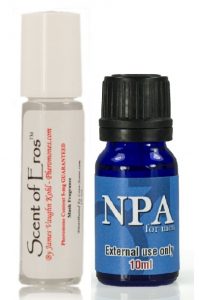 3. New Pheromone Additive for Men + Scent of Eros for Men
NPA for Men is practically made to be mixed with other pheromones.  Similar to Alpha-7, NPA has a highly concentrated androstenone based formula, though it also includes a secret ingredient that gives it a unique, aggressive punch.  When combined with the social Scent of Eros for Men pheromones, you get a great balance of sexual aggression tempered with warmth and approachability.  This combo can give you a suave, James Bond type aura.  Mysterious, but enticing.
The best way to make this formula is to mix it together with a ratio of 3 NPA to 7 Scent of Eros, put it in a pocket atomizer, and use 1-2 sprays on each place you would like to apply.  You can also apply them together like the last two combos, but make sure to go easy on the NPA because it has a strong scent that you need to cover with the Scent of Eros.
UPDATE: We no longer carry the Scent of Eros products. Try the Love Scent Pheromone Oils or Liquid Trust instead!
WOMEN'S COMBOS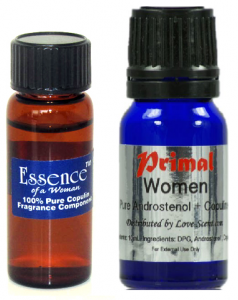 4. Essence of a Women + Primal Women
This combo has the potential to be one of the strongest and most effective pheromone formulas for women.  Primal Women is an androstenol and copulins based formula, and Essence of a Woman is mostly copulins.  This combo basically ups the ratio of copulins to androstenol, and is extremely powerful and sexual.
Be warned, the scent will need to be covered by/mixed with a strong fragrance that you like.  Essence of a Woman and Primal Women both have strong scents of their own that may not be pleasant to most people.  However, when used with a nice and strong fragrance, men around won't want to take their eyes off of you.
To make this formula, we recommend mixing them together in a ratio of 2 Primal Women to 1 EoW, and then mixing that formula in a 9:1 ratio of fragrance to pheromones.
UPDATE: We no longer carry Essence of a Woman. Try the Love Scent Copulin Concentrate instead!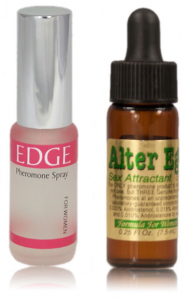 5. Alter Ego for Women + Edge Unscented for Women
This is a great combo for going out to a club or bar.  Both Alter Ego and Edge Unscented contain a lot of androstenone, which puts them pretty firmly on the sexual end of the spectrum.  For whatever reason, their formulas combine together into something much more powerful than either one is alone.  The one thing to note about this combo is that it can be a little intimidating, and you must be confident enough to approach people on your own.  Fortunately, you can very confident while wearing this pheromone combo, and men especially should react very well to you when approached.
To try this combo out, start with 2 drops of Alter Ego and cover it with 2 sprays of Edge.  If you're worried about the potency, start with 1 drop and 1 spray and work your way up from there.
Update: We no longer carry Alter Ego for Women or Edge for Women. Try NPA for Women instead!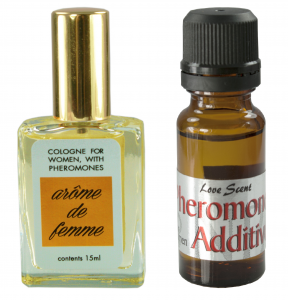 6. Arome de Femme + New Pheromone Additive for Women
Arome de Femme is a very romantic pheromone fragrance, perfect for one on one dates.  If you're looking to turn up the heat a little bit and bring your date to the bedroom, adding some NPA for Women can help you set a fire in his heart (and other places).  NPA for Women is a strong, sexual pheromone formula, and adding it to Arome de Femme brings the mood from romantic to lustful.
To try this combo, start with a drop of NPA to each of the places you normally apply pheromones, and then spray over it with 1-2 sprays of Arome de Femme.
BONUS COMBO
7. Liquid Trust + Anything
Liquid Trust is one of the most versatile products in our catalog.  It contains a special social hormone that is very effective at helping you gain the trust of others, and making other people feel generally more comfortable and talkative around you.  When used with more social pheromones such as Scent of Eros, it can simply boost the social effects and turn you into the center of attention.  When combined with more sexual pheromones such as NPA, Primal Instinct, and Alpha-7, Liquid Trust makes you much less intimidating and makes it more likely that other people will approach you first.
Even better, Liquid Trust is pretty hard to overdose, so it's safe to experiment with different amounts added into whatever pheromone you are currently using.  If you find it hard to talk to people even after they seem attracted to your pheromone allure, try adding some Liquid Trust to the mixture and you'll be surprised at how many people want to talk to you.
That's all we have for this week, folks.  If  you know of any other great pheromone combos that you like to use, or you have another subject you'd like us to cover, let us know in the comments!  Also make sure to subscribe to our newsletter to receive free samples and be updated whenever we add a new blog post or start running a new sale.
Further Reading:
These statements have not been evaluated by the Food and Drug Administration. These products are not intended to diagnose, treat, cure, or prevent any disease.