Using Unscented Sex Pheromones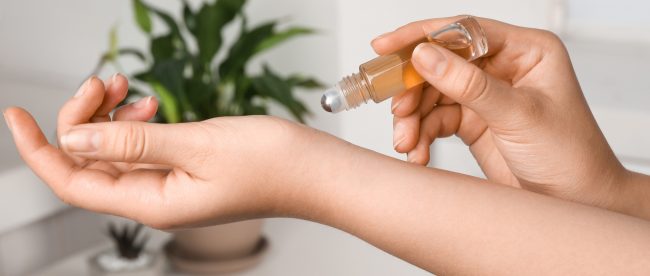 Happy Friday, Love Scent fans!
Today, we're going to take a look at using unscented sex pheromones!
As you probably already know, when we talk about "unscented pheromones," we mean pheromones that don't have any added fragrance. We don't necessarily mean pheromones that don't smell like anything! Most pheromones have a natural odor, and that odor can range from faintly musky to intensely unpleasant.
In general, sex pheromones tend to be smellier than other pheromones (such as social pheromones). Sex pheromones also tend to have more potent, and sometimes aggressive, effects compared to other pheromones. This means that you'll want to keep some things in mind when using them!
First, don't skip the cover fragrance with unscented sex pheromones. Always pair them with your favorite perfume, cologne, body spray, essential oil blend–anything with a fragrance! The fragrance masks the pheromone odor without compromising the pheromones' effects. (For more on why fragrances don't interfere with pheromones' effectiveness, read up on the VNO and how it works!)
Second, make sure to use the correct amount of unscented sex pheromones. Because sex pheromones can have more aggressive effects than, say, social pheromones, it's generally best to take a "less is more" approach. If you overdo it, you and everyone around you might become agitated. Use sparingly until you're certain that you need more!
And third, don't be afraid to mix and match! You can pair unscented sex pheromones with scented social or romantic pheromones. The social pheromones can smooth out the sex pheromones' rough edges and help them work better. Making DIY mixes can be a great way to get the most out of your pheromone collection!
As you can see, there's nothing particularly complicated about using unscented sex pheromones. Just make sure you don't skip the cover fragrance, use the right amount for you, and pair them with other pheromones if they do better in a mix than they do by themselves!
All right, now that you know the basics, let's take a look at some specific unscented sex pheromones for you to try!
Alpha-7 Unscented is one of our strongest pheromones overall. It has also been one of our most popular unscented sex pheromones for many years! It contains AndrosteNONE and AndrosteRONE, two sex pheromones that work together to boost your confidence and sex appeal. This is a great choice for anyone who wants to turn up the heat in their relationship or get an edge when trying to meet someone new.
Alpha-7 Unscented has a fairly strong, musky pheromone odor reminiscent of body odor. That's the main reason never to skip the cover fragrance! Apply 1-2 drops of Alpha-7 to the pulse points and spray your favorite perfume or cologne over it.
You can try Alpha-7 with the 1 ml Alpha-7 Mini for $9.95, or get the 10 ml Alpha-7 Unscented euro dropper bottle for $49.95. Order now!
Primal Women is one of our most popular unscented sex pheromones, and one of our most popular pheromones for women in general. This one contains the social pheromone AndrosteNOL and the potent female sex pheromones called copulins. It's a great option for improving your relationship's physical and emotional intimacy!
Because of its copulin content, Primal Women has a sour-sweet odor that most people find unpleasant. Luckily, this odor is easily masked by perfume. Just apply 1-2 drops of Primal Women to your pulse points and cover with your favorite fragrance!
You can try Primal Women with the 1 ml Primal Women Mini for $9.95, or get the full-size Primal Women euro dropper bottle for $49.95. Order yours today!
The Love Scent Copulin Concentrate is an extremely potent sex pheromone for women. This is not one we generally recommend for beginners because of its strong effects and very strong highly unpleasant odor, both of which require that it be properly diluted before application. That said, if you take the time to go through the extra steps of using it, it can have a fantastic positive effect on your love life! It's a great way to add the amazing effects of copulins to all of your favorite fragrances.
To properly use the Love Scent Copulin Concentrate, add 5 ml of your favorite fragrance to a separate container (such as a roll-on bottle or pocket atomizer). Then add 1 drop of the Copulin Concentrate. Shake the mix thoroughly to fully incorporate the pheromones, and then apply to your pulse points. Pay attention to the responses you get, and add more pheromones 1 drop at a time (if needed) until you see the desired effects!
A 3.7 ml eyedropper bottle of Love Scent Copulin Concentrate is yours for $17.95. Add it to your collection today!
There you have it, Love Scent fans! Some tips on using unscented sex pheromones, and a few recommendations to get you started! We hope you give one of the above pheromones a try.
What are your favorite unscented sex pheromones? Are they on this list, or do you have others to recommend? Tell us about it in the comments below! You can also contact us directly with your stories, questions, and concerns. And be sure to subscribe to our newsletter to get free samples and to hear about coupons, new products, and more!
These statements have not been evaluated by the Food and Drug Administration. These products are not intended to diagnose, treat, cure, or prevent any disease.