Valentine's Day Pheromone Combos
Happy Friday, Love Scent fans!
Valentine's Day is just around the corner! It's a day set aside to show special appreciation for the romantic partnerships in our lives, whether the relationship is brand-new or decades old. We'd like to help you celebrate the day by offering you 30% off on your next order. Just use the code TRUELOVE at checkout! Treat your Valentine (and yourself) to a unique gift this year!
And, if you need some ideas for romantic Valentine's Day gifts you and your partner won't forget, we have some ideas for you! We've put together a list of some Valentine's Day pheromone combos that can help you make the holiday truly unforgettable. These combos pair complementary pheromones together to create striking and effective blends. Get them as a gift for your partner to use, or get them for yourself to make your Valentine's Day date an incredible one!
Let's take a look at our Valentine's Day pheromone combos!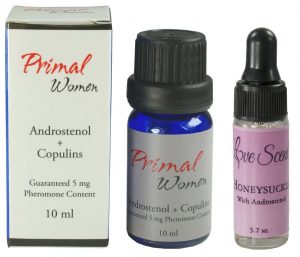 This combo pairs two popular products to create an effective and versatile blend. Primal Women is our most popular women's product, and uses a mix of AndrosteNOL and copulins to forge strong emotional bonds. The Love Scent Pheromone Oils contain AndrosteNOL and a fragrance, ramping up the emotional aspects of Primal Women while doubling as a cover scent. This is a great combo to use if you want to strengthen your connection with your partner!
When you wear Primal Women and a Love Scent Pheromone Oil together, you won't need additional fragrance. Just apply 1-2 drops of Primal Women to your pulse points. Then apply 1-2 drops of Love Scent Pheromone Oils on top of it. The Love Scent Pheromone Oils are available in 10 different fragrances, so you're sure to find one you like!
You can try Primal Women with the 1 ml Primal Women Mini for $9.95, or the 10 ml Primal Women euro dropper bottle for $49.95. Each of the Love Scent Pheromone Oils fragrance options is available fir $9.95 apiece. This is the most romantic of our Valentine's Day pheromone combos, so order now to make the holiday extra-special!
If you're looking for potent, sexy Valentine's Day pheromone combos, look no further. This one combines 2 popular pheromones for a sexually-charged final product. It starts with Alpha-7, which has a high concentration of the potent sex pheromone AndrosteNONE. Then add SuperMone, a men's cologne that blends mood-boosting AndrosteNOL with masculinity-enhancing AndrostaDIENONE. The end result is a sexually-charged, emotionally intense blend that can make for an unforgettable evening.
Alpha-7 Unscented has a strong natural pheromone odor. You'll need to wear a cover fragrance with it. Luckily, SuperMone has a masculine cover fragrance already built in. Apply 1 drop of Alpha-7 to your pulse points and spray SuperMone on top of it. Then prepare for an excellent night!
You can try Alpha-7 with the 1 ml Alpha-7 Mini for $9.95 or the 10 ml Alpha-7 Unscented euro dropper bottle for $49.95. SuperMone Pheromone Cologne is $44.95 for a 15 ml spray bottle. Order this duo today!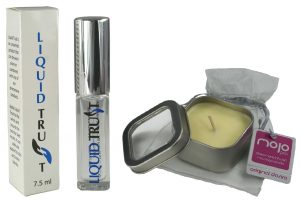 If you're interested in Valentine's Day pheromone combos that will help you connect on an emotional and physical level, this one's for you. Liquid Trust contains a special social pheromone that many people have dubbed the "cuddle pheromone." This pheromone helps deepen emotional connections with the important people in your life. And the Mojo Pro pheromone-infused massage candles create usable massage oil as they burn! Giving your partner a romantic Valentine's Day massage will strengthen your relationship even more.
To make this a Valentine's Day neither of you will ever forget, spray Liquid Trust around your wrists and pulse points. Then light the Mojo Pro massage candles and let the air infuse with pheromones. Once the candle has created a usable amount of massage oil, treat your partner to a romantic massage!
You can try Liquid Trust for $24.95. The Mojo Pro Pheromone Infused Massage Candles come in two scent options–feminine Original Desire, and masculine Bahamian Adventure–that are $12.95 apiece. Order today!
There you have it, Love Scent fans! Some fantastic Valentine's Day pheromone combos to make this holiday unforgettable. Whether you need a unique gift for your partner, or want something to wear yourself to turn up the heat on your romantic date, we hope you give one of these a try! And don't forget to save 30% when you order by using the code TRUELOVE at checkout.
What are your favorite Valentine's Day pheromone combos? Have you tried the combos in this list? Or do you have others to recommend? Tell us about it in the comments! You can also contact us directly with your thoughts, questions, and concerns. And be sure to subscribe to our newsletter to get free samples and to hear about coupons, new products, and more!
These statements have not been evaluated by the Food and Drug Administration. These products are not intended to diagnose, treat, cure, or prevent any disease.