Our 5 Most Versatile Pheromones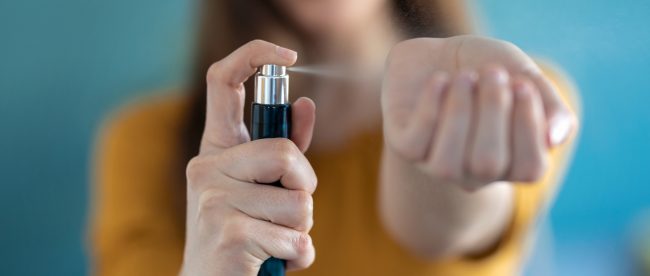 Happy Friday, Love Scent fans!
Just a reminder–we're still celebrating the start of spring here at Love Scent, and you can still save 20% on your order! Just use the code LUVHOTSPRING21 at checkout to get your savings. This offer is good on everything in the store, so order all your favorites while the savings last!
Now, on to today's topic: our most versatile pheromones!
We believe that every pheromone collection should include at least one versatile pheromone. These are the fuss-free pheromones that you can wear to many different places, on many different occasions, around many different people. Just put them on in the morning and you're good for the whole day, no matter what that day has in store!
Let's take a look at our most versatile pheromones!
The Love Scent Pheromone Oils are a line of scented oil-based pheromones. They contain AndrosteNOL, the powerhouse social pheromone often called "the icebreaker pheromone." AndrosteNOL reduces stress, improves relaxation, and brings walls down. Overall, it creates an open and friendly environment, perfect for getting to know new people–or getting to know a special someone a whole lot better! AndrosteNOL's beneficial effects make it the perfect pheromone for any occasion: social, sexual, romantic, or a combination of all three!
The Love Scent Pheromone Oils come in ten different fragrance options. Each option has the same pheromone content, so choose whichever scent you like! Apply 1-2 drops to the pulse points before any occasion.
A 3.7 ml bottle of any of the Love Scent Pheromone Oils fragrance options is yours for $9.95. These versatile pheromones are a great addition to any collection, so order yours today!
Chikara Pheromone Cologne is a scented men's cologne with a tried-and-true pheromone formula. It contains a mix of social and sexual pheromones (including AndrosteNOL, AndrosteNONE, and AndrosteRONE) for a wide range of effects. Not only does each individual pheromone bring excellent benefits to the table, but all of them work to enhance each other's best qualities as well! The end result is a balanced cologne perfect for virtually any occasion. Chikara's many positive effects have made it our most popular men's formula for years!
Chikara is already scented with a distinctive cover fragrance that blends masculine woody and spicy notes. You do not need to pair it with your own cologne. Most men find that 1 spray, spread between their pulse points, is all they need to see excellent results!
You can get Chikara in two ways. Try the Chikara Pheromone Mini for $9.95, or the full-size Chikara Pheromone Cologne for $49.95! Order today!
Liquid Trust is one of the most versatile pheromones out there, and arguably the most versatile in our catalog. It contains a social pheromone that plays a huge role in human social behavior. It builds trust, reduces stress, relieves anxiety, strengthens friendships, intensifies romantic relationships, and more! Liquid Trust is also totally scent-free, so you can wear it to places that do not allow fragrances–including the workplace!
Liquid Trust does not require a cover fragrance. Simply apply 1-2 sprays to the pulse points and around the neck, and you're ready to go!
A 7.5 ml spray bottle of Liquid Trust is yours for $24.95. Order today!
New Pheromone Additive for Women is a versatile pheromone that is perfect for a woman's personal life. It contains a mix of social and sexual pheromones to cover all your bases as you navigate your relationships. NPA for Women helps you attract others without agitating them, improve your magnetism without appearing overbearing, and enjoy self-confidence without appearing cocky. It's ideal for dates, nights out with friends, and more!
NPA for Women contains no cover scent. You should pair it with your own perfume for best results. Apply 1-2 drops to the pulse points and spray your favorite perfume over it!
A 15 ml bottle of New Pheromone Additive for Women is yours for $29.95. Order now!
Edge Pheromone Cologne with Sandalwood is one of our most versatile pheromones for men's romantic lives. It contains a blend of AndrosteNONE, AndrosteNOL, and AndrostaDIENONE. These pheromones work together to enhance your sex appeal, social magnetism, and approachability all at once. Women in particular will find themselves in a good, relaxed, generous mood when exposed to Edge–and they'll associate those good feelings with you!
Because Edge already has a sandalwood cover fragrance, you do not need to pair it with your own cologne. Just roll a 1-inch strip or two on your pulse points, and you're ready for a night out (or a night in)!
A 10 ml roll-on of Edge Pheromone Cologne with Sandalwood is yours for $39.95. Order yours today!
There you have it, Love Scent fans! Our 5 most versatile pheromones. We hope something on this list interests you, and that you'll add one or more to your collection soon. We know you don't regret it! And don't forget to save 20% on your next order by using the code LUVHOTSPRING21 at checkout!
What are your favorite versatile pheromones? Are they on this list, or do you have another product to recommend? Tell us about it in the comments! You can also contact us directly to share your thoughts, questions, and concerns. And be sure to subscribe to our newsletter to get free samples and to hear about coupons, promotions, new products, and more!
These statements have not been evaluated by the Food and Drug Administration. These products are not intended to diagnose, treat, cure, or prevent any disease.