Love Scent's Pheromones for Women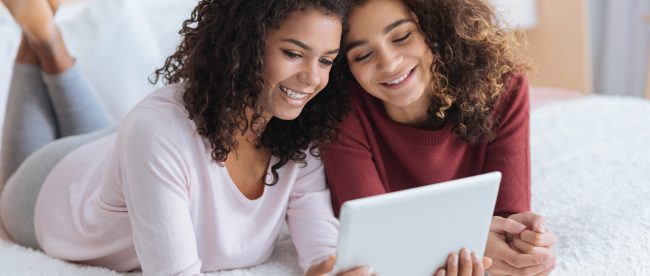 Happy Friday, Love Scent fans!
As you probably know, yesterday (March 8) was International Women's Day, and March is Women's History Month in the US. This whole month is a time to reflect on the contributions women have made to history and culture, and to take time to appreciate the women in your life.
To celebrate, we're offering 30% off your orders throughout the month of March! Just use the code WOMENSDAY at checkout to receive the discount.
And if you'd like to show appreciation for the women in your life by giving the gift of pheromones (or are a woman who would like to treat herself this month), we have some ideas for you! Let's take a look at some of Love Scent's best pheromones for women!
1. Seduce for Her ($9.95)
Seduce for Her is a newcomer to the Love Scent catalog, and it's already become a popular product. This potent little bottle contains Estratetraenol, an emotional and romantic pheromone that has uniquely strong effects on straight men and gay women. Estratetraenol can enhance your mood, improve communication between partners, and facilitate bonding between couples. All in all, it's a great pheromone to add to your collection.
Seduce comes scented with the fragrance of bergamot, Damascus rose, and jasmine, so you do not need to pair it with your own perfume. Just roll a little on your wrists and throat when you want to share a special night with your partner, or just want to enjoy the mood-elevating self-effects of the pheromones.
A 5 ml roll-on bottle of Seduce is yours for $9.95. Order this popular new product today!
2. Love Scent Pheromone Sampler for Women ($19.95)
The Love Scent Pheromone Sampler for Women is one of the best ways to introduce yourself or a woman you love to pheromones. It contains some of Love Scent's most popular products and gives a woman a chance to experiment with a few different varieties of pheromones to see what works well for her.
The Pheromone Sampler for Women includes:
These products cover almost the entire spectrum of pheromones, from the social to the sexual, and provide a good opportunity to find which variety works well for you.
You can order the Love Scent Pheromone Sampler for Women for $19.95. Try it out today!
3. Liquid Trust ($29.95)
Our most popular unisex product, Liquid Trust contains a versatile social pheromone that can  help improve any part of a woman's life: her romantic partnerships, her relationships with family members, her career, her emotional wellbeing, and more. Its strong positive effects on both the wearer and those around her have made it many pheromone user's go-to everyday product. Among our pheromones for women, it's one of the very best.
Liquid Trust is unscented, and unlike many pheromone products it does not have much of a scent of its own. It can therefore be worn with or without a cover fragrance. Make sure to spray some around your neck to get the full benefit of the positive self-effects!
A 7.5 ml bottle of Liquid Trust is yours for $29.95. If you haven't tried this product yet, now is a great time to do it! 4. Androstenone Pheromone Concentrate for Women ($49.95)
One of our more sexual products, Androstenone Pheromone Concentrate for Women contains the sex pheromone AndrosteNONE. This pheromone is typically associated with men because of its effects: improved authority, an enhanced "alpha" aura, and a more dominant personality–all of which are effects that women can benefit from as well! Many women find that, in their romantic life, sex pheromones like AndrosteNONE work better than pheromones more often associated with women, such as Estratetraenol. Remember, every woman is different, and every woman should experiment until they find what works for her.
Androstenone Pheromone Concentrate for Women comes scented with a light cover fragrance, so it does not need to be paired with a perfume. Simply dab the pheromones on your pulse points and you're ready to go.
If you'd like to try one of our more sexual pheromones for women, Androstenone Pheromone Concentrate for Women is an excellent product to experiment with. Order your 1 oz bottle for $49.95 today!
UPDATE: We no longer carry APC for Women. Try combining Super Primal for Her with your favorite perfume instead! 5. Beginner Special for Women ($54.95)
The Beginner Special for Women is another good sampler set for women, and gives women what they need to start making their own customized pheromone mixes and DIY pheromone perfumes. Each Beginner Special for Women contains:
1 10 ml bottle of New Pheromone Additive for Women–a dependable pheromone for women that contains a tried-and-true mix of several different pheromones.
1 3.7 ml bottle of Love Scent Pheromone Oils (Musk)–an everyday pheromone with a fresh, slightly sweet Egyptian Musk fragrance

1 Atomizer—perfect for carrying around your homemade pheromone mixes and perfumes.
0.5 ml sample of Primal Women–a sample of one of our most popular sexual pheromones for women
The Beginner Special for Women is an excellent choice for any woman who wants to start experimenting more intensively with pheromones, perhaps by making her own mixes. Order yours for $54.95 today!
6. Primal Women ($59.95)
Primal Women is one of Love Scent's most popular pheromones for women. It contains a highly effective mix of two different pheromones: AndrosteNOL, the social "icebreaker pheromone," and copulins, sexual secretions found in the female reproductive system. The resulting mix is a balanced, mood-elevating formula that enhances both your sex appeal and your social magnetism. Both its self-effects and its effect on others have made Primal Women a very popular product.
Primal Women does not contain a cover fragrance and has a strong, musky natural smell of its own. It should be combined with your favorite cover fragrance for best results. Simply dab the pheromones on your pulse points and then spray your cover scent over it.
A 10 ml bottle of Primal Women is yours for $59.95. Order now! 7. Arome de Femme ($59.95)
If you want to treat yourself or a loved one to a classic perfume enhanced with pheromones, Arome de Femme is your best choice. This French perfume contains copulins, which enhance your sex appeal and improve bonds between sex partners, and a timeless floral fragrance. The perfume covers the smell of the copulins nicely, allowing the pheromones to do their work without any unpleasant odors.
As it already contains a distinctive cover fragrance, Arome de Femme does not need to be combined with your own perfume. Simply spray on the wrists and throat and enjoy an intimate night with your partner.
A 15 ml spray bottle of Arome de Femme is yours for $59.95. This pheromone perfume makes an excellent gift, so order today!
8. Attrakt for Her ($69.95)
Attrakt for Her is a highly engineered pheromone perfume designed to deepen your relationships. It contains copulins, which enhance sex appeal and improve intimacy, and the same social hormone found in Liquid Trust. The resulting formula greatly improves your chances of attracting a partner, and of forging a deep, meaningful connection after the initial moment of attraction.
Attrakt for Her already contains a light cover fragrance, so you will not need to pair it with your own cover scent. Apply to the wrists, throat, and around the neck for best results.
A 30 ml bottle of Attrakt for Her is yours for $69.95. That is a fantastic price for such a dependable product, so try it today!
There you have it, Love Scent fans! Eight of our most popular and dependable pheromones for women. Whether you're looking to treat a special woman in your life to some pheromones, or are looking for something for yourself, we hope you have some ideas for where to begin!
Female Love Scent fans: what are your favorite pheromones for women? Have you tried any of the above? How did you like them? Tell us about your experiences in the comments! As always, feel free to contact us directly with any comments, questions, or concerns. And be sure to subscribe to our newsletter to be the first to hear about blog posts, exclusive promotions, new products, and more!
These statements have not been evaluated by the Food and Drug Administration. These products are not intended to diagnose, treat, cure, or prevent any disease.