7 Valentine's Day Gifts From Love Scent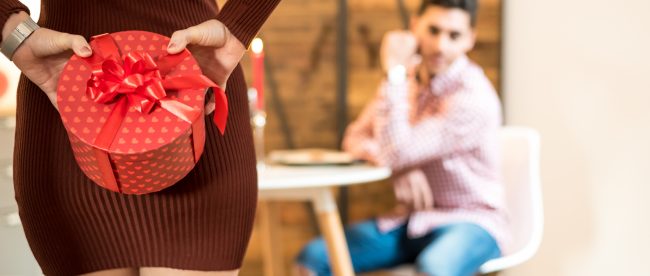 Happy Friday, Love Scent fans!
Valentine's Day is less than a week away. At Love Scent, we're celebrating with our annual Valentine's Day sale. Just use the code BEMINE at checkout for 30% off your order! The offer is good storewide, so stock up on all your Love Scent favorites now.
And if you're looking for some Valentine's Day gifts for the special someone in your life, we can help! Whether you're looking for something to give to your sweetheart, or something to wear yourself to spice up your Valentine's Day celebrations, we have plenty of ideas. Read on!
1. Colognes and Perfumes (starting at $9.95)
We know that picking out pheromones for someone else can be tricky, even if it's someone you know well. If you're not sure what kind of pheromone your partner would like, or want to give them the chance to pick out their own, why not treat them to a pheromone-free cologne or perfume this Valentine's Day?
We have a large selection of brand fragrances available, with scent profiles to suit anyone's taste. Brands include:
Adidas
Dorall Collection
Creation Lamis
Preferred Fragrance
Tommy Hilfiger 
Have a look through our selection of perfumes and colognes and choose something that you know your partner (and you) will love!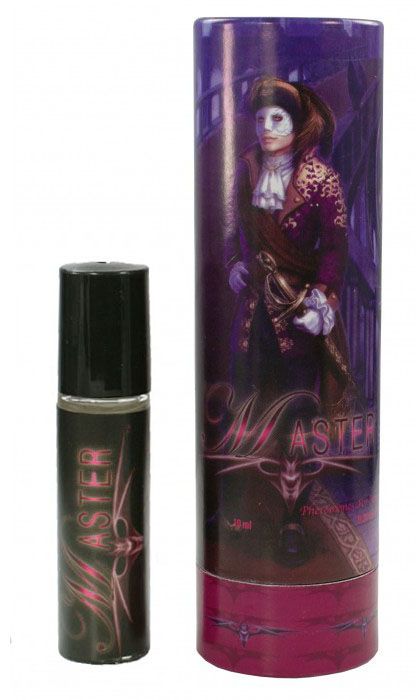 2. Master and Mistress Pheromones (starting at $9.95)
The Master and Mistress formulas make excellent Valentine's Day gifts. They contain an alluring mix of pheromones that increase arousal, elevate mood, and improve bonding between couples. Their dependable effects on both the wearer and the wearer's partner have made them some of the most popular products in our catalog.
The Master and Mistress formulas are scented, so they do not need to be paired with a cover fragrance. Simply roll some of the formula on your pulse points and under your nose.
If you would like to test out these formulas, the Master Mini or Mistress Mini are yours for $9.95. You can also treat your valentine to a full-size 10 ml roll-top bottle of either Master or Mistress for $48.95. Order now!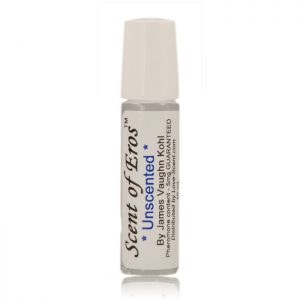 3. Scent of Eros ($49.95)
The Scent of Eros formula contains a mix of the social pheromone AndrosteNOL and the sex pheromone AndrosteRONE. This combination of pheromones elevates the mood of everyone exposed to it, and reduces anxiety and stress while improving confidence and attitude. It's particularly popular among couples who have been together a while and want help keeping the romance alive in their relationship.
Scent of Eros comes in an unscented formula that can be paired with any cover fragrance you like.
If you're looking for Valentine's Day gifts that are both romantic and sexy, Scent of Eros is for you! Get the 10 ml roll-top bottle for $49.95! Order one for your sweetheart today!
UPDATE: We no longer carry the Scent of Eros products. Try the Love Scent Pheromone Oils or Liquid Trust instead!
4. Chikara Pheromones (starting at $14.95)
Chikara is the most popular men's product in our catalog. It contains an effective and dependable mix of seven pheromones, including the popular trio of AndrosteNONE, AndrosteRONE, and AndrosteNOL. The resulting formula is incredibly well-balanced and versatile. Wearers will feel more confident, and will notice that other people are more willing to talk to them and more likely to treat them well. Couples will feel more intimate and happy together, making Chikara one of our more popular choices for Valentine's Day gifts.
Chikara comes in a scented formula, which contains an attention-grabbing sandalwood fragrance, and an unscented formula that can be combined with any cover scent you choose. Apply to pulse points like your wrists, throat, and behind the ears.
You can try the scented Chikara formula with the Chikara Mini ($14.95), or a 15 ml atomizer ($49.95). A 15 ml atomizer of unscented Chikara is also available for $59.95. Treat your valentine to this popular formula today!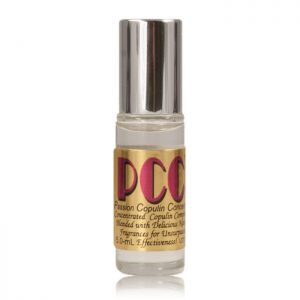 5. Passion Copulin Concentrate ($29.95)
Passion Copulin Concentrate is a sexy, fruity perfume that contains copulins—female sex hormones that are secreted at high levels during ovulation. Copulins have intense emotional and physical effects on men, ranging from increased arousal to heightened interest in sex, which is why they are a popular ingredient in women's pheromone perfumes. If you're looking for Valentine's Day gifts that will put some heat back into your sex life, Passion Copulin Concentrate is an excellent choice.
Because Passion Copulin Concentrate already contains a fresh cucumber-and-melon cover fragrance, it does not need to be combined with a perfume. Just roll it on pulse points and you're ready to go!
A 5 ml roll-top bottle of Passion Copulin Concentrate is yours for $29.95. Order a bottle for your partner today!
UPDATE: We no longer carry Passion Copulin Concentrate. Try our Love Scent Copulin Concentrate or Arome de Femme instead!
6. Liquid Trust ($29.95)
Liquid Trust is the most versatile product you will find in the Love Scent catalog, and one of our best Valentine's Day gifts. It contains a social hormone that has been linked to many aspects of human behavior, including bonding between couples. Liquid Trust can help improve the intimacy in your relationship and help your relationship last longer. It's a good choice for new partners and long-term partners alike!
Liquid Trust contains no added fragrance and doesn't have a strong smell of its own, so it can be worn with or without a cover scent. Spray it on your pulse points and around your neck to enjoy the full effects.
A 7.5 ml atomizer of Liquid Trust is yours for $29.95. Order a bottle for you and your partner now!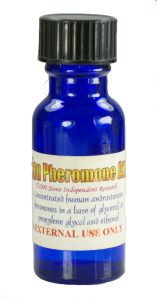 7. Passion Pheromone Attractant for Men ($49.95)
Passion Pheromone Attractant is a men's cologne containing AndrosteNONE, arguably the strongest sex pheromone. AndrosteNONE's effects range from increased arousal and confidence to heightened "alpha" qualities. Because of its intensity, we recommend using it in very small amounts; using too much can intimidate and agitate those around you instead of drawing them in. Passion Pheromone Attractant contains a lower concentration of AndrosteNONE than some of our other colognes, so it's less likely to lead to an accidental pheromone overdose.
Passion Pheromone Attractant already contains a fresh cover scent, so you do not need to combine it with a fragrance. Apply 1-2 drops to your pulse points to get started, and only use more if you need it to see the desired effects.
If you and your partner would like to experiment with the effects of AndrosteNONE this Valentine's Day, Passion Pheromone Attractant is an excellent place to start. A 15 ml bottle is yours for $49.95. Order now!
UPDATE: We no longer carry Passion Pheromone Attractant for Men. Try Primal Instinct Ylang Ylang, Alpha-7, or Super Primal for Her instead!
There you have it, Love Scent fans! If you're looking for unique Valentine's Day gifts this year, we hope this list has given you some ideas. And don't forget to save 30% on your order with the discount code BEMINE!
Have you ever given or received pheromones as a Valentine's Day gift? Do you have any recommendations? Share them below! As always, feel free to contact us with any comments, questions, or concerns. And be sure to subscribe to our newsletter to hear about blog posts, exclusive promotions, new products, and more!
These statements have not been evaluated by the Food and Drug Administration. These products are not intended to diagnose, treat, cure, or prevent any disease.