Gel Packets vs. Liquids (And Chikara Gel Pack News!)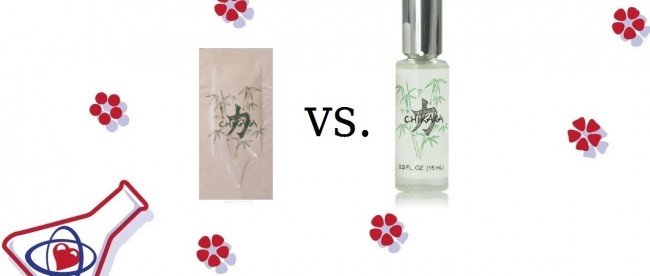 UPDATE: we will no longer be restocking gel packets. Once remaining stock is gone, it will not be replaced. Several gel packet listings mentioned in this post are no longer available.
Happy weekend, Love Scent fans!
First things first: we have some news that many of you will be very happy about!
Chikara gel packets are finally back in stock!
Available in packs of 7, 18, or 38, these packets contain the same dependable formula found in our Chikara Pheromone Cologne for Men, but come in a convenient, highly portable form that can be taken with you almost anywhere. As with all our other gel packets, you simply tear open the packet, squeeze the gel onto your fingers, and apply it wherever you apply cologne. It's a quick and easy way to freshen up your pheromones on the go.
Remember, Chikara isn't the only one of our formulas that can be bought as either a gel or a liquid. The others are:
When we talk about these gel packet options with customers, one question often comes up: what's the difference between the gels and the liquids? It's a fair question, so let's take a look at it now. What are the primary differences between these two pheromone forms, and what are the pros and cons of each?
First, let's be clear that the pheromones used in both variants are the same. Alter Ego, for example, contains a mix of AndrosteNOL, AndrosteRONE, and AndrosteNONE (plus a cover fragrance) whether it comes to you in a gel or a liquid. The difference lies in the method of application.
So what are the pros of using gel packs instead of the liquid formulas?
1. Convenience
There's no denying that the gel packets are discreet and highly portable. If you travel a lot, be it for business or pleasure, you'll love how easy it is to tuck a few of these packets into an overnight bag, hangbag, or even a jacket pocket.
Even if you're only traveling three blocks to your favorite bar, it's very easy to have a gel packet on your person for easy re-application of the pheromones if you feel you need more. If the two sprays of Edge for Men you put on before leaving aren't giving you the effects you want, for example, you can duck into the bathroom and tear open a packet of Edge Gel to give the pheromones a boost…no need to have the whole bottle of Edge with you.
2. Differences in Diffusion
Some pheromone users swear that the gel packets' diffusion is superior to the diffusion of the liquid formulas–that is, they do a better job of putting the pheromones into the air, which makes them more effective. This might be because the viscosity of the gel packets does a better job of clinging to the skin, or it might be that the carrier gel's formula interacts better with the body and skin chemistry of these particular wearers.
We recommend experimenting with both the gels and liquids to see which medium works better for you personally. Always go with what works!
3. Cost
The gel packets are nice and affordable. A 7-pack of Scent of Eros Gel Packs, for example, costs only $9.95. This makes the gel packets an excellent choice for someone who wants to experiment with a few different formulas before choosing which one works best for them. Thanks to the gel packs, our male customers can spend days testing out the Scent of Eros for Men, Alter Ego for Men, Edge for Men, and Chikara formulas for an up-front cost of less than $40, and our female customers can test out the Scent of Eros for Women and Alter Ego for Women formulas for less than $20–an excellent value for anyone.
All right, now that we've covered the benefits of the gel packets, let's take a look at the benefits of using the liquid formulas instead.
1. Less Waste
While single-use gel packets are definitely portable and convenient, they're also only good for 1-2 uses apiece…and if you only use half of it, the rest might dry up before you can get to it. With the liquid formulas, you can have more control over how much of a particular formula you're using. If you only want a drop of Alter Ego, for example, you only have to use a drop, and don't have to worry about the rest of the bottle drying out after you've replaced the cap. And if you need a little more, just use a little more. No need to divide up the dosing by numbers of packets (or partial numbers of packets) when you're using the liquid formulas.
In short, the liquid formulas allow for greater variation in the amount of pheromones you're using. It's something to consider, especially because correct dosage is crucial to success when using pheromones.
2. Durability
While the gel packets are convenient when traveling, they're also more prone to breakage. That's just the nature of the packaging: a foil packet won't stand up to as much pressure as a glass bottle and is more likely to pop and leak under rough treatment, be it at the hands of the man handling your luggage or at your own hands while sorting through your pheromone supplies. Simply put, sometimes convenience comes with its downsides.
If you'll be using gel packets as your main mode of pheromone application, you'll want to take special care to ensure that they don't break during travel or storage.
3. Differences in Diffusion
Yes, we mentioned this as a benefit of the gel packets, but it could also be seen as a benefit of the liquids. Just as some pheromone users swear that the gel packets provide better diffusion, some others swear that the liquids have superior diffusion. Once again, this boils down to how the carrier–be it a gel or liquid–interacts with your skin and body chemistry. And some people simply prefer the feel of one over the other. We all have preferences, and what works perfectly for one person might not work for their friend. That's why it's good to have options!
So those are the things you'll want to keep in mind when choosing whether you want to order up the gel packs or liquid formulas. Of course, you don't have to exclusively use one or the other; a lot of people use both the liquids and gels depending on the situation. For example, many people use the liquid formulas as their go-to, but keep a supply of gel packs on hand for travel or quick re-application. Do what works for you!
That's all for this week, Love Scent fans! We hope those of you who've been waiting for the return of the Chikara gel packets are happy to have them back. Why not order some up today?
Do you have a preference for gel packets over liquids, or vice versa? What makes you prefer one over the other? Let us know below! And, as always, feel free to contact us with any questions, comments, or concerns. And be sure to subscribe to our newsletter to hear about new blog posts, product announcements, exclusive promotions, and more!
These statements have not been evaluated by the Food and Drug Administration. These products are not intended to diagnose, treat, cure, or prevent any disease.