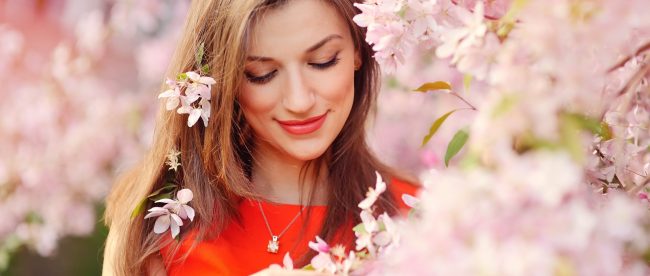 Happy Friday, Love Scent fans!
Spring officially started this week! To celebrate, we're offering 20% off your next order. Just use the code SPRINGINTOLOVE at checkout! This offer is good on everything in the store. Start the season off right by saving on all your Love Scent favorites!
Now, on to today's topic: some of our best springtime pheromones!
As the weather warms, the flowers bloom, and days get longer, many of us feel the urge to get out and about. After so many months of dreary weather, it's nice to finally enjoy the warm sun and fresh air!
Our springtime pheromones can help you start the new season with a renewed mind and energetic attitude. They help elevate the mood and ease away stress. They can even help sharpen your mind!
All right, let's dive right in and learn about our best springtime pheromones!
The Love Scent Pheromone Oils aren't just some of our best springtime pheromones–they're also our most popular product overall. They contain the powerhouse social pheromone AndrosteNOL, which is sometimes called the "icebreaker pheromone." This pheromone helps put you and everyone around you in a positive, upbeat mood. If you want to make the most of your refreshed mind this spring, these are a great pheromone to try!
The Love Scent Pheromone Oils come in 10 different fragrance options. Each option contains the same pheromones. Some spring-themed favorites include Floral Garden, Honeysuckle, and Jasmine, but choose whichever you like! Apply a few drops to your pulse points and head out to enjoy the sun.
A 3.7 ml bottle of any of the Love Scent Pheromone Oils fragrance options is yours for $9.95. You can't go wrong with these oils, so order today!
Primal Women is one of our more romantic and sexual springtime pheromones. It contains a blend of AndrosteNOL, the powerful social pheromone, and copulins, which enhance a woman's femininity and sex appeal. This combination elevates your mood, lifts your confidence, and gives your sexual magnetism a major boost. This is a great one to wear if you want to start the new season off with positive changes to your love life!
Primal Women contains no cover fragrance, and the copulins give it a distinct pheromone odor. Don't skip the cover fragrance with this one! You can wear it with your favorite perfume or scented pheromone. Apply a few drops to your pulse points and spray the fragrance over it!
You can try Primal Women with the 1 ml Primal Women Mini for $9.95 or the 10 ml Primal Women euro dropper bottle for $49.95. If love is in the air for you this spring, order Primal Women today!
Chikara Pheromone Cologne is our most popular product for men. It's also one of our best springtime pheromones! It contains a blend of social and sexual pheromones to cover all your bases. People will find you dynamic and approachable, and you'll enjoy improved sex appeal. Chikara is versatile enough to wear every day but strong enough to make a big difference in your romantic life!
Chikara already contains a distinctive and very popular cover fragrance, so you don't need to wear this one with a cologne. Just apply to your pulse points and you're good to go!
You can try Chikara with the 1 ml Chikara Pheromone Mini for $9.95, or the 15 ml Chikara Pheromone Cologne spray bottle for $49.95. Order today!
There's never really a bad time for Liquid Trust, our second-most-popular product. But there are a few things that make it one of our best springtime pheromones in particular! This unscented spray's popularity is largely due to its positive effects on the wearer's mood. Liquid Trust's longtime fans report feeling calmer and happier when wearing it, and say it helps them get more enjoyment out of their day-to-day life. These qualities make it the perfect accompaniment to your days spent enjoying the warm weather and bright sunshine!
Liquid Trust contains no cover scent, but its pheromone content doesn't give it a strong smell. This means you can wear it with or without a cover fragrance! Apply to the wrists and around the neck for best results.
A 7.5 ml spray bottle of Liquid Trust is yours for $24.95. Order a bottle today!
Super Primal for Him contains the social pheromone AndrosteNOL. Because this is a unisex pheromone, Super Primal for Him can actually be worn by anyone, regardless of gender! AndrosteNOL helps elevate the mood and reduce stress, and can make social situations more enjoyable. These qualities make Super Primal for Him one of our best springtime pheromones! A few drops will help you enjoy every minute of the warmer and sunnier days.
Super Primal for Him does not contain a cover fragrance. Because AndrosteNOL does not have a very strong odor, many people find that they can wear this one without a cover scent. Apply a few drops to your pulse points and, if desired, spray your favorite fragrance over it!
A large 2 oz bottle of Super Primal for Him is yours for $49.95. Add this one to your collection today!
There you have it, Love Scent fans! Our best springtime pheromones. We hope you make this a season to remember by giving one of the above pheromones a try! And don't forget to save 20% when you order by using the code SPRINGINTOLOVE at checkout!
What are your favorite springtime pheromones? Are they on this list, or do you have something else to recommend for the new season? Tell us about it in the comments! You can also contact us directly with your thoughts, questions, and concerns. And be sure to subscribe to our newsletter to get free samples and to hear about coupons, new products, and more!
These statements have not been evaluated by the Food and Drug Administration. These products are not intended to diagnose, treat, cure, or prevent any disease.