3 Pheromones For Masculinity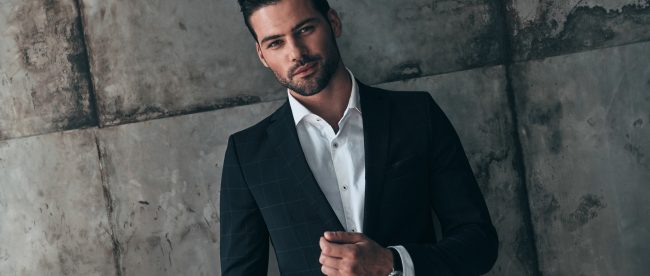 Happy Friday, Love Scent fans!
Remember, we're celebrating the new year by offering you 35% off your next order! Just use the code HAPPYNEWYEAR21 at checkout. If you haven't stocked up on all your favorite pheromones and supplies for the coming year, now's your chance! Order now while the savings last!
Now, on to today's topic: our best pheromones for masculinity!
As you probably know, pheromones are very versatile, and each individual pheromone has a wide range of effects. The sex pheromone AndrosteNONE, for example, can increase your self-confidence, give you an authoritative aura, and stimulate sexual attraction in others. AndrosteNOL, on the other hand, can reduce stress, make you feel more relaxed in social situations, and give you a more positive outlook on life. Some pheromones' effects overlap, but each brings something unique to the table.
All of a pheromones' effects can work together to bring out the dynamic and magnetic aspects of your personality. AndrosteNONE's confidence-boosting and authority-enhancing effects, for example, can help you give off an "alpha male" impression. And AndrosteNOL's relaxing, morale-boosting effects can give you a "social butterfly" vibe even if you're on the reserved side.
Today, we're going to look at three pheromones with one specific effect: enhancing men's masculinity. And there's a particular pheromone that does this directly, with no additional pheromones needed: AndrostaDIENONE.
AndrostaDIENONE has a long list of benefits for men. Research shows that it puts straight women in a better and more generous mood, and helps them feel more focused. This means that women will feel great when you're around. It also puts women in a romantic frame of mind, and makes them view men as more masculine than they normally would.
While AndrostaDIENONE can have all of the above effects by itself, other pheromones can help accentuate its benefits. A more potent sex pheromone like AndrosteNONE, for example, can give your enhanced masculinity an "alpha" edge. AndrosteNOL can elevate a woman's mood even more, and help dissolve any hesitation she has to talk to you or get closer to you.
Other pheromones can also alleviate AndrostaDIENONE's one drawback: in many men, it can have a depressive effect on the mood. Pairing it with a mood-elevating or confidence-boosting pheromone can help cancel out this negative self-effect.
Got it? Good! Now let's take a look at our best pheromones for masculinity!
Chikara is one of our most popular products for men, and is one of our best pheromones for masculinity. Its complex pheromone formula contains AndrostaDIENONE, AndrosteNONE, AndrosteNOL, and more. It enhances your masculinity, elevates your confidence, and puts off a dependable impression. On top of all this, a distinctive cover fragrance makes every moment with you unforgettable.
Because Chikara Pheromone Cologne is already scented, you don't need to wear it with additional fragrance. Just apply to the wrists and throat and you're ready to go!
Chikara Pheromone Cologne is available in two sizes. The 1 ml trial-size Chikara Pheromone Mini is $9.95, and the fill-size 15 ml Chikara Pheromone Cologne atomizer is $49.95. Order today!
New Pheromone Additive for Men is one of our longest-standing products. It contains a blend of AndrostaDIENONE, AndrostenNONE, and AndrosteNOL in an unscented oil base. This product is perfect for turning your favorite cologne into an ultra-masculine attractant. Its balanced formula also makes it a perfect starter pheromone for newbies!
Because New Pheromone Additive for Men is unscented, we strongly recommend wearing a cover scent with it. This pheromone does not smell great by itself! You can add it directly to your cologne, or apply the pheromones and cologne separately. Whichever method you prefer is up to you!
New Pheromone Additive for Men is available in a 10 ml euro dropper bottle for $39.95. This is one of our best pheromones for masculinity, so order today!
The newest pheromone in the Love Scent catalog, SuperMone Pheromone Cologne for Men is also one of our best pheromones for masculinity. This dynamic pheromone contains AndrostaDIENONE and AndrosteNOL. The AndrostaDIENONE directly enhances your masculinity, while the AndrosteNOL keeps the mood positive and light. A striking cologne provides the finishing touch.
Because SuperMone Pheromone Cologne is scented, you won't need to pair it with your own cologne. Just apply 1-2 sprays to the wrist and throat, and you're all set!
A 15 ml atomizer of SuperMone Pheromone Cologne is yours for $44.95. Try this new cologne out today!
There you have it, Love Scent fans! Our best pheromones for masculinity! If you want to give yourself an edge, we hope you give one of these a try! And don't forget to save 35% when you order with code HAPPYNEWYEAR21!
What pheromones do you use to enhance your masculinity? Is it one of the above suggestions, or do you have something else you'd recommend? Tell us about it in the comments! Also feel free to get in touch with us to share your comments and concerns. And be sure to subscribe to our newsletter to get free samples and to hear about coupons, website updates, and new products!
These statements have not been evaluated by the Food and Drug Administration. These products are not intended to diagnose, treat, cure, or prevent any disease.