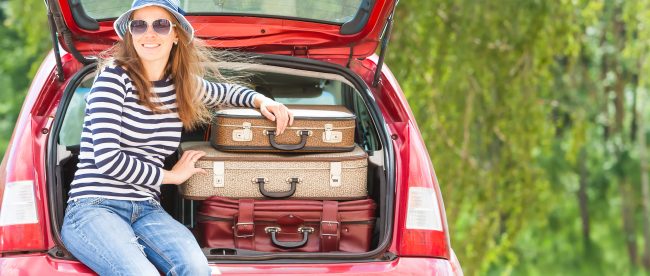 Happy Friday, Love Scent fans!
Thanksgiving is just around the corner in the US. It's the most travel-heavy holiday of the year in this country; from coast to coast, people head home to spend quality time with their families and friends and to give thanks for the good fortunes the year has brought.
These hectic travel days can be stressful, especially for people traveling with their families. Whether you're traveling by car, plane, or train, most of us could use a little help feeling relaxed and at peace during long waits at security, in traffic jams, during layovers, and all the other little delays that holiday travels bring.
As you probably know, pheromones can be a great way to help soothe away stress and keep you feeling upbeat and positive during even the most hectic days. But combining pheromones and travel can be tricky: can you bring them on your carry-on while flying? Do you want to bring an entire bottle of pheromones with you for a three-day vacation? What pheromones should you bring to begin with?
If you're not sure how to tackle pheromones and travel, don't worry! We have some tips for you. Let's get right to it!
First of all, decide which pheromones you'd like to bring. Remember: when it comes to pheromones and travel, some are better choices than others. Since you'll be in close quarters in potentially stressful situations, we recommend formulas that put you and those around you in a good mood. Strong sex pheromones are great choices for a night out at your favorite club, but maybe not the best choice for a five-hour-long flight or a road trip with your family. Social pheromones tend to be better choices when you're mixing pheromones and travel. (More specific advice in a moment!)
Next, make sure your pheromones are travel-ready, no matter what kind of pheromones you plan to bring. Spray bottles work well because they make application easy: just pull out your pheromones, spritz some on your wrists and neck, and tuck the bottle away again. Roll-ons also work well, especially for oil-based products: just unscrew the cap, roll on the desired amount, and return the bottle to your handbag or pocket.
If your current pheromones don't come in an atomizer or roll-on (for example, they're one of the many products that come in a dripper bottle), consider getting an atomizer or roll-on to put your pheromones in during travel. Love Scent has atomizers that you can easily add to your pheromone order: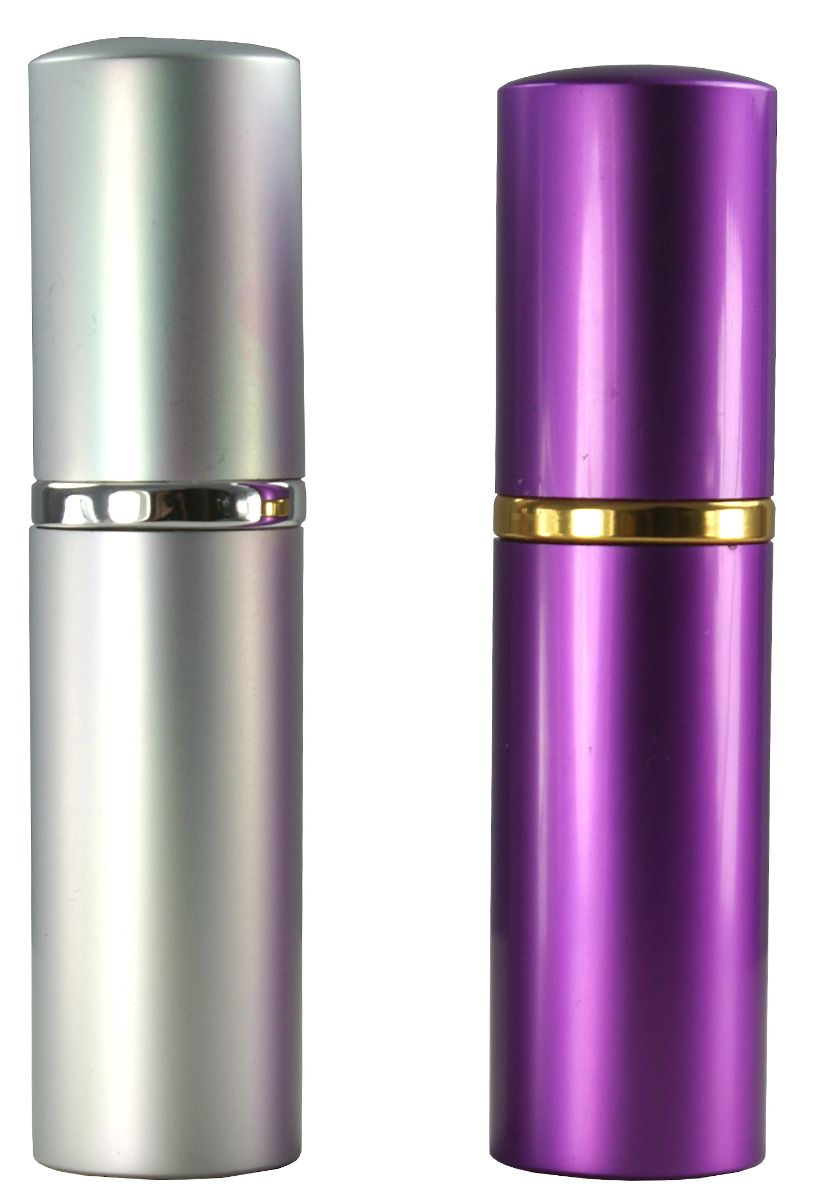 These 5 ml pocket atomizers contain a glass spray bottle protected by a durable metal outer shell. Just pop out the spray bottle, unscrew the cap, add your favorite pheromones (or pheromone-and-fragrance mix), screw the cap back on, and return the bottle to its metal shell. These atomizers will keep your pheromones safe during travel and make application convenient. (Available for $9.95.)
Atomizers work well for alcohol- or water-based pheromones, or oil-based pheromones that have been added to perfume or cologne and are now thin enough to spray. If you prefer oil-based pheromones, we recommend a roll-on bottle instead:
Roll-on bottles allow you to apply exact amounts of a thick, oil-based formula to your wrists and throat. You can add your pheromones to the bottle by themselves, or mix them with oil-based fragrances (such as essential oil blends or thick oil-based perfumes) and put them in the roll-on as a mix. Just remove the roller-ball insert, add your pheromones or pheromone mix, and replace the roller-ball insert. Now you're ready to take your oil-based formulas anywhere you need to go, and can keep them safe during travel days. (Available for $1.50.)
Both of these options make it easy to take your pheromones with you, no matter how you're traveling. The durable containers will keep your pheromones safe from damage and leaks, and they're small enough to take anywhere–even carry-on bags on flights. (Just add them to your quart bag of liquids.) They also allow you to take a limited amount of pheromones with you so you don't have to bring an entire bottle of your favorite product or customized mix.
Now, back to the pheromones you should bring. As we said above, social pheromones tend to be the best bet, but even social pheromones have a range of possibilities. If you're going to be on an airplane, train, or any other form of transit that puts you in close quarters with strangers, we recommend unscented formulas that do not need to be combined with a cover scent. You don't want to unintentionally trigger someone's allergies or asthma by exposing them to fragrances. But if you're traveling with family or friends by car and know that they tolerate fragrances just fine, feel free to use a scented formula.
Now let's take a look at some specific travel-friendly products!
1. Love Scent Pheromone Oils ($9.95)
If you're traveling by car with family this year, and know that none of your travel companions are sensitive to scents, the Love Scent Pheromone Oils are a great choice. These oils contain the relaxing, mood-elevating, anxiety-reducing social pheromone AndrosteNOL. Exposure to this pheromone will help everyone in the car feel calm and carefree, even when traffic gets slow or the kids start to get bored.
The Love Scent Pheromone Oils come in ten fragrances–some unisex, some masculine, and some feminine. Apply them to your wrists and throat for best results. If you're interested in their soothing self-effects, apply some to the upper lip as well, right under the nose. The small eyedropper bottle is already very travel-friendly, but you can also put the oils in a roll-on if you prefer.
As pheromones and travel go, the Love Scent Pheromone Oils are a great option–as long as your travel companions are okay with fragrances! A 3.7 ml eyedropper bottle is yours for $9.95. Order today!
2. Liquid Trust ($29.95)
If you're looking for an unscented social pheromone to bring with you on your travels, you couldn't do much better than Liquid Trust. This ever-popular product contains a special social pheromone that promotes trust, reduces anxiety and stress, resolves tension, and promotes positive social interactions with virtually everyone you meet. Whether you're traveling with family and friends or sitting next to a complete stranger for a cross-country flight, Liquid Trust can make your travels a great deal more enjoyable.
Liquid Trust is unscented and does not need to be combined with a cover fragrance, so it can safely be worn entirely on its own. Apply to the wrists and around the neck and enjoy the relaxed, easygoing feeling it gives you and everyone around you.
If you're wondering how to combine pheromones and travel, Liquid Trust is the answer. A 7.5 ml spray bottles is yours for $29.95. Try it today!

3. Super Primal for Him ($59.95)
If you're intrigued by the benefits of AndrosteNOL, but can't use a scented product like the Love Scent Pheromone Oils, then Super Primal for Him is for you. This unscented pheromone concentrate contains the same social pheromone found in the scented oils, and has the same benefits: elevated mood, reduced stress, and better relaxation. It's a great addition to your travels and can be worn even around those who are sensitive to fragrances.
Super Primal for Him comes in a large 2 oz eyedropper bottle, so we recommend getting an atomizer to take it with you on your travels; that way, you don't have to bring the entire bottle with you for one weekend. Just add a few milliliters of Super Primal for Him to the atomizer and then easily spray it on your wrists and neck whenever you need it.
As we said before, social pheromones are the way to go when combining pheromones and travel, and Super Primal for Him is an excellent unscented formula for it. The large 2 oz eyedropper bottle is yours for $59.95. Order today!
There you have it, Love Scent fans! If you've been wondering how to handle the question of pheromones and travel, we hope you have some ideas now! We wish you and your loved ones very safe journeys, wherever you go this year!
What are your go-to pheromones while traveling? Are they on this list, or do you prefer something else? Tell us about it in the comments! You can also contact us directly with your questions, comments, and concerns. And be sure to subscribe to our newsletter to be the first to hear about blog posts, new products, exclusive promotions, and more!
These statements have not been evaluated by the Food and Drug Administration. These products are not intended to diagnose, treat, cure, or prevent any disease.