Product Spotlight: Attrakt for Her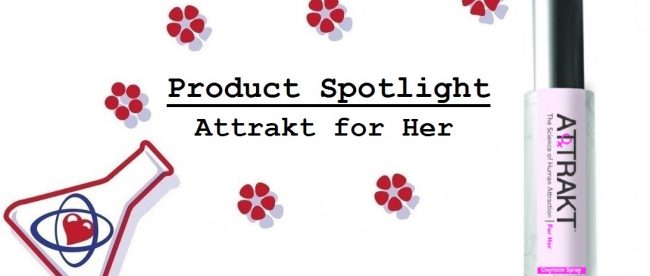 Happy Friday, Love Scent fans!
First of all, Thanksgiving is less than a week away! We're already celebrating here at Love Scent by offering you 30% off on your next order. Just use the code THANKSGIVING at checkout to get your savings!
Now, let's turn to today's topic: learning a little bit more about one of our catalog's hidden gems, Attrakt for Her!
Attrakt for Her is made by Vero Labs, a company that virtually pioneered the use of social hormones in pheromone products. It's a pheromone perfume that more people should consider adding to their pheromone collection. Let's take a look at why Attrakt for Her belongs on your shelf!
THE POWER OF SOCIAL HORMONES
The main thing that sets Attrakt for Her apart from most women's pheromone perfumes is Vero Labs' signature ingredient: an important social hormone that regulates a huge range of human behavior. This social hormone plays a large role in:
Pregnancy, childbirth, and nursing
Parent-child bonding
Bonding between sex partners
Bonding between romantic partners
Bonding between friends
Trust and interdependence in social groups
Natural stress and anxiety reduction
Sleep
And more!
This hormone is sometimes called "the cuddle hormone" because it is released when people hug or snuggle together, whether they're partners getting intimate in bed or friends embracing each other after a long time apart. It is also naturally released by the body when you're experiencing a stressful or anxious situation, which helps calm you down and cope with the situation better. Further, when exposed to this hormone during social interactions, you are more likely to trust those around you, and are more likely to interact with people and get to know them.
All of these important social effects make Attrakt for Her an excellent perfume to wear in your romantic life. When exposed to the social hormones found in this product, people will find you more trustworthy and dependable, will be more likely to want to get you know you and talk to you, and will associate you with pleasant thoughts and a relaxed atmosphere–all good things when you're on a date or socializing at a bar or club!
So, while social hormones might not be the first thing to come to mind when you're considering pheromones for your love life, we hope you can see why they're actually an excellent choice. That said, if you're someone who prefers something more specifically sexual in their pheromone perfumes, Attrakt for Her has you covered there too! Let's take a look at its other main ingredient now.
COPULINS: EMOTIONAL AND PHYSICAL EFFECTS
Attrakt for Her pairs its versatile social hormones with an ingredient that is common in women's pheromone perfumes: copulins. Copulins are produced in the female reproductive tract throughout the month, but at particularly high levels during ovulation, and research has shown that they have strong physical and emotional effects on men.
Some of the first research into copulins showed that exposure to copulins increases men's testosterone levels, which in turn increases men's interest in sex and feelings of desire toward their partners. This, in turn, gives men's self-confidence a boost, which is a very important element of any sexual or romantic partnership: people who are more confident in themselves are more outgoing and more comfortable in their relationships. Copulins also make men more attuned to women's behavior, making them more attentive and devoted partners. (You can read more about copulins' effects on men here.)
The many effects that copulins have on men have made them a go-to ingredient in women's pheromone perfumes, especially those intended to improve a woman's romantic life and sex life. Some men like the effects so much that they use copulins in their own pheromone blends to benefit from the self-effects.
In Attrakt for Her, copulins work together with the social hormones to create a nuanced and dependable product. While the social hormones work to relax those around you and improve your social magnetism and trustworthiness, the copulins stimulate interest in sex and increase sexual confidence. Men exposed to the perfume will feel self-assured, attractive, and ready for intimacy, and will associate the wearer with a wide range of positive emotions.
So far, we've primarily discussed copulins' benefits for people in heterosexual relationships, but women who are interested in women should know that many gay and bisexual women have found that copulins also have strong effects on their female partners. The exact reason for this is not yet clear, as most research into copulins focuses on their effect on (cisgender) men, but the combination of copulins and social hormones found in Attrakt for Her can have great benefits for women with female partners, too!
Also, while we've focused on the sexual elements of copulins, women of all sexual orientations should know that copulins have non-sexual effects on men as well. Even if they're not interested in a sexual relationship with a woman who is wearing copulins, men are generally more attentive and supportive to all women when exposed to these pheromones. This makes Attrakt for Her a great option for women in male-dominated environments, whether or not dating and sex are on the table.
If you're looking for a sexual pheromone product with multifaceted effects on your partner, Attrakt for Her could be just what you're looking for!
LIGHT BUT MEMORABLE FRAGRANCE
Those of you who are familiar with copulins know that they can be some of the smelliest pheromones around. We don't recommend wearing copulins without a cover fragrance, even in products with a very low copulin concentration. Failing to do so will have people wondering what smells so odd, which isn't what you want going through people's heads when you're trying to get closer to them!
Conveniently for anyone interested in trying out the power of copulins, Attrakt for Her already contains a cover fragrance, and thus does not need to be combined with your own perfume. The fragrance is light and not overwhelming, but is strong enough to mask the unpleasant natural scent of the copulins. People will be asking what smells so good–and then wondering why they feel so good standing next to the person wearing that alluring perfume.
Okay, now that you're more familiar with Attrakt for Her and its effects, let's look at the more practical details!
A 1 oz spray bottle of Attrakt for Her is $69.95. A little goes a long way, so that one bottle will last you a very long time–several months at least and maybe more than a year, depending on how often you use it and whether you're using it alone or as part of a pheromone mix. Just apply 1-2 sprays to your wrists and neck and you're ready to go! It can also be combined with unscented pheromones like Liquid Trust and NPA for Women to make an even more complex pheromone perfume.
There you have it, Love Scent fans! Everything you need to know about Attrakt for Her, and why it definitely deserves a spot in your pheromone collection!
Have you tried Attrakt for Her? What do you think of it? Do you use it alone, or as part of a pheromone mix? Tell us about it in the comments! Remember, you can also contact us directly with questions, comments, or concerns. Also be sure to subscribe to our newsletter to get free samples and to be the first to hear about blog posts, exclusive promotions, new products, and more!
These statements have not been evaluated by the Food and Drug Administration. These products are not intended to diagnose, treat, cure, or prevent any disease.