New Product: Pheromone Massage Candles!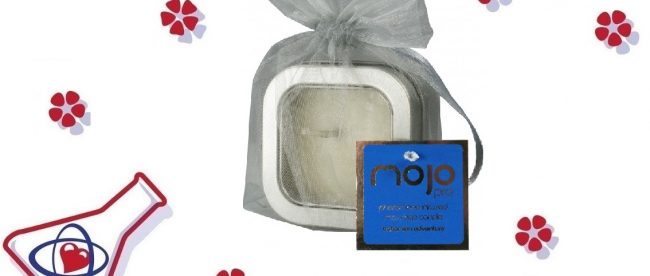 Happy Friday, Love Scent fans!
First of all, it's Black Friday, and we have some big savings to offer you! Just use the code BLACKFRIDAY18 at checkout to receive 35% off your order! This offer is good storewide, so get stocked up on all your Love Scent favorites now!
Second, we are exited to announce a new product in the Love Scent catalog: pheromone massage candles by Mojo Pro!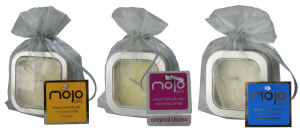 These massage candles are brought to you by the makers of the Mojo Pro pheromone sprays, which many of you are already familiar with. The sprays contain a mix of pheromones that offer a range of effects, from increased respect and friendliness from strangers and coworkers to increased sexual attention from partners.
The Mojo Pro Pheromone Infused Massage Candles contain the same powerful blend of pheromones found in the sprays, plus alluring fragrances. But burning them doesn't just put pheromones out into the air: it also creates a usable massage oil!
The Mojo Pro pheromone massage candles are made with soy wax, which melts at a low temperature (just a few degrees above body temperature), so the oil made by burning them will be warm rather than hot to the touch. It also contains a blend of coconut oil and shea butter, both of which will keep nourishing the skin long after the massage has ended.
So how do you use the massage oil made by the candle? Simple: light the candle a few minutes before you're ready to begin the massage. Once a small pool of oil has formed, take the tin and pour the oil into the palm of your hand, using the sloped edge of the tin to direct the flow. If your partner is not too sensitive to warm temperatures, you can also pour the oil directly onto their skin! Now you're ready to give your partner a relaxing, soothing massage while pheromones and sensual fragrances fill the air. When you're done, just blow the candle out and let the remaining wax re-solidify for future use.
(Note: we definitely recommend testing the oil on a small patch of skin before applying it liberally, just to make sure you or your partner won't have a bad reaction to it! The ingredients are safe to use for most people, but folks with sensitive skin or allergies should proceed with normal caution.)
Now, when many people think about couples giving each other massages, they typically think of the massage as a type of foreplay. It's true that massages are a good prelude to something even more intimate, but couples shouldn't dismiss the non-sexual benefits of massage. Research presented at the British Psychological Society's 2017 annual conference found that both receiving a massage from your partner and giving a massage to your partner can improve your physical and emotional wellbeing and reduce stress. Importantly, this was true of couples with no professional experience with massage!
This new research into couples giving each other massages builds on a long history of research showing that physical touch can reduce stress and trigger the release of the same soothing, cuddly pheromones found in Liquid Trust. Being physically close to and touching your partner, even in non-sexual ways, can improve your relationship by making you relaxed and comfortable around one another.
So, whether you're giving or receiving the massage, there are many benefits for both you and your partner. It can strengthen your relationship in a multitude of ways–not to mention, it just plain feels good!
All this just goes to show why the Mojo Pro pheromone massage candles are a great choice for both you and your partner. The pheromones will help create a relaxed, sexy atmosphere, and the massage you perform with the candles' nourishing and pheromone-laced massage oil will reduce both you and your partners' stress, improve your wellbeing, and build trust between you. What's not to like?
The Mojo Pro Pheromone Infused Massage Candles are available in three fragrances. They are: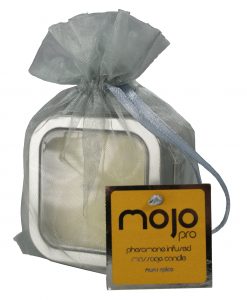 Nuru Spice: this candle's fragrance is warm and sweet, faintly spicy, and definitely memorable. "Nuru" is actually a Japanese erotic massage technique involving full-body contact; perhaps this knowledge will inspire you to try something new and exciting with your partner!
Original Desire: this sweet, fruity, feminine fragrance is relaxing and rejuvenating all at once. It would be perfect for giving your partner a luxurious massage and then letting the fragrance and pheromones linger on her skin for hours.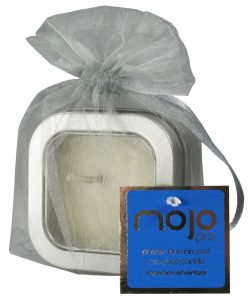 Bahamian Adventure: this candle's fragrance is soothing and tropical, reminiscent of coconut and sweet fruits. Close your eyes, take a deep breath, and imagine you're enjoying a massage on a sunny beach.
All three of these pheromone massage candles create massage oils that are suitable for use on people of all genders, though people may have personal preferences regarding the fragrance. As always, do what works best for you!
We highly recommend the Mojo Pro Pheromone Infused Massage Candles for couples. They make great anniversary gifts, Valentine's Day gifts, and romantic holiday or birthday gifts. If you have no experience with massage, consider taking a quick course on couples' massage, or read up on the best techniques online. You can even consider pairing the candles with a coupon to a couples' massage class as a holiday gift!
The Mojo Pro Pheromone Infused Massage Candles are available for $14.95 apiece. Order yours now!
All right, Love Scent fans! We hope you're excited about these pheromone massage candles, and that you and your partner will give them a try soon!
Have you and your partner ever tried giving each other massages? How did it affect your relationship? Do you like the idea of pheromone infused massage candles? Tell us in the comments! Remember, you can also contact us directly with questions, comments, or concerns. Also be sure to subscribe to our newsletter to get free samples and to be the first to hear about blog posts, exclusive promotions, new products, and more!
These statements have not been evaluated by the Food and Drug Administration. These products are not intended to diagnose, treat, cure, or prevent any disease.