4 Pheromone Mixes For Your Free Atomizer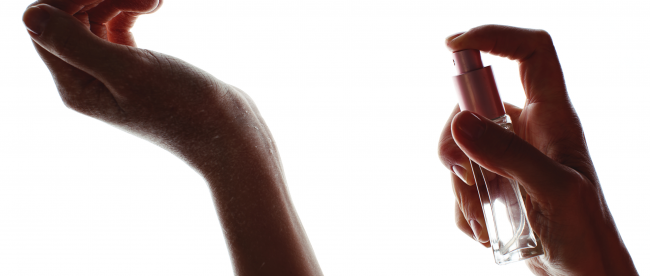 Happy Friday, Love Scent fans!
As some of you are already aware, Love Scent is currently offering a free atomizer with every purchase of $50 or more. These atomizers are pocket-sized and portable, making them perfect for carrying around your DIY pheromone colognes and perfumes, homemade cover fragrances, and more!
If you'd like to start seriously experimenting with pheromone mixes, remember that we have a lot of guidance for how to go about it. You can take a look at previous posts on the subject:
Or, if you just want some straightforward advice on some dependable mixes for your atomizer, you can read on for some suggestions!
Before we begin, though, a quick reminder: while many people find that the mixes below work well in the proportions given, everyone is different. We always recommend mixing small test batches to test a mix before using up your entire pheromone supply all at once. If the recommended proportions work for you, great! Feel free to mix up a big batch to have on hand all the time. If it needs to be tweaked for your needs, keep experimenting with the proportions until you find what's right for you.
Okay, on to the mixes!
FOR MEN
1. Alpha-7 Unscented + Chikara
This one is such a dependable and popular mix that we already offer the two together at a discounted bundle price! Normally $59.95 apiece, you can get these two together for $99.95–a savings of about $20.
This pheromone mix is a fairly sexual one, but not overwhelming. The social pheromones in the Chikara smooth out the rough edges of the dominant Alpha-7, making you less likely to overwhelm people and more likely to draw them in.
To start with, we recommend a 4:1 ratio of Chikara to Alpha-7. If you're naturally less dominant than other guys, you can try a 3:1 ratio to start. Then just adjust to your needs!
If you've been looking for a dependable pheromone mix, Alpha-7 + Chikara is a great one to start with. Order this awesome combo for $99.95!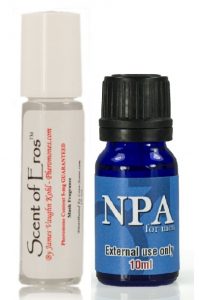 2. Scent of Eros for Men + NPA for Men
This pheromone mix is found in The Phero Mixer Cookbook. Written by Love Scent Discussion Forum member Nimbus and containing contributions from other forum members, the cookbook is a treasure trove of information about pheromones and how to mix them properly.
The Scent of Eros for Men + NPA combo was developed by forum user DonaldDuck. It works especially well for younger men, but can be worn by men of all ages. The socially-oriented Scent of Eros makes sure that the sex pheromones in the NPA don't overwhelm or intimidate anyone.
The recommended proportions are 7:3 of Scent of Eros for Men to NPA. If you prefer to use your own cover fragrances, you can substitute Scent of Eros Unscented–but don't skip the cologne! This mix is a bit smelly on its own.
You can get Scent of Eros for Men and NPA for Men together for less than $100. Order some of each and start mixing today!
And if you'd like to see more mixes created by pheromone enthusiasts, take a look at the Mixes section of The Phero Mixer Cookbook!
UPDATE: We no longer carry the Scent of Eros products. Try the Love Scent Pheromone Oils or Liquid Trust instead!
FOR WOMEN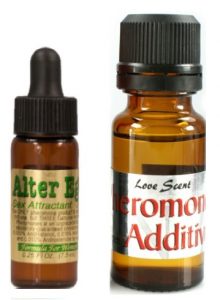 1. Alter Ego for Women + NPA for Women
This one is a slight modification of another mix found in The Phero Mixer Cookbook. It's based on forum user Frenchie's mix of Alter Ego and The Edge for Women. Customs logistics have made it difficult for us to keep The Edge line in stock, but don't worry: NPA for Women is a perfect substitute.
Alter Ego for Women is a nicely balanced pheromone mix with social and sexual elements, and NPA for Women packs a potent punch. The Alter Ego also contains a distinctive cover fragrance, so you don't need to combine this mix with a perfume.
Try a 3:1 ratio of Alter Ego to NPA for Women. This mix gives you good self-effects, so try putting a dab under your nose as well!
Alter Ego is yours for $49.95, and the 15 ml bottle of NPA for Women is $54.95. Order them together now!
And make sure to check out the Women's Section of The Phero Mixer Cookbook for more ideas!
UPDATE: We no longer carry Alter Ego for Women. Try Mojo Pro for Women instead!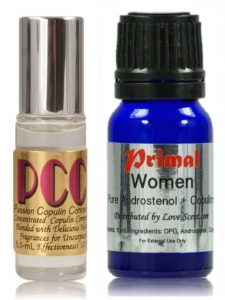 2. Passion Copulin Concentrate + Primal Women
This is a potent and sexual pheromone mix. Passion Copulin Concentrate, as the name suggests, contains concentrated copulins and a cover fragrance, and Primal Women contains a mix of copulins and a social pheromone. If you want to light the sexual fire in your relationship, this is a good combo to try!
Passion Copulin Concentrate already contains a fruity cover fragrance, so you do not need to combine this mix with a perfume. The scent is light and refreshing and masks the natural smell of the copulins well.
For this mix, try a 2:1 ratio of Primal Women to Passion Copulin Concentrate. Put it on your pulse points and anywhere else you normally wear perfume.
You can get Passion Copulin Concentrate and Primal Women together for under $100. Order yours today!
UPDATE: We no longer carry Passion Copulin Concentrate. Try our Love Scent Copulin Concentrate or Arome de Femme instead!
That's all for today, Love Scent fans! We hope you're now in the mood to experiment with some pheromone mixes!
Have you tried inventing a pheromone mix for yourself? Which products did you use, and in what proportions? Share your ideas in the comments! Also feel free to contact us with any comments, questions, or concerns. And be sure to subscribe to our newsletter to hear about blog posts, exclusive promotions, new products, and more!
These statements have not been evaluated by the Food and Drug Administration. These products are not intended to diagnose, treat, cure, or prevent any disease.