Tackle Your New Year's Resolution With Pheromones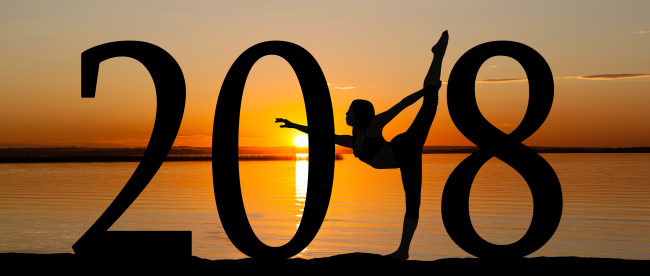 Happy Friday, Love Scent fans!
Are any of you planning to make New Year's resolutions this year? If you are, you're in good company: almost 70% of people polled in a recent survey are planning to make some changes in their life in 2018.
If you're one of the those many people making a New Year's resolution for the coming year, we wish you the best of luck in meeting your goals. And we'd like to help if we can! Let's take a look at some of the most popular resolutions for 2018, and see what Love Scent has to offer in helping you fulfill them!
1. Exercise More
This is consistently one of the most popular New Year's resolutions. A new year is a good, clear-cut time to begin thinking more about your health, and exercise has a long list of health benefits. Whether you want to live longer, have more energy, improve your sex life, or just feel generally better as a person, exercise is a good place to start.
Of course, such a big change can be hard to make without a little help. We have some products that may make this particular New Year's resolution a bit easier:
Peppermint oil: This particular essential oil is very stimulating, and can give you the energetic boost you need before and during workouts to make the most of your exercise.
Sweet Orange oil: Another energy-enhancing oil, you can diffuse it throughout your home to give you the energy needed for any task–whether it's a simple speed-clean of the living room or an intense workout. As a bonus, it also freshens the air, which can further improve your mood and energy levels.
AndrosteNONE: Known to many as the "alpha" pheromone, AndrosteNONE also increases energy. On top of that, it can give you the confidence you need to take on challenging new workouts. Products containing this strong pheromone are Alpha-7, Primal Instinct, and Super Primal for Her.
Note: some simple changes to your diet can naturally increase your body's levels of some energy-boosting pheromones. Read more about these foods here!
2. Take Better Care Of Yourself
We're happy to see that this is a popular New Year's resolution for 2018. It's important to take good care of ourselves, whether that means getting more sleep, reducing stress in our lives, or generally having a better outlook on life. We're especially happy to help people out with this goal.
If taking care of yourself is your 2018 New Year's resolution, here are some ways we can help:
Lavender oil: If you need to spend more time relaxing or need to get better sleep, this is the best essential oil you can choose. Keep a diffuser filled with lavender oil in your bedroom to get better rest at night, or one in the living room to help you unwind after a long and stressful day.
Scent of Eros: If you want to generally improve your mood and your outlook on life in the coming year, this is a good pheromone to have on hand. The mix of mood-elevating social pheromones and confidence-boosting sex pheromones will give you the zeal needed to take on everything 2018 has in store for you. (UPDATE: We no longer carry the Scent of Eros products. Try the Love Scent Pheromone Oils or Liquid Trust instead!)
Primal Women: This is another mood-elevating product that can also improve your emotional wellbeing. Women will find that this product elevates their mood and soothes away anxiety; men (who can also wear it) will find that it increases their confidence and perceptions of themselves. The wide range of positive effects make this a very popular product.
3. Learn A New Skill Or Hobby
Learning something new keeps the brain active and gives you a very concrete, practical goal to strive towards. It's also just plain fun to learn something new, especially if it involves making something that can improve your life.
If your New Year's resolution is to take up a new hobby or learn a new skill, here are some popular choices we can help you with:
Aromatherapy: Learn to make the most of the essential oils recommended above by exploring the ancient art of aromatherapy. From massage oils (great for bonding with a partner!) to self-care (like improving mood or sleep) to taking care of minor ailments (like skin conditions and chronic headaches) through natural means, aromatherapy offers endless opportunities to improve your life–and gives you a chance to learn something new in the coming year. Get started with our Zellous Essential Oil Aromatherapy Sampler.
Essential oil crafts: If you're a DIY type who prefers making your own day-to-day essentials like soap and cleaning products, or just someone who enjoys making things with their hands, essential oil-related crafts are a great opportunity to combine aromatherapy with creative self-sufficiency. You can use essential oils in everything from bath bombs to shampoos to hand creams to bug spray. Get crafting with our essential oil options!
DIY Pheromone Colognes and Perfumes: If you've been experimenting with phehttp://love-scent.com/catalogsearch/result/?q=essential+oilromones for a while and feel you're ready to start making your own mixes, we would love to help you out! Let us supply you with the pure pheromones, atomizers and roll-ons, and cover scents needed to make and apply your mixes. Be sure to check out The Phero Mixer Cookbook for tried-and-tested recipes for DIY mixes. Good luck!
4. Focus On Relationship
Busy lives, stressful jobs, parenting responsibilities, and more can lead to relationships being put on the back burner. If you and your partner had a bit of a slump this year that you'd like to fix in 2018, we can definitely help you rekindle your romantic relationship.
If your New Year's resolution is to recommit to your relationship, here are ways we can help:
Chikara for Men: Our most popular men's product, this cologne contains a mix of social and sexual pheromones that improve both emotional and sexual intimacy. The balanced formula makes this a suitable product for all occasions, so wear it on quiet nights in, on date nights, and when you're out socializing with other couples.
Love Scent Copulin Concentrate: A women's product that contains copulins, this formula is a good choice for improving intimacy in your relationship. Copulins have strong emotional effects on men, so it won't just improve your sex life…it will improve your emotional bond too.
Attrakt for Her: This formula contains a social hormone that improves bonding between partners and fosters cuddly, intimate feelings. It also contains a few other pheromones to enhance sexual attraction and emotional connections. All in all, a good product for anyone wanting to focus on improving their relationship, or just wanting to enjoy better time with their partner. (UPDATE: We no longer carry the Attrakt products. Try mixing the Love Scent Pheromone Oils or Liquid Trust with your favorite sex pheromone instead!)
5. Save Money
This is another ever-popular New Year's resolution. Love Scent is always willing to help with this one! Let's get started right away with our New Year's sale: use the code HAPPYNEWYEAR at checkout for 35% off your order! And remember: you can keep updated on all our sales and promotions by signing up for our newsletter, which will send the latest coupon codes right to your inbox.
There you have it! If any of the above resolutions are on your to-do list for 2018, we hope we're able to help you achieve those goals.
What is your New Year's resolution this year? Is it on the list, or are you planning something we didn't cover? Let us know in the comments! And, once again, feel free to contact us with any questions, comments, or concerns. Also be sure to subscribe to our newsletter to hear about blog posts, exclusive promotions, new products announcements, and more!
These statements have not been evaluated by the Food and Drug Administration. These products are not intended to diagnose, treat, cure, or prevent any disease.