7 Perfect Stocking Stuffers From Love Scent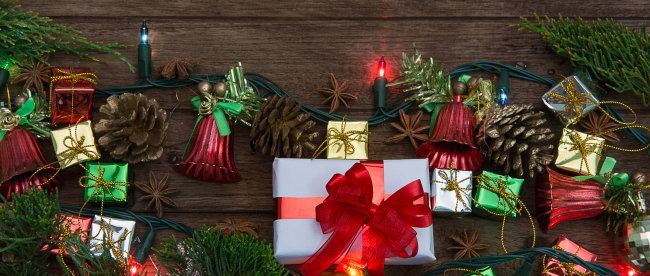 Welcome back, Love Scent fans!
The holidays are coming up fast, and we're all wondering what to get our loves ones this year. At Love Scent, we'd like to give you a hand with the holiday shopping!
You probably already heard that we're having a store-wide holiday gift sale. Use the coupon code "STOCKINGSTUFFERS" at checkout to receive 30% off your order! Get gifts for everyone on your list, and a little something for yourself too. You've certainly earned it.
If you need help getting through that list, we're here to help with that too. Here are some excellent products available for great prices even without a discount:
1. Zellous Essential Oils (starting at $4.99)
Our Zellous Essential Oils are available in a six-bottle sampler pack of some of the most popular aromatherapy scents (already packaged in a sleek black box for easy gift-giving) and as individual bottles. These oils are 100% pure therapeutic-grade essential oils: they contain no pheromones, just the essential oil named on the label.
Essential oils are a wonderful gift for anyone interested in the art of aromatherapy, or anyone with a creative streak and interest in beauty products. Do you have a sister who makes her own perfumes? These oils would be great for her. Or do you have a cousin who loves making bath bombs? She'd love to receive a set of pure scents to use! Or maybe your mother loves filling her home with natural scents? Get her a sampler set to fill her diffuser throughout the year!
Each individual bottle is available for $4.99, and the full sampler set is available for $14.99. Give the gift of Zellous Essential Oils this year! Your loved ones won't be disappointed.
2. Brand Colognes and Perfumes (starting at $7.95)
You already know that Love Scent provides a large selection of pheromone perfumes and colognes, but did you know that we have plenty of pheromone-free colognes and perfumes to offer you as well? If you're looking for something to pair with an unscented pheromone, or are looking for a gift for someone who isn't ready to try pheromones just yet, we have a wide selection for you to choose from!
If you have a friend who likes experimenting with new scents, or want to give your spouse a romantic holiday gift, these perfumes and colognes are perfect. They're also perfect for tucking into a stocking or presenting in a pretty gift bag. Our large selection has something for everyone, so check them out today!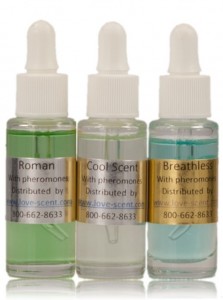 3. Super Primal Pheromone Oils ($9.95)
If you know of someone who's interested in trying pheromones and want to treat them to some for the holidays, our Super Primal Pheromone Oils are an excellent place to start. These oils combine the pheromone AndrosteNOL, the easygoing "icebreaker pheromone" that is an ideal pheromone for beginners, with popular scent blends. Choose from:
Breathless: a rosy fragrance with citrus undertones
CK Version: a masculine designer scent
Climation: a sweet, sexy, fruity scent

Cool Scent: a cool, clean scent for men

Musk: a subtle musk fragrance similar to amber

Paris Hilton: a youthful, sweet fragrance

Roman: an Italian fragrance with a spicy, woodsy scent
Our Super Primal Pheromone Oils are the perfect first step into the world of pheromones: the AndrosteNOL's socially stimulating effects are not overwhelming and its natural scent is not unpleasant, making it a good pheromone for beginners to test out, and the carefully chosen scents are designed to enhance the effects of the pheromones. A few drops are all a beginner needs to start seeing the effects. If a friend or family member has been wondering about pheromones, the Super Primal oils are about the best introduction you could give them.
Each 1/4 oz bottle of Super Primal Pheromone Oils comes with an eyedropper top. They're a perfect gift at an excellent price. Order today!
UPDATE: We no longer carry the Super Primal Pheromone Oils, but fans are sure to love our own Love Scent Pheromone Oils!
4. Chikara Mini ($14.95)
The Chikara Mini is the 1 ml trial size of our popular Chikara Pheromone Cologne for Men. This versatile, dependable cologne features seven different social and sex pheromones combined with a pleasant woodsy scent.
The Chikara formula includes AndrosteNOL, the social pheromone found in our Super Primal Pheromone Oils, and the two common sex pheromones AndrosteNONE and AndrosteRONE. The AndrosteNONE boosts sex appeal and perceived authority, while the AndrosteRONE and AndrosteNOL work together to enhance social magnetism and keep the AndrosteNONE from overwhelming or intimidating anyone. The end result is a cologne that can be worn every day–to work, on a date, and at home.
Like the Super Primal Pheromone Oils, Chikara is a good pheromone product for beginners: its well-balanced formula comes with a low risk of overdosing and a minimal risk of using it in an inappropriate situation. If you have a brother, partner, or friend who's interested in experimenting with pheromone colognes, Chikara is a perfect choice for him.
The Chikara Mini is currently available for $5 off ($14.95, down from $19.95). Now is the best time to buy. Order this perfect trial size for your loved one now!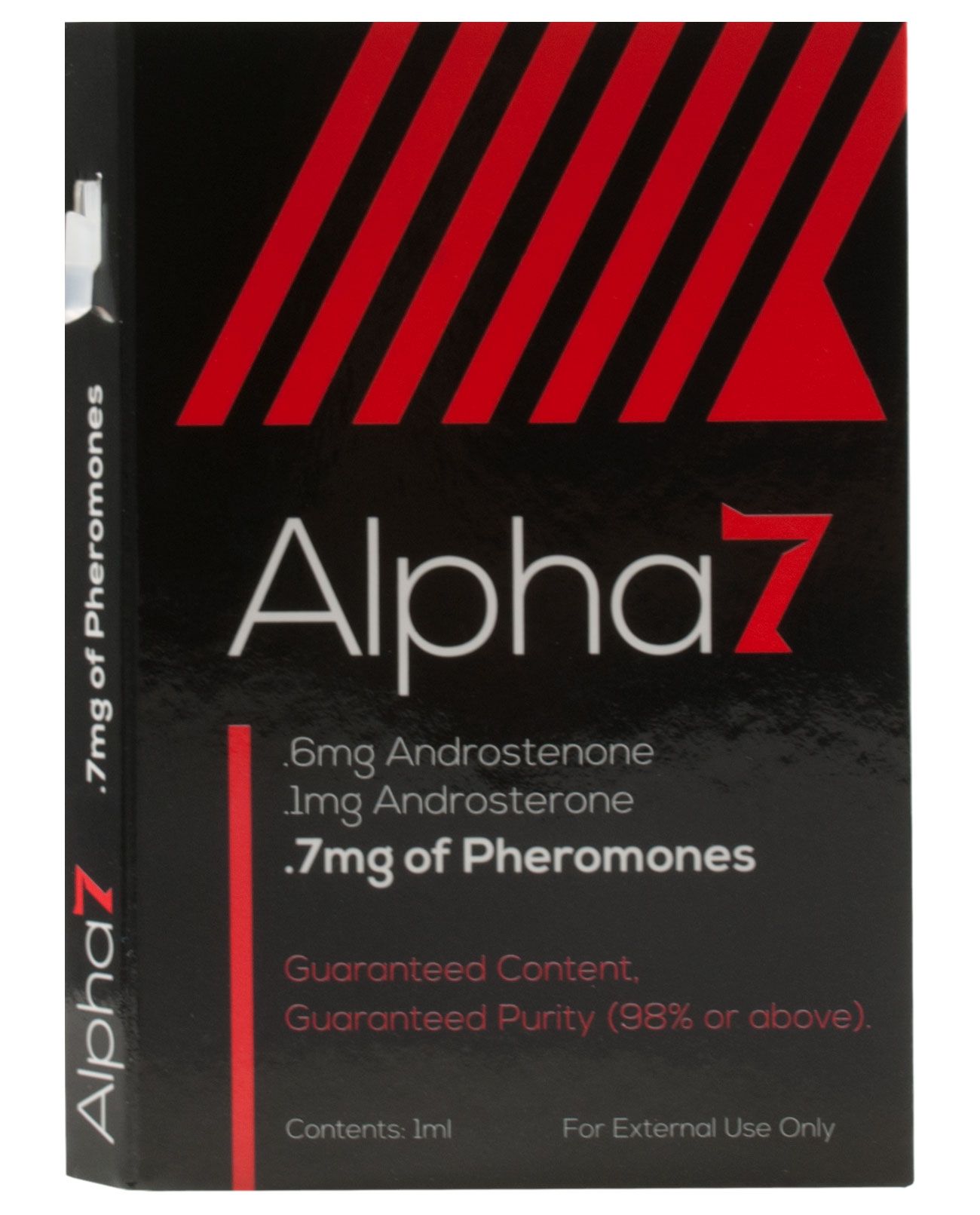 5. Alpha-7 Unscented Mini ($14.95)
Like the Chikara Mini, our Alpha-7 Unscented Mini is the 1 ml trial size of a popular product–in this case, Alpha-7 Unscented Pheromones for Men. Now, while Alpha-7 Unscented was designed for men, it can be and often is used by women, making this a good gift idea for many people on your list.
Alpha-7 Unscented contains a blend of AndrosteNONE and AndrosteRONE, two sex pheromones also found in Chikara. AndrosteNONE is the quintessential "alpha" pheromone and gives the wearer a boost in authority and confidence. The AndrosteRONE has many of the same effects, but is gentler and less overbearing, and is used here to act as a counter-balance to the power of the AndrosteNONE.
Alpha-7 Unscented is a good pheromone product for those who already have experience with pheromones, or those who are willing to use discretion when experimenting with them: this is a powerful product, and you don't want to use too much, as overdosing can lead to results that are the exact opposite of what you wanted. A few drops can help your husband regain his self-confidence or your best friend achieve the authority and respect she needs at work.
Order the Alpha-7 Unscented Mini today for $5 off ($14.95 down from $19.95). You'll be giving the gift of confidence!
6. Liquid Trust ($29.95)
There's a reason Liquid Trust is one of our most frequently-recommended products: it's versatile, easy to use, and very powerful. Liquid Trust contains a social hormone called "the cuddle hormone," and its list of effects is all but endless: it establishes trust and boosts confidence, promotes relaxation and reduces anxiety, solidifies social and romantic bonds, and generally promotes emotional well-being. It can be worn on your skin or on your clothes, and can be used in just about any situation: at the office, during a job interview, on a date, or during a quiet night in with your partner.
Because of its myriad uses and many positive effects, Liquid Trust is an excellent gift for…well, anyone. A family member who is navigating a rough job market will benefit from its anxiety-reducing effects, as well as the confidence it promotes–especially during job interviews. A friend whose hectic schedule leaves little time for relaxation will love the soothing effects a few sprays to the collar of her jacket will bring. A partner who loves cuddling on these chilly winter nights will enjoy the enhanced experience Liquid Trust creates. If you look at your shopping list, there probably isn't anyone there who couldn't do with a good dose of a soothing social hormone.
Liquid Trust comes in a 1/4 oz, highly portable atomizer. Your friends and loved ones can tuck the little bottle into their briefcase, backpack, or desk drawer and have it on hand whenever they need it. Wrap it in a holiday bow and give your loved one a gift they'll love all year!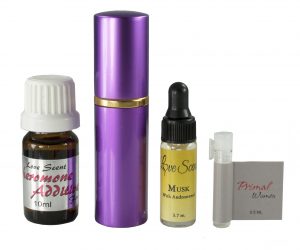 7. Beginner Specials for Men and Women ($54.95)
Our Beginner Specials are curated pheromone sampler sets that are designed as a serious introduction to the world of pheromones. Each set contains some of the most popular products for men and women, some in full sizes and others in sample sizes. They're a great gift for someone who doesn't just want to dip their toe in the pheromone pool, but is eager to jump right in!
The Beginner Special for Men includes:
New Pheromone Additive for Men: a versatile, unscented pheromone formula that contains a blend of social and sex pheromones
Love Scent Pheromone Oil – Musk Scent: AndrosteNOL pheromones blended with a gentle musky scent
Chikara Sample: a 1/2 ml sample of our Chikara Pheromone Cologne for Men
Pocket Atomizer: a small, portable atomizer that is perfect for carrying your own pheromone blends with you wherever you go
And the Beginner Special for Women includes:
New Pheromone Additive for Women: an unscented pheromone blend with great social and sexual effects
Love Scent Pheromone Oil – Musk Scent: AndrosteNOL pheromones scented with a gentle musky scent
Primal Women Sample: a 1/2 ml sample of our Primal Women formula
Pocket Atomizer: a portable atomizer for carrying pheromone blends on the go
These sampler packs offer a lot, and are one of the more expensive recommendations here. But you get what you pay for (these are excellent products), and with 30% off, there's never been a better time to buy! They're perfect for a friend or partner who wants to experiment with these powerful, highly effective pheromones. Order one for the special man or woman in your life today!
There you are! We hope that you're now able to scratch everyone off your shopping list. Don't forget to use the code STOCKINGSTUFFERS at checkout to take advantage of awesome holiday season savings! Now all that's left to do is sit back, relax, and enjoy your family and friends.
Are you planning on giving any of these products as a gift? Let us know in the comments! Also feel free to contact us with any questions, suggestions, or concerns. And make sure to subscribe to our newsletter to get free samples and to be updated on new blog posts, products, and promotions.
Happy holidays, Love Scent family!
These statements have not been evaluated by the Food and Drug Administration. These products are not intended to diagnose, treat, cure, or prevent any disease.