6 Effective Social Pheromones for Men and Women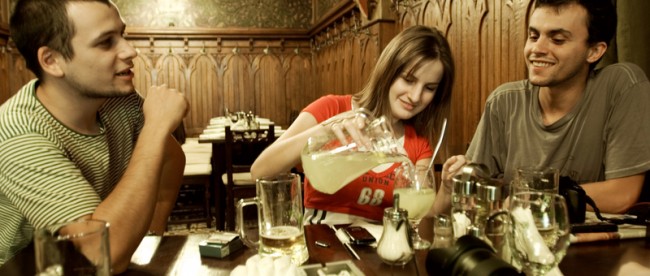 Pheromone products are great for a wide variety of situations, not just dates and sexual encounters.  Many pheromones can be perfect for socializing with people from both genders and gaining confidence in any social situation.  In particular, pheromones containing androsteNOL and beta-androsteNOL can help you be more comfortable around other people, and will make other people more friendly and open when talking to you.  Read on to learn about the 6 best social pheromone products for men and women.
1. Pheromax Trust
Pheromax Trust (available in men's and women's versions) is a hi-tech, German engineered pheromone product that contains a great combination of pheromones like androsteNOL and androsteNONE, as well as a special social pheromone that has noticeable effects such as decreased social anxiety and making it easier for other people to trust you.  This formula is great for a lot of situations and is unscented so you can combine it with whatever fragrance you want.
UPDATE: We no longer carry Pheromax Trust. Instead, try mixing Liquid Trust with your favorite sex pheromone!
2. Scent of Eros
Scent of Eros ( is an androsteNOL heavy pheromone formula that is perfect for socializing and casual dates.  As far as androsteNOL-based formulas go, it doesn't get much better than Scent of Eros.
UPDATE: We no longer carry the Scent of Eros products. Try the Love Scent Pheromone Oils or Liquid Trust instead!
3. Liquid Trust
Liquid Trust is one of our most popular products.  It contains the same social hormone used in Pheromax Trust, but without the added pheromones.  The result is a formula that is specifically great for social situations (especially for business).  It can be used effectively by men and women, and can be combined with pretty much any pheromone product to add a little extra something, and is available in smaller bottles for a bargain price at $29.95.
4. Connekt
Connekt is another social hormone based formula very similar to Liquid Trust, but available in larger bottles and attractive packaging.  It's also made by a company called Vero Labs that is very experienced in using this social hormone in their other products.  Connekt is a proven formula that works great at facilitating social connections and trust between you and the people you interact with.  If you've been having trouble breaking the ice and making new friends, Connekt can probably help you out.
UPDATE: We no longer carry Connekt. Try Liquid Trust instead!
5. Chikara Pheromone Cologne for Men
Chikara Pheromone Cologne for Men is by far the most popular scented men's pheromone product available at Love Scent, and with good reason.  It has a complex pheromone formula that is great for pretty much any situation.  Most women love the scent, which is a lighter scent that is masculine, but not intimidating.  If you're a pheromone newbie, Chikara is a great place to start.  If you like the pheromone formula but want to try it with a new scent, Chikara is also available in an unscented version.
6. Cleo Pheromones for Women Beta Nol
Cleo is a popular unscented pheromone product for women available in regular androsteNOL and beta-androsteNOL versions.  These two pheromones are very similar, but beta-NOL is even further down the social end of the spectrum, and is perfect for making other people more friendly around you and helping you feel more comfortable when socializing.  Cleo is one of our only products containing beta-NOL, so if you are interested in that unique pheromone chemical, Cleo is a great product to test it with.
UPDATE: We no longer carry Cleo products. Try Love Scent Pheromone Oils or Liquid Trust instead, or a combination of the two!
That concludes our list of effective social pheromones.  We hope you've found something you like here, and you can't go wrong with any product on this list if you're looking to get an edge in social situations and the workplace.  If you'd like to be updated when we add new blog posts, subscribe to our newsletter and get some free samples, including Scent of Eros gel packets!  If you have any comments, questions, or topics you'd like us to discuss, please leave a reply below.
These statements have not been evaluated by the Food and Drug Administration. These products are not intended to diagnose, treat, cure, or prevent any disease.