3 Pheromones For An Emotional Connection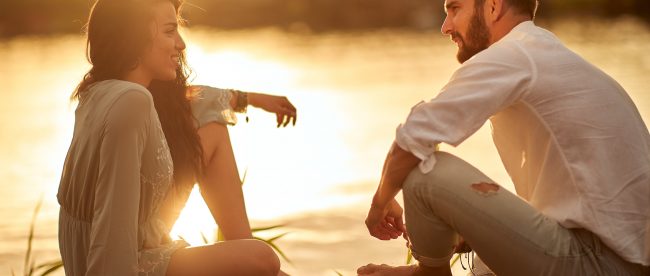 Happy Friday, Love Scent fans!
Today, we're going to look at Love Scent's best pheromones for an emotional connection!
Now, many people use pheromones as a way to break the ice and add a bit of heat to their love lives. Maybe you want something to give your sexual magnetism a boost, or maybe you need help striking up a connection with someone you just met on your night out. But pheromones can also play a big role in deepening your existing relationships!
So, whether you want to make sure a new relationship is based on a sincere connection, or you want to rekindle the romantic spark with a long-term partner, we have some suggestions for you!
Let's dive right in!
First up: Liquid Trust. This powerhouse unisex pheromone is our second-most popular product, and it also happens to be one of our very best pheromones for an emotional connection. It contains a social pheromone that plays a central role in developing, improving, and maintaining bonds[1]. This is a great one to use when you want to forge a strong emotional bond from the very beginning. You can also introduce it to your relationship and watch your connection deepen over time!
Liquid Trust contains no fragrance, but it does not have a strong pheromone odor. You can use it with or without a perfume or cologne. Wear it alone, or pair it with any other pheromone you like! Apply to the wrists and around the neck for best results.
A 7.5 ml spray bottle of Liquid Trust is yours for $19.95. Order now!
Edge Pheromone Cologne with Sandalwood is a fantastic all-purpose pheromone for men. Its balanced formula includes AndrostaDIENONE, a romantic male pheromone–and it's this pheromone that makes Edge one of our best pheromones for an emotional connection. It primes the brain to receive emotional information[2], and has a wide variety of emotional effects on women. This is a great product for any man who wants to establish a deeper and more meaningful bond!
Edge Pheromone Cologne already contains a pleasant sandalwood cover fragrance, so there's no need to combine it with your own cologne. Just apply a 1-2 inch stripe on your wrists and you're all set!
A 10 ml roll-on bottle of Edge Pheromone Cologne with Sandalwood is yours for $29.95. Add this one to your collection today!
If you're a woman who wants to develop a complex, emotionally-charged connection with your partner, New Pheromone Additive for Women is a great choice for you! Its balanced formula contains sexual and social pheromones, including Estratetraenol–a female pheromone with a strong emotional effect on men. It activates the "bonding" centers of men's brains[3] to put them in the mood for a meaningful, not just physical, connection!
New Pheromone Additive for Women contains no cover fragrance, so you can mix it with your favorite perfumes. Apply 1-2 drops of NPA for Women to your wrists and spray your favorite fragrance over it!
A 10 ml euro dropper bottle of New Pheromone Additive for Women is $39.95. Order your bottle now!
There you have it, Love Scent fans! Our very best pheromones for an emotional connection. If you want to take things to a deeper level in your love life, we hope you give one of these a try!
What are your favorite pheromones for an emotional connection? Are they on this list, or do you have other recommendations to share? Tell us about it in the comments! You can also contact us directly with your comments, questions, and concerns. And be sure to subscribe to our newsletter to get free samples and to hear about coupons, new products, and more!
These statements have not been evaluated by the Food and Drug Administration. These products are not intended to diagnose, treat, cure, or prevent any disease.
References:
1. Neumann, Inga D. "Oxytocin: the neuropeptide of love reveals some of its secrets." Cell Metabolism 5.4 (2007): 231-233.
2. Hummer, T. A., and McClintock, M. K. (2009). Putative human pheromone androstadienone attunes the mind specifically to emotional information. Horm. Behav. 55, 548–559.
3. Savic, Ivanka et al. Brain response to putative pheromones in homosexual men. Proceedings of the National Academy of Sciences of the United States of America 102 20 (2005): 7356-61.