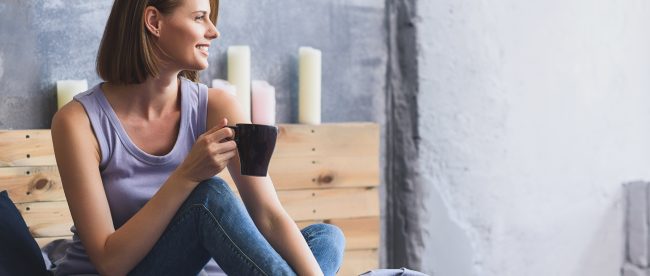 Happy Friday, Love Scent fans!
Spring will soon be drawing to a close, but there's still time to save with our springtime sale! Just use the code LUVHOTSPRING22 at checkout to get 20% off your order. This offer is good storewide, so whether you need to replenish your favorite pheromones or need essential oils for your diffuser, you can save on all of it!
Now, on to today's topic: our most relaxing pheromones!
Many people are surprised to learn that pheromones are good for more than just your dating life. They're actually great for a lot of other things, too, from improving confidence in the workplace to solidifying new friendships. Today, we want to look at pheromones that are great for helping you relax and de-stress!
Before we dive in, let's briefly cover the concept of pheromone "self-effects."  These, like the name suggests, are effects that impact you, the wearer of the pheromones. Self-effects and effects on others can be the same–for example, a pheromone that relaxes you can relax everyone around you, too! But understanding self-effects can help you choose pheromones to help your own mood.
The most important thing to consider when using pheromones for self-effects is the application point. When you're wearing a pheromone and hoping it will affect others, you'll want application points that spread the pheromones as far as possible. We generally recommend the pulse points for this: wrists, throat, and behind the ear. But when you're wearing pheromones for their effects on you, you want something that emphasizes your exposure. We recommend applying pheromones to the upper lip and around the neck to get the best self-effects!
All right, let's take a look at our most relaxing pheromones!
The Love Scent Pheromone Oils are one of our most popular products, and one of our most relaxing pheromones too! These easy-to-use oils contain the social pheromone AndrosteNOL. AndrosteNOL is an incredibly versatile pheromone, and among its many benefits are its relaxing, de-stressing properties. Many pheromone fans have reported feeling at ease, mentally and physically, when wearing AndrosteNOL!
The Love Scent Pheromone Oils pair AndrosteNOL's positive effects with soothing fragrances. There are 10 fragrance options to choose from! Options include soothing classics like Sandalwood and Musk, nostalgic favorites like Sweet Cream and Honeysuckle, calming florals like Jasmine and Floral Garden, and more! Each scent option contains the same relaxing pheromones, so choose whichever fragrance you like best. Just apply 1-2 drops to your neck and upper lip!
Each one of the Love Scent Pheromone Oils scent options is available for $9.95 apiece. Order now and have them on hand the next time you want a stress-free day!
Liquid Trust has been one of our top sellers for many years. It has a wide variety of benefits, from stress reduction to mood elevation, that make it very popular with everyone from casual pheromone fans to professional salespeople. These effects are all thanks to its pheromone ingredient: a powerful social pheromone central to human bonding and interpersonal relationships. This pheromone's positive effects on mood and stress-relieving properties make Liquid Trust one of our most relaxing pheromones!
Another great benefit of Liquid Trust: it is virtually scentless! Once its carrier alcohol evaporates off, you won't be able to detect much of a smell. Some people can smell a little bit of sweetness, but that's it for most people. Just apply around the neck and to your upper lip the next time you want to kick back and relax!
A 7.5 ml bottle of Liquid Trust is yours for $24.95. Order yours today!
If you want to turn any of your favorite fragrances into one of the most relaxing pheromones around, pure AndrosteNOL is for you! This potent pheromone concentrate contains 1 full mg of pheromones per ml of carrier. With such a high concentration, it needs to be diluted before you apply it to yourself. But once you dilute it properly, you'll see all of its beneficial properties: reduced stress, improved mood, mental relaxation, and more!
Diluting pure AndrosteNOL is very easy. Put 5 ml of your favorite fragrance in a separate container (such as an atomizer or roll-on) and add a drop of pure AndrosteNOL. Give the mix a shake to incorporate the pheromones–and that's it! Apply it to your neck and upper lip, take a deep breath, and feel the soothing effects wash over you.
A 6 ml bottle of pure AndrosteNOL is $39.95. This is a great way to turn all of your perfumes and colognes into relaxing pheromone fragrances, so add it to your collection today!
If you're into aromatherapy, you're not surprised that we'd add Lavender essential oil to this list. For those of you who aren't familiar with this fantastic oil: Lavender essential oil has countless benefits, with its relaxing and stress-relieving effects being the most well-known. It's a popular ingredient in aromatherapy blends meant to help the wearer relax and forget about their troubles. Many people use Lavender oil to help the meditate, fall asleep after a long day, or just relax and enjoy themselves!
Like all essential oils, Lavender oil should be diluted before you apply it to the skin. You can dilute it to a 5% concentration in any number of carrier oils, including jojoba oil, olive oil, coconut oil, and more. Apply the resulting mix to your neck and upper lip. You can also pair it with any unscented pheromone you like–Liquid Trust and diluted pure AndrosteNOL would be perfect matches!
A 10 ml euro dropper bottle of pure Lavender essential oil is yours for $5.95. This is a great way to elevate our most relaxing pheromones, so order now!
There you have it, Love Scent fans! Our most relaxing pheromones! If you've been looking for something to help you relax, de-stress, and unwind, we hope one of these appeals to you! And don't forget to save 20% when you order by using the code LUVHOTSPRING22 at checkout!
What are your go-to pheromones for relaxation? Are they on this list, or do you have something else to recommend? Tell us about it in the comments! You can also contact us directly to share your comments, questions, and concerns. And be sure to subscribe to our newsletter to get free samples and to hear about coupons, new products, and more!
These statements have not been evaluated by the Food and Drug Administration. These products are not intended to diagnose, treat, cure, or prevent any disease.