5 User-Friendly Pheromones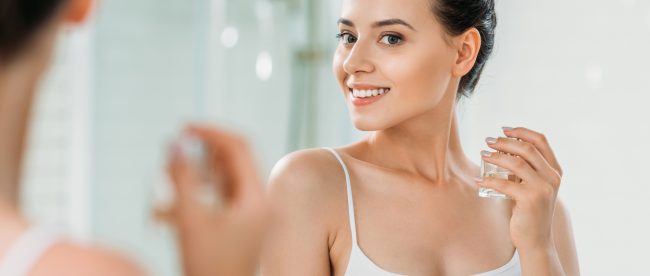 Happy Friday, Love Scent fans!
Before we begin, we have some savings to share with you! Easter is right around the corner, and here at Love Scent, we're celebrating by offering you 25% off! This discount is good store-wide, so stock up on all your Love Scent favorites this weekend. Just use the code EASTERJOY22 at checkout!
All right, on to today's topic! Today, we're going to look at some of our best user-friendly pheromones!
First, let's define what we mean by "user-friendly" pheromone. These are the pheromones that require no fuss and no special steps when you're using them. They don't require dilution, don't have a high "overdosing" risk, and are a good fit for a lot of different situations. These easy-to-use qualities make them great fits for pheromone beginners and experts alike!
All right, let's take a look at some of our best user-friendly pheromones!
Our Love Scent Pheromone Oils are the perfect example of user-friendly pheromones! Their simple, versatile formula features AndrosteNOL, a social pheromone with a wide variety of beneficial effects. AndrosteNOL is a great choice when you need something to boost your mood and keep your environment relaxed. You can't really overdose on it, either, so it's no problem if you accidentally use too much. This is a perfect pheromone for dates, hanging out with friends, spending time with family, and more!
The Love Scent Pheromone Oils come in 10 different fragrance options. Each fragrance option has the same pheromone content, so pick whatever scent you like! Then just apply 1-2 drops to your pulse points such as the wrists and throat.
A 3.7 ml eyedropper bottle of any of the Love Scent Pheromone Oils fragrance options is $9.95. Add a bottle or two to your collection today!
Chikara Pheromone Cologne is our most popular men's product for a reason! This long-time favorite has a nicely balanced pheromone formula that is a great choice for many different occasions. It's ideal for romantic occasions such as dates and anniversaries, everyday occasions like hanging out with friends or running errands, and more! On top of its great formula, Chikara also has a distinctive cover fragrance, so you don't even need to worry about pairing it with a cologne.
Because Chikara Pheromone Cologne doesn't even need an additional cover fragrance, it's ready to wear right out of the bottle. Just apply 1-2 sprays to the neck and wrists, and you're ready to go!
You can try Chikara with the 1 ml trial size Chikara Pheromone Mini for $9.95, or the full-size Chikara Pheromone Cologne 15 ml spray bottle for $49.95. Order yours today!
Any list of user-friendly pheromones would be incomplete without mentioning Liquid Trust! This totally unscented social pheromone has a very long list of beneficial effects. It can elevate the mood, reduce stress, improve social interactions, improve emotional connections with friends and partners alike, and more! It can even help people trust you better, making it the go-to pheromone for many sales and businesspeople. There's really never a bad time to use Liquid Trust!
Liquid Trust has no fragrance, and unlike most unscented pheromones, it doesn't need you to add any cologne or perfume. Once the smell of the carrier evaporates off, you won't smell much of anything–but the pheromones will still be working! You just don't have to worry about any musky or unpleasant pheromone odor. It doesn't get any more fuss-free than that! Just apply a spray or two to your pulse points and go about your day!
A 7.5 ml spray bottle of Liquid Trust is yours for $24.95. Order now!
New Pheromone Additive for Women is one of our most user-friendly pheromones for women. Its formula contains two sexual pheromones, but their concentration is low enough to make them easy to use–even if you've never used pheromones before! In addition to the low concentration, the sex pheromones are accompanied by AndrosteNOL, whose relaxing effects help balance them out. The balance and user-friendly concentration make this a great choice for just about any woman!
New Pheromone Additive is unscented, and does have a slight pheromone odor, so we recommend wearing it with your favorite perfume. Just apply 1-2 drops to your pulse points and spray your favorite perfume over it. And that's it! You're all ready to go.
A 10 ml euro dropper bottle of New Pheromone Additive for Women is yours for $44.95. Order today!
Super Primal for Him is an easy-to-use, unscented pheromone additive that contains the powerhouse social pheromone AndrosteNOL. It's a great pheromone to use in just about any context: at home, while out with friends, on a date, and even at the workplace! It has no bad side effects to speak of and won't result in a pheromone overdose. As far as user-friendly pheromones go, this is one of our best!
Super Primal for Him contains no added fragrance. Some people can detect a slight pheromone odor from it, and some can't. It all depends on how sensitive your nose is! Because some people find it slightly musky-smelling, we generally recommend wearing a cover scent with it. Just apply a few drops to your pulse points and spray your favorite fragrance over it!
A large 2 oz eyedropper bottle of Super Primal for Him is $49.95. Get your bottle today!
There you have it, Love Scent fans! Our most user-friendly pheromones! We hope something on this list appeals to you, whether you're brand-new to pheromones or a seasoned pro. And don't forget to save 25% on your order by using the code EASTERJOY22 at checkout!
What are your favorite user-friendly pheromones? Are they on this list, or do you have something else to recommend? Tell us about it in the comments! You can also contact us directly to share your comments, questions, and concerns. And be sure to subscribe to our newsletter to get free samples and to hear about coupons, new products, and more!
These statements have not been evaluated by the Food and Drug Administration. These products are not intended to diagnose, treat, cure, or prevent any disease.