Pheromones For Family Holidays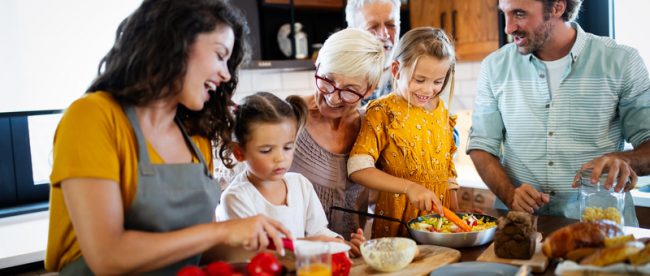 Happy Friday, Love Scent fans!
Thanksgiving is only weeks away, and we're getting the celebrations started by offering you 30% off your next order! Just use the code GIVETHANKS21 at checkout to get your savings. This offer is good on everything in the store, from your favorite pheromones to useful pheromone supplies, so order today!
And, to help you get ready for fall and winter festivities, today we're going to talk about the best pheromones for family holidays!
There are lots of reasons to wear pheromones around family and friends. They can help you feel more relaxed and easygoing, which helps during the inevitable stress that pops up when families travel and gather together. Pheromones can also help you feel more energetic and focused, helping you enjoy your time together more!
Remember, though, that not all pheromones work the same way, and some are better for certain occasions than others! In general, we recommend social pheromones when visiting family. These mood-elevating, stress-relieving pheromones help create and maintain a pleasant atmosphere. They don't have bad side effects to speak of, and you can't overdose on them. They're ideal for fun gatherings with family and friends!
Now, let's look at some great pheromones for family holidays!
The Love Scent Pheromone Oils are a line of scented social pheromones that contain AndrosteNOL. This powerhouse social pheromone works with the behavior centers in the brain to put you in a happy and relaxed mood. It also makes you feel more outgoing and social, which is helpful during big family gatherings!
With ten fragrance options to choose from, the Love Scent Pheromone Oils can suit everyone's taste. Choose from cheerful fragrances like Citrus and Honeysuckle, warming scents like Sandalwood and Smoky Amber, classic fragrances like Musk and Floral Garden, and more! Whichever fragrance option you choose, just apply 1-2 drops to your pulse points.
A 3.7 ml bottle of any of the Love Scent Pheromone Oils' fragrance options is yours for $9.95. Order a bottle or two today!
Of all our pheromones for family holidays, Liquid Trust is arguably the best. This unscented pheromone spray contains a social pheromone that is central to family bonding. In addition to creating warm, loving feelings between friends and family members, it also helps you relax and enjoy yourself in just about any situation. And, because it contains no fragrance and has minimal pheromone odor, you don't even need a cover scent! That makes Liquid Trust great for those of you visiting family members with allergies.
While Liquid Trust does not need a cover scent, you can wear one with it if you prefer. Just apply 1-2 sprays on the wrists and around the neck. If you're using a fragrance with it, spray it on top of the pheromones!
A 7.5 ml bottle of Liquid Trust is yours for $24.95. Order today!
Super Primal for Him is an unscented pheromone concentrate with very little pheromone odor. Like the Love Scent Pheromone Oils, it contains AndrosteNOL, the social pheromone known as the "icebreaker pheromone." Like all AndrosteNOL-based products, it has mood-boosting and stress-relieving effects. And, because AndrosteNOL does not have a strong odor, you can wear Super Primal for Him without a cover scent if you prefer!
Apply 1-2 drops of Super Primal for Him to your pulse points. If you're using an optional cover scent, you can spray it over the Super Primal after you've applied it. And remember: despite this product's name, it can be used by people of any gender!
A large 2 oz eyedropper bottle of Super Primal for Him is yours for $49.95. This is one of our best pheromones for family holidays, so order yours now!
There you have it, Love Scent fans! Our best pheromones for family holidays. If you'd like to make the most of every moment you spend with your loved ones this year, we hope you give one of the above products a try! And don't forget to save 30% when you order by entering the code GIVETHANKS21 at checkout!
What are your favorite pheromones for family holidays and gatherings? Do you use the products suggested above, or do you have your own recommendations to share? Tell us about it in the comments! You can also contact us to share your comments and questions. And be sure to subscribe to our newsletter to get free samples and to hear about coupons, website updates, new products, and more!
These statements have not been evaluated by the Food and Drug Administration. These products are not intended to diagnose, treat, cure, or prevent any disease.