3 Pheromones To Relieve Stress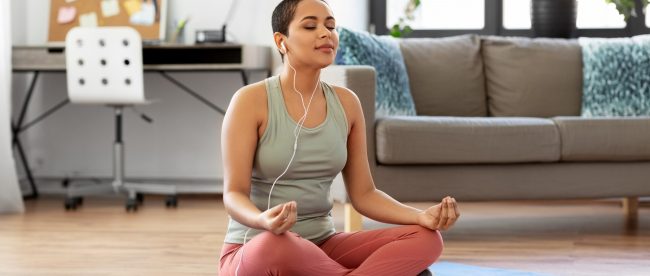 Happy Friday, Love Scent fans!
Before we get started, we have a savings opportunity to share with you! St. Patrick's Day is coming up, and you can save 20% on your order with the coupon code LUVSTPADDYS! This offer is good on everything in the store, from pheromones to cover scents to candles, so make sure to stock up on all your Love Scent favorites this week!
And now, on to today's topic: some pheromones to relieve stress!
Anyone familiar with pheromones knows that they can help you attract a partner. Did you know they can also help with stress relief? Relieving stress is one of the many "self-effects" pheromones can have. It's important to know, though, that not all pheromones work for this purpose! Some can actually agitate you if you're in a stressful situation, so it's important to choose the right kind!
Before we learn about the best pheromones to relieve stress, let's talk about how you can maximize a pheromone's self-effects. Remember, the point of a self-effect is to make sure you are getting the full effect of the pheromones. Usually, the goal with pheromones is to put them as far out into the air as possible, but you don't need to do that when you're the one who needs exposure the most!
So, how to you maximize exposure? It's a pretty simple answer, actually! We recommend putting a small amount of the pheromones on your upper lip, right below your nose, and put more on your neck and throat rather than your wrists or chest. This will create a little cloud of stress-relieving pheromones around your head, keeping you in good spirits throughout the day!
All right, now you know how to maximize a pheromone's self-effects. What about the pheromones themselves? Which should you choose, and which should you avoid?
Well, the main thing to keep in mind is that social pheromones are almost always better at relieving stress than sex pheromones. Sex pheromones are stimulating, and can do great things when you're trying to attract someone or pump yourself up, but stress relief is not their forte. Social pheromones, on the other hand, are perfect for reducing anxiety and putting you in a good mood!
Now, let's take a look at our best pheromones to relieve stress!
The Love Scent Pheromone Oils are scented oil-based social pheromones. They contain AndrosteNOL, a commonly-used social pheromone. AndrosteNOL is popular for its stress-relieving, anxiety-reducing, mood-elevating effects. It's great for meeting new people or having fun at social gatherings, but it's also perfect for helping you clear your mind and let go of life's worries!
The Love Scent Pheromone Oils come in ten different fragrance options. If you're hoping to use them to relieve stress, we recommend picking a relaxing scent option such as Musk, Sandalwood, or Citrus. Apply to the throat and to the upper lip for best results!
A 3.7 ml eyedropper bottle of any of the Love Scent Pheromone Oils fragrances is yours for $9.95. Order today!
Liquid Trust is one of the most versatile products in our catalog. It contains a social pheromone that works with the brain to reduce stress and relieve anxiety. Some people wear Liquid Trust exclusively for these self-effects! It's also totally unscented, so it's perfect for people who are sensitive to fragrances or who need something they can wear in a scent-free school or workplace.
Unlike most unscented pheromones, Liquid Trust does not need to be combined with a cover fragrance. You can therefore wear it without any cologne or perfume–though you can combine it with a scent if you wish! Apply a few sprays around the neck and put a dab on your upper lip for best effects.
A 7.5 ml spray bottle of Liquid Trust is yours for $24.95. If you're looking for pheromones to relieve stress, we highly recommend you give this one a try!
3. Super Primal for Him ($49.95)
If you'd like the stress-relieving effects of AndrosteNOL, but can't or don't like to wear fragrances, Super Primal for Him is the best choice for you. It contains the same excellent social pheromone found in the Love Scent Pheromone Oils, and has all the same stress-reducing and mood-elevating effects, but does not contain any cover scents. Because AndrosteNOL does not have a strong unpleasant smell, you can wear Super Primal for Him without perfume or cologne!
Apply Super Primal for Him to your throat, and on your upper lip right under your nose, to make the most of its self-effects. As we said, it does not require a cover fragrance, but you can pair it with one if you wish!
A large 2 oz bottle of Super Primal for Him is yours for $49.95. Order yours today!
BONUS: Essential Oils (starting at $5.95)
Okay, now you've got your pheromones to relieve stress. Want to add an extra layer of relaxation to the mix? Try making a DIY pheromone fragrance using essential oils! These natural compounds contain all sorts of beneficial properties, and some are perfect for stress relief.
The best essential oil for relieving stress is, without a doubt, Lavender oil. It has been used for centuries (maybe millennia!) to reduce stress, alleviate anxiety, and improve the mood. Many people use it to help them sleep, to help them clear their mind to meditate, to relax and unwind in a hot bath, and much more! Other ideal choices are Orange oil, which helps reduce stress and anxiety, and Lemongrass oil, which reduces tension in the mind and body.
To make a DIY pheromone fragrance using essential oils, dilute the essential oils in a carrier (such as jojoba oil, coconut oil, or a mix of alcohol and water) so that the mix contains no more than 5% essential oils. (Read up on the importance of properly diluting essential oils here!) Then combine your diluted essential oils with the unscented pheromone of your choice!
You can get individual bottles of our essential oils for $5.95, or get a 6-scent Aromatherapy Sampler for $24.95. Order today!
There you have it, Love Scent fans! If you've been on the lookout for some dependable pheromones to relieve stress, we hope this list has given you some ideas! And don't forget to save 20% on your order by using the code LUVSTPADDYS at checkout!
What are your favorite pheromones to relieve stress? Are they on this list, or do you have other recommendations you'd like to share? Tell us about it in the comments! You can also contact us to share your thoughts, questions, and concerns. And be sure to subscribe to our newsletter to get free samples and to hear about coupons, promotions, new products, and more!
These statements have not been evaluated by the Food and Drug Administration. These products are not intended to diagnose, treat, cure, or prevent any disease.